This archived news story is available only for your personal, non-commercial use. Information in the story may be outdated or superseded by additional information. Reading or replaying the story in its archived form does not constitute a republication of the story.
PROVO — Nick Emery will mark an 18-month return to collegiate basketball eligibility Wednesday night when BYU hosts in-state rival Utah State in the Marriott Center at 7 p.m. (BYUtv, KSL Newsradio).
But there's another return that means more to the former Lone Peak star: a return to the team, where Emery and former Davis High standout Jesse Wade have paced a high-octane, run-and-gun scout team for the first nine games of the season.
Being back with the team — no matter what his role on the court becomes — is what matters to Emery, who withdrew from school amid a divorce, an NCAA investigation and bouts of spiraling depression that he chronicled on his blog, EmeryOutlive.com.
Why does it mean so much to him?
Because through it all, Emery's teammates and head coach were by his side.
"It means the entire world," Emery said. "To go through something like that wasn't easy, but we're in the journey of life. Coach Rose was at the top, with me from day one. He promised me that we would get through this, even when I didn't think we would."
Emery isn't guaranteed a starting spot at BYU; he isn't even guaranteed a scholarship or a place in the rotation.
But Emery's return should help in one area: 3-point shooting. That could be significant as the Cougars (5-4) try to break out of a three-game losing skid, including the first-ever loss to Weber State in the Dave Rose era.
"It's pretty ironic that we are in a position that we need some help," Rose said of Emery's return. "Hopefully, we don't put all of that on him."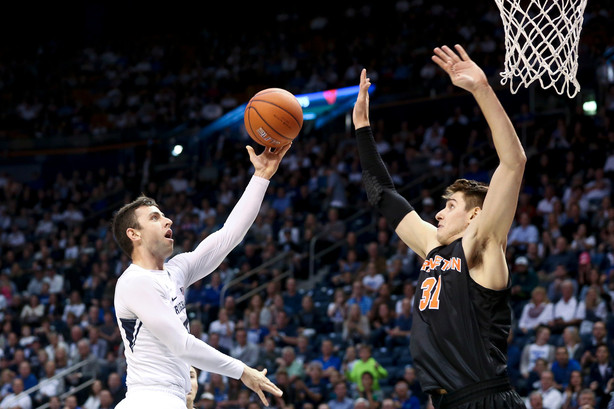 Still, it should help. The Cougars shot just 28.3 percent from 3-point range through the first nine games of the season, while Emery has made 37 percent of his threes in his first two seasons with the program.
"Three-point shooting is just about getting confidence," said teammate Zac Seljaas, one of the team's seasoned marksmen who has shot 37 percent from three this year. "Once one goes in, everyone else starts seeing them go in. Nick will definitely be able to help us get that rolling or get that started."
A 42.1 percent shooter at the two-guard spot, Emery spent last season away from the program while the university conducted a joint investigation with the NCAA into alleged improper benefits received by the former Lone Peak star.
The national administration found Emery guilty of several improprieties, putting the 6-foot-2 guard on probation and a six-game suspension. They also have required BYU to vacate all wins in which Emery played, a total that would number as high as 47, and put the Cougars on a two-year probation.
BYU is currently filing an appeal against the NCAA ruling. But that will affect the future teams — not this one, Rose has been quick to point out.
Emery's return has been a long time in the making. He meets with Rose every week, for an hour or two at a time, setting goals, writing mantras in a notebook and trying to get back to where he was before he left school.
And that's more than a basketball statement.
"My perspective on life has changed," Emery said. "I'm grateful for the opportunities I had, to be back at BYU. I'm grateful to wear a BYU jersey again, that No. 4 jersey, and especially to be out here with a coach who has given me a second chance and teammates who have believed in me every step of the way."
Emery spent last season as an assistant coach at Orem High, learning from close friend Golden Holt about basketball, about life, and about being a better teammate. It gave him an opportunity to see the game from a new perspective.
It also gave him a new perspective on life, he said.
"When life outside of basketball is good, then I am a better basketball player," Emery said. "It was a blessing to work with Golden at Orem, and to work with the kids — to get a perspective on life that I didn't have before."
In the meantime, the Cougars will focus on getting out of their current three-game funk. That attempt begins Wednesday night against the Aggies.
Utah State (7-1) is the highest-rated team in the state in the KenPom advanced analytics ratings, coming in at No. 56 nationally. That's nearly 30 spots ahead of No. 81 BYU and more than 50 ahead of Saturday's rivalry opponent, No. 114 Utah (4-3).
The Aggies, who are coached by Craig Smith in his first season in Logan, are led by Sam Merrill, a former Bountiful High star who scored his 1,000th career point Saturday night in an 89-65 win over UC Irvine.
"Craig's got those guys with an unbelievable motor. They are always moving. They are hungry on every possession. We've faced a lot of teams that have run the things they run. But they way they do it, how determined they are, this is a team that is playing with an awful lot of heart and determination."
×
Related Stories