Estimated read time: 3-4 minutes
This archived news story is available only for your personal, non-commercial use. Information in the story may be outdated or superseded by additional information. Reading or replaying the story in its archived form does not constitute a republication of the story.
SALT LAKE CITY — Playing independently is something most kids take for granted. But one little girl fights for every step she takes, and an innovative medical procedure could change her life.
Childhood is all about imagination, and there's no shortage of that with 4-year-old Bailey Wilson. She was born 13 weeks early and had major complications.
"She got down to 1 pound, 8 ounces the first two or three days after she was born," said Catrina Wilson, Bailey's mother.
Bailey has spastic diplegia cerebral palsy, which limits some of her movement. But that doesn't stop her from doing what she loves.
"Her dream is to dance one day," Catrina Wilson said.
As she looks forward to starting kindergarten next year, Bailey wants to play like other kids. But her condition causes extreme tightness or spasticity — where the muscles are always contracted — in her legs and pain.
"It makes it very difficult for her to walk or for her to stand or for her to run and do the kind of things that kids her age normally do," Wilson said. "She's able to crawl, but she does wear braces on her legs, which makes that kind of difficult.
"She can walk if she's holding onto the wall or if she's holding on to your hand, or if she's holding on to her walker," Wilson added. "But she's not able to stand independently."
From her first steps, Bailey's grit and determination have come in handy. She gets around, but it's not easy.
"When she gets frustrated and she just can't do it like somebody can, she cries, and it's really hard to watch," Wilson said.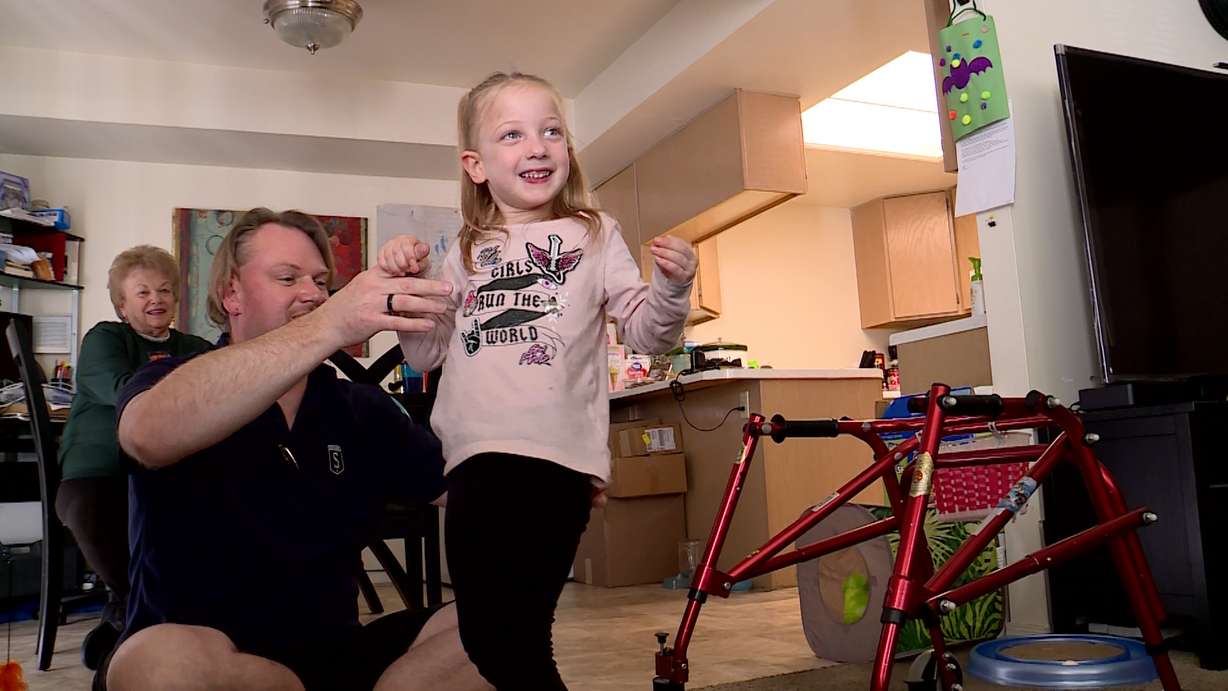 A surgery called rhizotomy, or SDR, could make all the difference, but she'd have to travel to St. Louis to have it done. Children go to St Louis Children's Hospital from all over the world, where they've been doing SDR since 1990.
A surgeon stimulates spinal nerves electrically to see which ones cause muscle tightness and cuts them, improving gait and movement.
"This is the most unique kind of treatment in modernity," said T.S. Park, a surgeon with St. Louis Children's Hospital. "If you look at the improvement in quality of life for the children and the families, it's absolutely great."
For now, though, Bailey's childhood may not be carefree, but she keeps going.
"Just to see her on the sidelines and see her wanting it so badly, it just makes my heart burst to think of what it's going to be like for her when she's finally able to do that," Wilson said.
If luck and a surgeon's skill match even half her will, a little girl's dream might just come true.
A GoFundMe page has been set up to help with surgery expenses.
---
*KSL.com does not assure that the monies deposited to the account will be applied for the benefit of the persons named as beneficiaries. If you are considering a deposit to the account, you should consult your own advisers and otherwise proceed at your own risk.
×
Photos
Most recent Utah stories