This archived news story is available only for your personal, non-commercial use. Information in the story may be outdated or superseded by additional information. Reading or replaying the story in its archived form does not constitute a republication of the story.
PROVO — BYU's postseason trip to the Famous Idaho Potato Bowl will be about more than a bowl game.
It won't even just be about a trip to Boise, or a chance to win their first-ever game on the blue turf of Albertsons Stadium.
BYU's bowl game Dec. 21 at 2 p.m. MST (ESPN, KSL Newsradio) will help turn the pages on head coach Kalani Sitake's third season, when the Cougars improved mildly to a 6-6 record while playing a large handful of young players.
In essence, BYU's bowl game will be another spring camp.
"I'm looking forward to the time we get to practice, and the time we get to spend with the team," Sitake said. "After not being in a bowl game, we're excited for this one."
And there's a little matter of the venue: BYU is 2-6 all-time against Boise State, including a 21-16 loss earlier this season, and has never won when traveling north of Provo.
"Now we've got to find a way to get a win on that blue turf," Sitake said.
The Cougars have 54 freshmen on the roster, including quarterback Zach Wilson, offensive linemen James Empey and Brady Christensen, and skill position standouts Lopini Katoa, Gunner Romney and Dallin Holker, who are unconfirmed to play in the bowl game.
"It'll be cool to go back out on that field," said Wilson, a former Boise State commit, "but being able to play another game is the biggest thing."
Each underclassman has a varying degree of experience on the field — Wilson has started since the Cougars' seventh game of the season, for example, and Empey and Christiansen were vital to a young offensive line that started as many as four starters. But with the NCAA's rule allowing players to play in up to four games and still preserve a redshirt season, it's safe to assume that any of the 54 freshmen will see playing time in a mid-December Friday night in Idaho.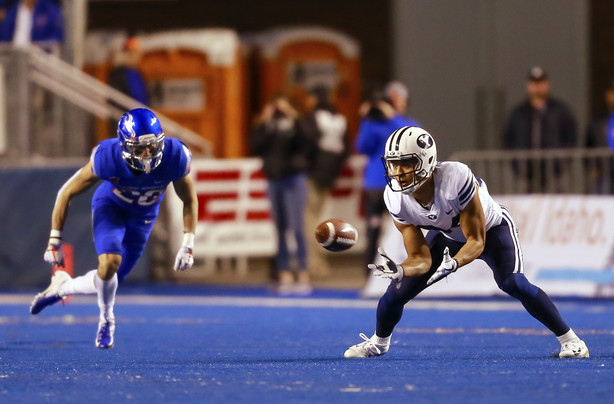 "There are still a lot of players at the three games (of four-game limit), so this is a great opportunity for them to see the speed of college football," said sophomore tight end Matt Bushman, who is headed to his first bowl game.
"It's similar to another spring ball. This is my first go at it, but I think it's good for a lot of players to develop and learn their technique. I'm excited to see some of these younger players develop. Hopefully, they can make some plays if their name is called for the bowl game."
In the first season under new offensive coordinator Jeff Grimes, the Cougars improved on last year's 4-9 disaster and will make it back to the postseason for the 36th time in program history, dating back to the 1971 Fiesta Bowl, after having last season's run of 12-straight bowl games finally snapped.
But the Cougars' offense still has work to do, Wilson said, as evidenced by Grimes installing a mildly different scheme from the time the freshman from Corner Canyon took over for senior incumbent Tanner Mangum.
That makes the bowl game a little more necessary.
"I think we have a lot of growing to do, and the offseason will help tremendously with that," Wilson said.
BYU will use all 15 of its NCAA-allowed bowl practices, including six this week. It'll report to Boise prior to the NCAA early signing day Dec. 19, and be ready with a pair of practices in Idaho before kickoff on Friday.
That game will be less about the feasts of potatoes at the longest-running cold-weather bowl in NCAA history, or maybe even less about BYU's opponent, Western Michigan, a high-scoring MAC squad that finished 7-5 this year.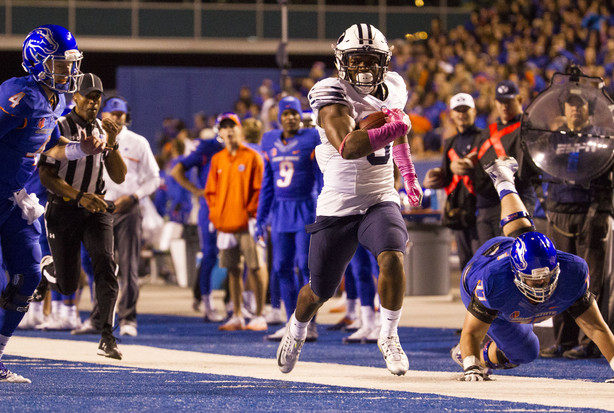 The Cougars (6-6) want to focus on themselves, Wilson said.
"We won't really worry about what they are doing," he said. "We'll just take one drive at a time, execute each play, and everything else will take care of itself."
Safety Dayan Ghanwoloku wasn't exactly amped for a trip to Boise; few observers around college football blame him, with a payout of $325,000, among the lowest in the Football Bowl Subdivision.
But the junior safety who starred at Northridge will look forward to another month of football.
"It's going to help both offense and defense to get polished a little more, and the future for all the young guys we have on defense," Ghanwoloku said. "It's another game for us to get better, and it will improve us for the next game — when we play Utah in the first game."
The game is projected to be played in 36-degree weather, with ice, rain and a chance of snow in the early forecast.
But that's nothing new for the Cougars, either.
"We're going to Boise. We've played in cold weather, so it's not like it is completely new," Bushman said. "Look at our (practice field); snow just dumped on us.
"We'll be ready for it. If people are upset, I don't really care; it's another game, and it's a cool opportunity to be playing in a bowl game."
×
Related Stories