This archived news story is available only for your personal, non-commercial use. Information in the story may be outdated or superseded by additional information. Reading or replaying the story in its archived form does not constitute a republication of the story.
PROVO — Yeah, it will be cold, on unsightly artificial turf, and in a place where BYU's football team has never won.
But after enduring a 4-9 season in 2017, the Cougars are just happy to be back in the postseason — even if it means being attached to the Famous Idaho Potato Bowl, a lower-tier contest that is reportedly among the lowest-paying bowls in the nation with a $325,000 payout to both teams.
If nothing else, it beats where BYU was a year ago.
"I wanted somewhere warm, but Idaho will do," said BYU safety Dayan Ghanwoloku.
The former Northridge High standout silently lobbied for the Cougars to play a bowl game in Texas — multiple projections placed them in either the SERVPro First Responder Bowl in Dallas or the DXL Frisco Bowl — if for no other reason than Ghanwoloku's wife hails from the Houston area.
But the Cougars will take a trip to Boise, because it means a bowl game, another chance to play, and 15 more practices to develop a team that has started freshmen everywhere from quarterback to offensive line to running back to the defensive front seven.
"I've never been to a bowl before, so I'm just excited to play in another game," sophomore tight end Matt Bushman said. "That's everyone's goal when playing college football. I'm just grateful and excited to see what the bowl experience is like."
It's also a chance for BYU to pick up its first-ever win on the fabled "Smurf Turf" of Albertsons Stadium, where the Cougars are 0-3 all-time against host Boise State.
Even if that win comes against Western Michigan (7-5) after a 2 p.m. MST kickoff Dec. 21.
"I don't like that turf," Ghanwoloku said cheekily. "But we've got to finish and win on it. It doesn't matter who is playing; they are Broncos, too, so I've just got to think about beating the Broncos."
BYU quarterback Zach Wilson also hates the blue turf; he called it "crappy" and referred to several photos he posted on his Instagram account of his dried, cut and bleeding hands after the Cougars' 21-16 loss to open November.
"The turf is so bad," Wilson said. "I left with so many cuts all over my body, like I had road rash. My hands are still bleeding.
"It'll be cool to go back out on that field, but being able to play another game is the biggest thing."
The Cougars will use all 15 of their NCAA-allotted bowl practices prior to the game, starting with a pair of six-day weeks prior to departing for Boise in time for bowl festivities Dec. 19. Head coach Kalani Sitake says he's treating the bowl game like a mini-spring camp, developing younger players — including his quarterback.
"I'm looking forward to the time we get to practice, and the time we get to spend with the team," said Sitake, who will also hit the recruiting trail in preparation for the early signing period Dec. 19. "After not being in a bowl game, we're excited for this one.
"Now we've got to find a way to get a win on that blue turf."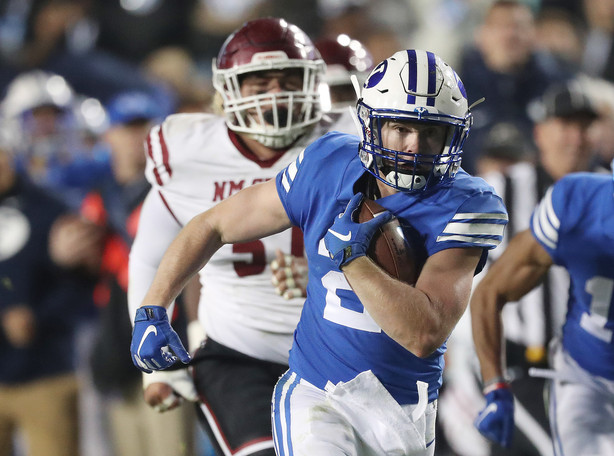 Injury report
Sitake said running back Squally Canada has been cleared to return to practice. The senior tailback has missed the Cougars' last two games of the regular season with various injuries, and he's run the ball fewer than 10 times each game since a 24-21 win over then-No. 6 Wisconsin back on Sept. 15.
He'll be needed in the Cougar backfield, which will be without senior running back Matt Hadley (leg fracture) and potentially freshman Lopini Katoa (game-time decision), as well as the previously announced loss of senior defensive end Corbin Kaufusi.
"I think the rest of the guys are still wait-and-see," Sitake said. "I don't think there is anyone that will be fully counted out yet other than Matt and Corbin."
YouTube scout
BYU hasn't put in the deep-dive to scout out Western Michigan, but the Cougars know a few things.
For starters, they put up a lot of points. The Broncos average 33.2 points per game, the 35th-best mark in the nation.
Ghanwoloku could see that based on his own personal scouting report.
"As soon as I found out we were playing them, I got on YouTube to figure them out," he said. "They aren't a bad team; they can win like us, they can lose like us, and they are 50-50 running and passing.
"I feel like we could be a good matchup."
×
Related Stories