This archived news story is available only for your personal, non-commercial use. Information in the story may be outdated or superseded by additional information. Reading or replaying the story in its archived form does not constitute a republication of the story.
SALT LAKE CITY — Utah's high school graduation rate climbed to 87 percent in 2018, the sixth consecutive year rates have increased, according to new Utah State Board of Education statistics.
Last spring, 47,487 students graduated from Utah's public high schools. "This represents 87 percent of students who entered schools as freshmen four years earlier," according to a news release from the State School Board.
Statewide, high school graduation rates have risen by at least 1 percent annually since 2013, increasing from 81 percent in 2013 to 87 percent this year.
Graduation rates for minority students have risen faster. Asian students have a state-leading 92 percent graduation rate, up from 79 percent in 2013.
Hispanic students have a 78 percent graduation rate, up 10 percent since 2013. Meanwhile, the graduation rate of American Indian students has increased 12 percent over the same time frame, now at 77 percent.
State Superintendent of Public Instruction Sydnee Dickson said she was "heartened to see Utah's educational outcomes improving over time."
The graduation rate of students who are economically disadvantaged — 77 percent — was unchanged from a year ago.
Students with disabilities' graduation rates climbed to 70 percent, up from 69 percent the previous year. Graduation rates of English learners increased from 67 percent to 70 percent.
Graduation rates among all student groups in the 2018 cohort increased with the exception of Pacific Islander, which fell by 1 percent.
"Achievement gaps still exist, but they are narrowing, and that is good news for Utah students and for the future of our state," Dickson said.
Several schools and school district far exceeded the statewide graduation rate, with Juab District boasting a 97 percent graduation rate three years running. Juab District, which serves about 2,500 students, has one high school.
Cache, Davis, and Carbon school districts each had graduation rates of 95 percent. Each of Davis School District's traditional high schools had graduation rates of 94 percent, led by Layton High School's 98 percent, the highest statewide.
Nebo District had a 90 percent graduation rate overall but each of its traditional high schools had graduation rates of 95 percent and higher.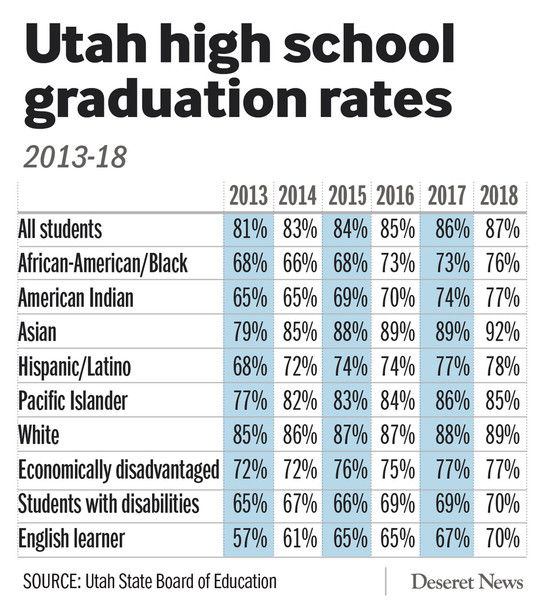 Among traditional high schools, Granite School District's Skyline High School and Ridgeline High School in Cache District each had 97 percent graduation rates.
Public alternative high schools had graduation rates ranging from less than 20 percent at South Sanpete Education Center and 41 percent at Alpine District's Summit High School.
Charter schools, which offer a broad array of specialties, had some of the state's highest and lowest graduation rates.
One bright spot was Utah International Charter School. Its graduation rate climbed from 19 percent in 2016 to 47 percent in 2018. The school, which opened in 2013, serves "secondary students interested in global perspectives, including recently arrived immigrants, refugees and native English speakers," according to the school website.
The Northern Utah Academy of Math Engineering and Science had a 98 percent graduation rate, as did Utah County Academy of Sciences. Not far behind were American Leadership Academy at 97 percent and the Academy of Math Engineering and Sciences in Salt Lake County at 96 percent.
Other charter schools with high graduation rates were Success Dixie State University and Success Southern Utah University at 97 percent, and Pinnacle Canyon at 95 percent.
Kairos Academy, a charter school in West Valley City that served teen mothers and pregnant teens, had a graduation rate of at or less than 20 percent, according to the report. The Utah State Charter School Board terminated its charter in 2017.
The Utah State Board of Education's full graduation report is available for review at schools.utah.gov/data.
×
Photos
Related Stories