This archived news story is available only for your personal, non-commercial use. Information in the story may be outdated or superseded by additional information. Reading or replaying the story in its archived form does not constitute a republication of the story.
LOGAN — The Matt Wells era has come to an end in Cache Valley.
He is leaving his alma mater after a successful six year run to become the next head coach at Texas Tech. The lure of coaching a Power 5 program in the Big 12 just 7 hours away from where he grew up in Oklahoma was too much for Wells to turn down.
So now Utah State AD John Hartwell begins a search for a new head coach. This will not be Hartwell's first coaching hire since taking over the athletics department at USU. It's early, but his hire of men's head basketball coach Craig Smith looks like a home run.
This is also a much different situation; Hartwell will be searching for a candidate who can build upon the most successful run in Utah State football history. The Aggies just completed a 10-2 season and the cupboard is not bare. Jordan Love, Darwin Thompson, Gerald Bright, David Woodward, Tipa Galeai, Shaq Bond, Jordan Nathan, and Christopher Unga all return.
"You have to have CEO skills, it's more than just X's and O's and recruiting," Hartwell said about what he's looking for in a head coach. "I don't think the Utah connection is an absolute pre-requisite but they need to understand the culture."
The new head coach must understand how to recruit Polynesian players. They must understand how the missionary program works. They must understand the importance of building the foundation of the program around Utah high school kids and mixing in great talent from out of state. Gary Andersen and Matt Wells understood this and found success that the program had never experienced before.
Utah State is conducting a nationwide search and the list of interested candidates is sure to be long and impressive but I've compiled a list of a few qualified candidates, their credentials and why they would be a good fit in Logan.
Here is a look at some potential candidates to replace Wells and continue the success that Utah State has had over the past six seasons under Wells.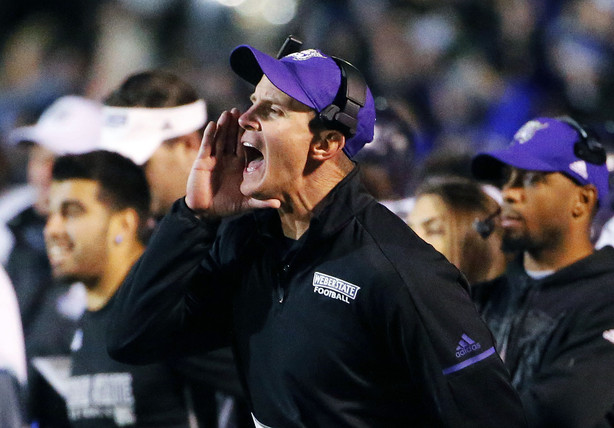 Jay Hill, Weber State head coach
The resume for Hill is there. Hill has led Weber State to back-to-back Big Sky Conference titles for the first time in school history. The Wildcats are the No. 2 seed in the FCS playoffs and will host Southeast Missouri on Saturday at Stewart Stadium.
Hill is a combined 35-25 overall and 27-13 in Big Sky games. In his first season at Weber State, the Wildcats finished 2-10 overall and 2-6 in Big Sky competition.
Hill led Weber State to a 6-5 overall record the following season and the winning hasn't stopped. Weber State has had four-straight winning seasons, including an 11-3 season in 2017 that saw the Wildcats nearly knock off No. 1-seeded James Madison in the quarterfinals of the FCS playoffs.
Hill is on top of most people's lists to succeed Wells in Logan.
Dave Aranda, LSU defensive coordinator
Aranda is well respected around the country and considered one of the best defensive coordinators in college football. He has spent five years as a Power 5 coordinator at LSU and Wisconsin. He was also the defensive coordinator for one of the best Utah State teams of all time in 2012. The Aggies won a school record 11 games that season under Gary Andersen and he oversaw a defense that ranked seventh in the country in scoring defense, allowing just 15.4 points per game. He would likely have to take a pay cut to return to Logan (he makes $2.5 million annually at LSU) but it may be worth it to get his first head coaching job.
Todd Orlando, Texas defensive coordinator
Orlando has played a major role in turning around the longhorns defense since coming to Austin with Tom Herman in 2017. Before that he was part of a successful run at Houston where the Cougars reached a New Year's six bowl. Orlando replaced Aranda as Utah State defensive coordinator in 2013 and had similar success during his two year run in Logan. Like Orlando he would have to walk away from a lucrative salary ($1.7 Million per year) but the chance to be a head coach in a familiar place with a well-stocked roster may be appealing.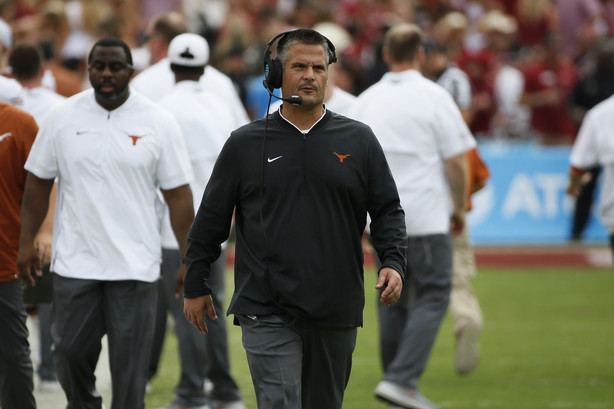 Lance Anderson, Stanford associate head coach/defensive coordinator
Probably not the first Anderson (Andersen? More on that in a minute) fans would expect to be a candidate for this job but a look at his credentials make him a strong candidate. The Rupert, Idaho native has been at Stanford the past 12 years and has been the defensive coordinator of one of the most respected defenses in the Pac-12 for the past five seasons. This past season, David Shaw promoted Anderson to the position of associate head coach.
Anderson understands the missionary program for The Church of Jesus Christ of Latter-day Saints and has years of experience recruiting "mission kids;" he's a member of the church. He has been recruiting the state of Utah for years and has had tremendous success recruiting Utah high school football players to Stanford. He does not have previous head coaching experience, but he checks off every other box on the list of things Utah State wants. He has worked under two of the best in the business in Jim Harbaugh and David Shaw. He may be ready for his first head coaching job and Utah State would seem like a perfect fit.
Ed Lamb, BYU assistant head coach
Lamb has head-coaching experience, as he was the head coach at Southern Utah for seven seasons. Lamb has been the assistant head coach at BYU since the 2016 season, as well as special teams coordinator and linebackers and safeties coach.
Lamb turned the SUU program around as the Thunderbirds were mired in a 19-game losing streak in 2008 prior to his hire. The Thunderbirds proceeded to win the Great West Conference two years later. Lamb also took SUU to the FCS playoffs for the first time in program history in 2013 and then took SUU back to the playoffs in 2015 when SUU won the Big Sky Championship.
In both 2013 and 2015, SUU ranked No. 1 in the Big Sky Conference in scoring defense and produced several All-American selections during his tenure in Cedar City.
It may be tough to pry Lamb away from Provo — he played at BYU and contributed to BYU's 14-1 Cotton Bowl-winning 1996 team that finished No. 5 in the final polls.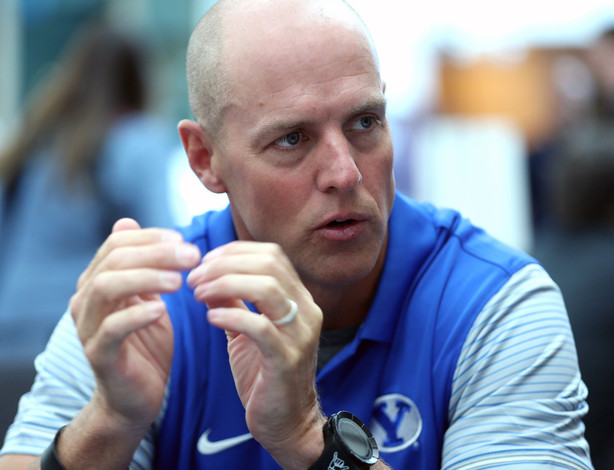 Gary Andersen, Utah assistant head coach
Andersen is well known in Logan, and for good reason. Andersen took over as the Utah State head coach following the 2008 season when the Aggies finished 3-9 and were blown out by Utah, BYU and Boise State.
It took Andersen some time to get Utah State up and running after taking over head coaching duties in 2009. But Andersen took the Aggies to their first bowl game since 1997 during his third season, which ended in a 24-23 loss in the Famous Idaho Potato Bowl.
The following season in 2012 was when things paid off. Utah State finished 11-2 overall, clinched its first outright conference championship since 1936 and beat Toledo 41-15 in the Famous Idaho Potato Bowl.
It led to Andersen bolting for Wisconsin of the Big Ten Conference.
Names like Bobby Wagner, Robert Turbin, Kerwynn Williams among others are part of what brought success to Logan under Andersen. He is a good recruiter, has ties throughout the west and knows how to win at a school like Utah State.
Chris Klieman, North Dakota State head coach
This name might be going out on a limb but Hartwell found a diamond in the rough when he hired former South Dakota head coach Craig Smith to coach the Aggie basketball team. So, why not look at the Dakotas again for one of the best FCS coaches out there?
Klieman has his Bison ranked No. 1 heading into the FCS playoffs, has a 54-6 record at NDSU since 2014 and finsihed 7-1 atop the Missouri Valley Football Conference all four years. His NDSU team is currently 11-0 overall and 8-0 in the MVFC.
Klieman has been part of six FCS national championship teams since coming to NDSU in 2011 and led the Bison to a national title in 2017.
Other names not mentioned in this list are Morgan Scalley, defensive coordinator at Utah; Todd Orlando, defensive coordinator at Texas; and Troy Taylor, offensive coordinator at Utah.
Maile's interim tag
Frank Maile, Utah State interim head coach/co-defensive coordinator/defensive line coach
The Aggies have a great candidate already on staff. Frank Maile is now the interim head coach after Wells' departure and has served as the assistant head coach, co-defensive coordinator and defensive line coach. He's a former Utah State player where he was a standout defensive lineman and team captain from 2004-2007. He has been an assistant at Utah State for a total of 8 seasons. He was the defensive line coach under Gary Andersen and Matt Wells from 2011-2013. He worked under Aranda and Orlando. He left Logan to coach in the SEC at Vanderbilt for two years before returning in 2016.
Maile is a West Valley City native, played at Alta high school, and served a mission for The Church of Jesus Christ of Latter-day Saints in the Dominican Republic. He's well respected as a recruiter and his former players rave about him. He understands the culture and what it takes to be successful at Utah State.
What do you think? Should the Aggies go after any of these targets, or is there a better candidate? Let us know in the comments below.
×
Related Stories