This archived news story is available only for your personal, non-commercial use. Information in the story may be outdated or superseded by additional information. Reading or replaying the story in its archived form does not constitute a republication of the story.
LOGAN — One day after being named Mountain West coach of the year for the second time in his career, former Utah State quarterback Matt Wells is headed to Lubbock.
The Aggie grad and sixth-year head coach was named the next coach at Texas Tech, the university announced Thursday night.
The deal was first reported by the Lubbock Avalanche-Journal's Don Williams. FootballScoop.com also reported the agreement, citing a source with knowledge of the deal.
Wells replaces Kliff Kingsbury, the former Texas Tech quarterback who was the head coach at his alma mater since 2013. Kingsbury was fired Monday by the Red Raiders after three-straight losing seasons. He finished 35-40 in six seasons at Texas Tech, including a 1-2 record in postseason bowl appearances.
"My family and I are excited to join the Red Raider family," Wells said in a statement from the school. "I can't thank Kirby Hocutt, Tony Hernandez and Dr. Schovanec enough for this opportunity. I am excited to meet the team and get to work on building an elite program that Red Raider fans will enjoy every Saturday."
Wells and Texas Tech will owe $800,000 to Utah State University as a condition of his buyout, according to the latest version of his contract obtained in the USA TODAY Sports' college coaches' database.
As part of his hiring, Wells will take Aggie offensive coordinator David Yost and defensive coordinator Keith Patterson to Lubbock with him. No other coaching changes were immediately announced, but Yost, who was in his second season at Utah State, is a Broyles Award semifinalist (given to the top assistant coach in the nation) who helped launch the No. 3 offense in the country during his short tenure in Logan.
The former Oregon play caller helped spur a turnaround that put Utah State's offense in the top-three nationally in several categories, including scoring offense (47.0 points per game), scoring drives of one minute (24) and average margin of victory (24.2 ppg).
The Aggies also rank second nationally with six defensive touchdowns in 2018, as well as an FBS-high 18 interceptions and 10 fumble recoveries.
Prior to coming to Logan, Yost spent two decades in coaching, including five seasons as an offensive coordinator with stops at Washington State, Toledo and Missouri.
Wells informed Utah State of his decision Thursday afternoon, at which time he resigned his position as head coach.
"I would like to thank Matt and his wife Jen for their significant contributions to Utah State University," Aggie athletic director John Hartwell said in a statement. "Matt and his staff did an outstanding job of making Aggie football one of the best programs in the West. This is a special place and I am as excited as ever about our bright future."
Hartwell will hold a conference call with reporters Friday morning to "discuss the future of USU football."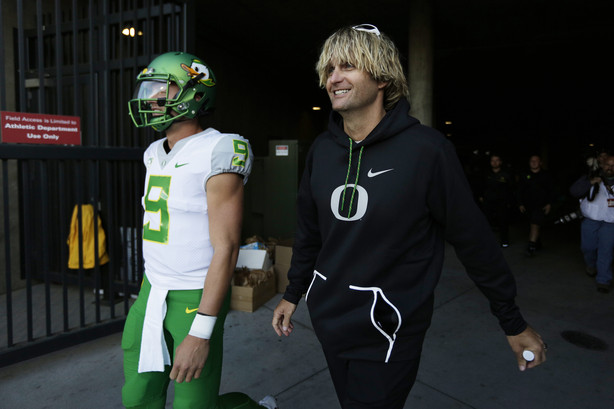 "This is an extremely attractive job and we have already had tremendous interest from some very good football coaches and some very good people," Hartwell said. "We have a roster full of talented young men who represent Utah State University very well on the field, in the classroom and in the community.
"We will move as quickly and efficiently as we can with this search, but at the end of the day, we want to make sure we have the right person to build upon our success."
Williams first reported that Wells had emerged as the front-runner for the Texas Tech job Wednesday afternoon, shortly after the coach was officially awarded top Mountain West honors.
Wells, 45, is 44-34 in six seasons at Utah State, but rose to prominence this year after leading the Aggies to a 10-2 record, an Associated Press Top-25 ranking that topped out at No. 14, and a 10-game winning streak that was snapped last Saturday at Boise State in the regular-season finale, with a berth in the Mountain West championship game on the line.
Wells beat out several Power-Five candidates, according to Williams, including Oregon defensive coordinator Jim Leavitt, Clemson defensive coordinator Brent Venables and Memphis head coach Mike Norvell.
West Virginia coach Dana Holgsorsen, who spent eight seasons as an assistant coach in Lubbock, also held interest in the job, but Tech athletic director Kirby Hocutt declined to interview him, according to multiple reports.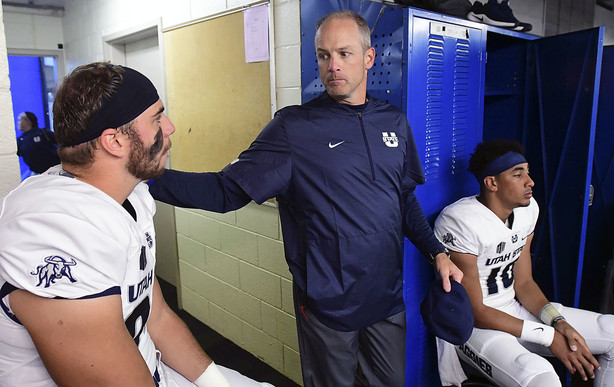 Prior to the 2018 season, which included back-to-back wins over in-state rival BYU for the first time since 1974, Wells endured three-straight losing seasons. The Aggies finished 6-7 in 2015 and 2017 after bowl-game losses, and were 3-9 in 2016. Wells also led Utah State to a 9-5 record in his first season in 2013, including a 7-1 mark in Mountain West play and a Poinsettia Bowl victory.
Now, Wells will move on from a program that has often been overshadowed regionally by Utah, BYU and Boise State to one overshadowed by college football behemoths Oklahoma, Texas and (sometimes) Texas A&M.
Wells' move to Lubbock is also a homecoming, of sorts — or at least, closer to it. He was a standout high school quarterback in Sallisaw, Oklahoma, played quarterback at Utah State from 1993-96, and went on to assistant coaching jobs at Navy (1997-2001), Tulsa (2002-06), New Mexico (2007-08 and 2010) and Louisville (2009).
In 2011, Wells returned to his alma mater as quarterbacks coach and recruiting coordinator under then-head coach Gary Andersen and was promoted to offensive coordinator in 2012 — one year before Andersen left for Wisconsin and Wells was named the full-time head coach.
While the Aggies will begin a national search for their next head coach, immediate candidates for the job include Weber State head coach Jay Hill, BYU assistant head coach and special teams coordinator Ed Lamb, and Andersen, who recently returned to his hometown of Salt Lake City to take the assistant head coach job at his alma mater Utah.
×
Related Stories