This archived news story is available only for your personal, non-commercial use. Information in the story may be outdated or superseded by additional information. Reading or replaying the story in its archived form does not constitute a republication of the story.
LOGAN — After Texas Tech had called, interviewed and lined up a reported six-year contract for Matt Wells by Thursday night, Red Raiders athletic director Kirby Hocutt and his staff were interested in flying the former Utah State head coach to Lubbock, Texas, immediately to meet with the team.
But Wells still had business to attend to. He scheduled a team meeting with his players, staff and athletic director John Hartwell, to break the news of his departure — along with offensive coordinator David Yost and defensive coordinator Keith Patterson — himself.
The meeting lasted just shy of a half-hour, in which time Wells emotionally spoke to each player individually, and Hartwell offered his own words of encouragement, naming assistant head coach and co-defensive coordinator Frank Maile as the interim head coach in Wells' absence.
But Wells wasn't done with Utah State just yet.
"If you could've seen the emotion from our student-athletes, from Matt, from his family, if that doesn't choke you up a bit, I'm not sure you have a pulse," Hartwell said of the reigning Mountain West coach of the year.
"He won't be calling the plays on the sideline, but he has already asked me to be on the sideline as an Aggie alum and former football player," Hartwell added. "His family will be in the stands. And I wouldn't have it any other way."
Before he left, Wells had already received a contract offer that would've given him a raise of about 20 percent personally, as well as close to a half-million dollars total in salary increase for his assistants. Wells considered the offer, but Hartwell knew that if Power-5 programs came knocking with veritable interest in the longtime Aggie coach, there was no way Utah State would be able to match the "bidding war" of the higher-revenue programs.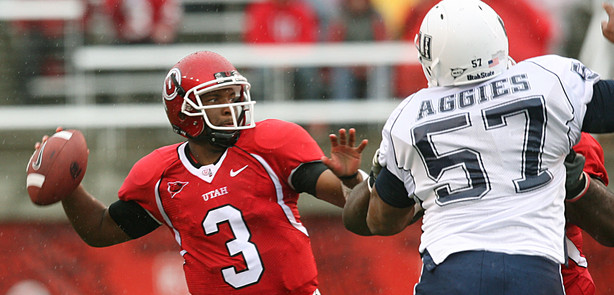 Still, Hartwell tried three weeks ago.
"That was before any of this conversation came up," he said. "We knew it was in the realm of possibility. We wanted to be proactive, as opposed to a Chinese fire drill when someone came up and offered a new position at X-Y-Z institution."
Maile will take over day-to-day operations of the football team, which set a new standard for the program at 10-2 and came within a win at Boise State for a berth in the Mountain West championship game.
The former Aggie defensive lineman will also oversee Utah State's recruiting efforts, a vital component in today's age of the early-signing period that begins Dec. 19. Maile, a West Valley City native who anchored the Aggies' defensive line from 2004-07, is in his third season running the Utah State defense after serving as defensive line coach from 2011-13. In between that time and his return to Cache Valley, he spent two years at Vanderbilt before moving back to Logan in 2016.
But even though Wells will no longer be involved with the program, he will help Maile in preparation for the bowl game, which Hartwell still hopes will be the Las Vegas Bowl against a Pac-12 opponent. Hartwell met with Maile at 6:30 a.m. Friday, scheming potential opponents and setting up the personnel he'll leave behind.
The guy who will (at least temporarily) fill Wells' seat in the office has also reached out to several Aggie recruits, and Hartwell has offered to do the same while undergoing the hiring.
"We are going to go through this process. Continuity is important," said Hartwell, who said that every Aggie offensive coach has been approached about going to Texas Tech, and strength and conditioning coordinator David Scholz has already signed on with the Red Raiders. "We want to make sure that we go through the process as quickly as possible, but that we get the person who we think will be successful to lead Utah State football into the future."
For Hartwell's side, the business of finding a head coach begins immediately. He'll drive to Salt Lake City later Friday to meet with executives from DHR International, the same search firm he used to hire Aggie basketball coach Craig Smith away from South Dakota. Then he'll get on a plane Sunday to attend the National Football Foundation's annual event, where he will rub shoulders with longtime friends like David Cutcliffe and Archie Manning, picking their brains about potential hires to lead Utah State.
Related Story
Wells had three-straight losing seasons with the Aggies prior to the success of 2018. But he also went to the Mountain West title game in his first season in 2013, finishing with a 7-1 conference record and a win in the Poinsettia Bowl.
Hartwell hopes to bring in someone who can build on that success, and push the Aggies forward — and he'll look to do it fast, as well. The former Troy athletic director hopes to have a new head coach in as little as 10 days, maybe two weeks, and certainly has an eye on that early-signing period — both for the recruits Utah State has already earned and ones the new coach may bring with him to Logan.
"It's really important to eliminate the uncertainty of who will lead our program going forward, as soon as possible," Hartwell said.
Candidates for the position have already reached out, even before the hiring became official. There's an abundance of contacts to sift through, both those with "on-paper" qualifications like current and former head coaches, as well as rising coordinators.
Hartwell isn't limiting himself to candidates who know Utah. But he admits it will play a role in his ultimate hiring decision.
"I don't think the (Utah connection) is an absolute prerequisite," he said. "But they've got to understand the culture and the nature; we have had huge success with Polynesian student-athletes and returned missionaries, and that will be a huge cog in the success of Utah State football."
×
Related Stories