Estimated read time: 5-6 minutes
This archived news story is available only for your personal, non-commercial use. Information in the story may be outdated or superseded by additional information. Reading or replaying the story in its archived form does not constitute a republication of the story.
SALT LAKE CITY — Smart technology being tested by UDOT along two heavily traveled Utah roadways could one day be used to improve safety statewide.
"Sometimes you can tell when a car is going to run that red light and your light goes green and you sit there for a second," Linda Hull, policy and legislative services director for the Utah Department of Transportation, said. "If the intersection was equipped, it could pick up that incident is going to occur and it can hold the cross traffic red just a little bit longer to let the (speeding) car get through the red light before giving the green light to the cross traffic."
As it stands, however, Hull said the technology has not been utilized on a broad scale. But she recently told Utah lawmakers on a legislative transportation committee how the agency is testing technology that monitors Utah Transit Authority bus traffic along an 11-mile section of Redwood Road in Salt Lake County and a bus rapid transit area in Utah County.
Both roads have been equipped with technology that allows UTA buses to communicate with the connected vehicle technology installed along those roads.
Radio transponders are in place at 24 intersections along an 11-mile stretch of Redwood Road between 400 South in Salt Lake City and 8020 South in West Jordan. They communicate with buses that are also equipped with radio equipment to monitor vehicle speed, direction and lane location on the road. Software that coordinates processing the information "sees" the bus, calculates whether it's on schedule or otherwise and, if necessary, can help move the bus through the next intersection by slightly increasing the length of the green light phase, UDOT spokesman Joe Walker said.
Other data gathered by UDOT, like the volume of vehicles moving along Redwood as well as other routes that feed into and impact traffic along the corridor, gets rolled into the calculations performed by the Multi-Modal Intelligent Traffic Sign Systems software, he added.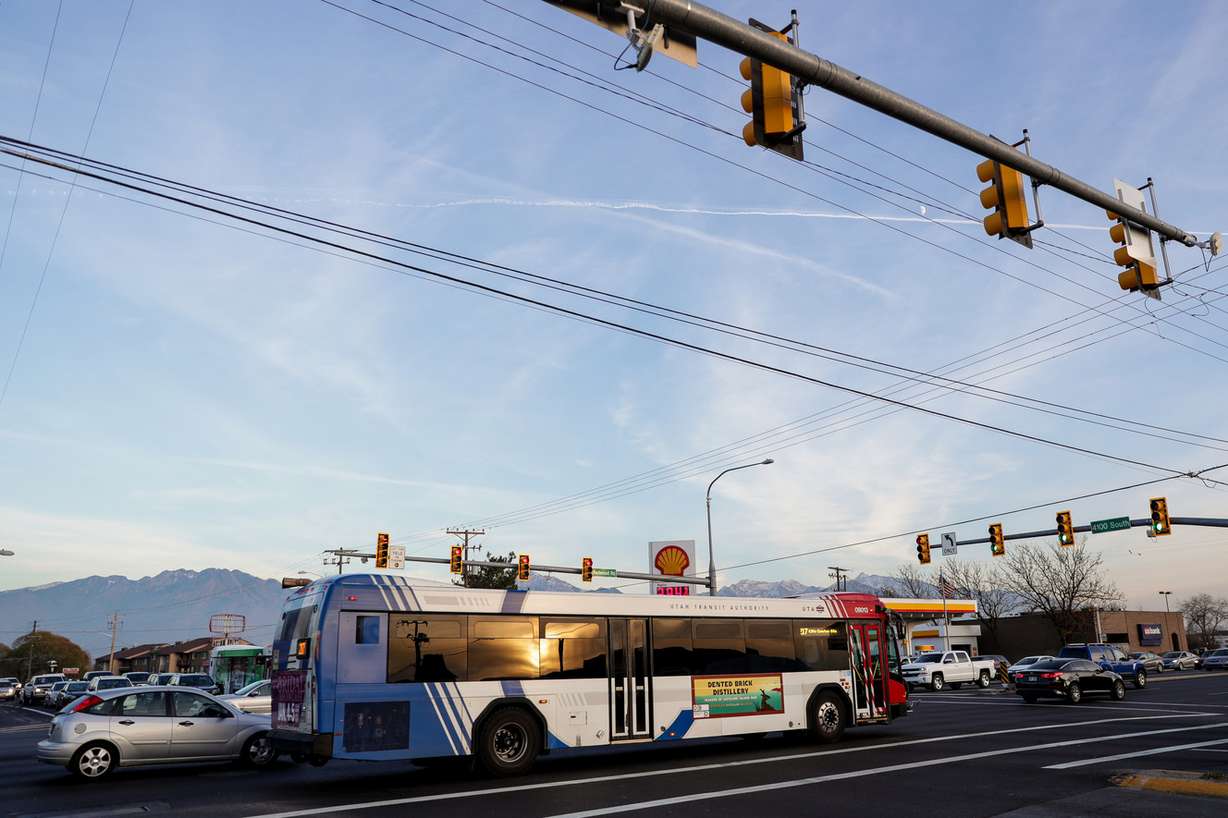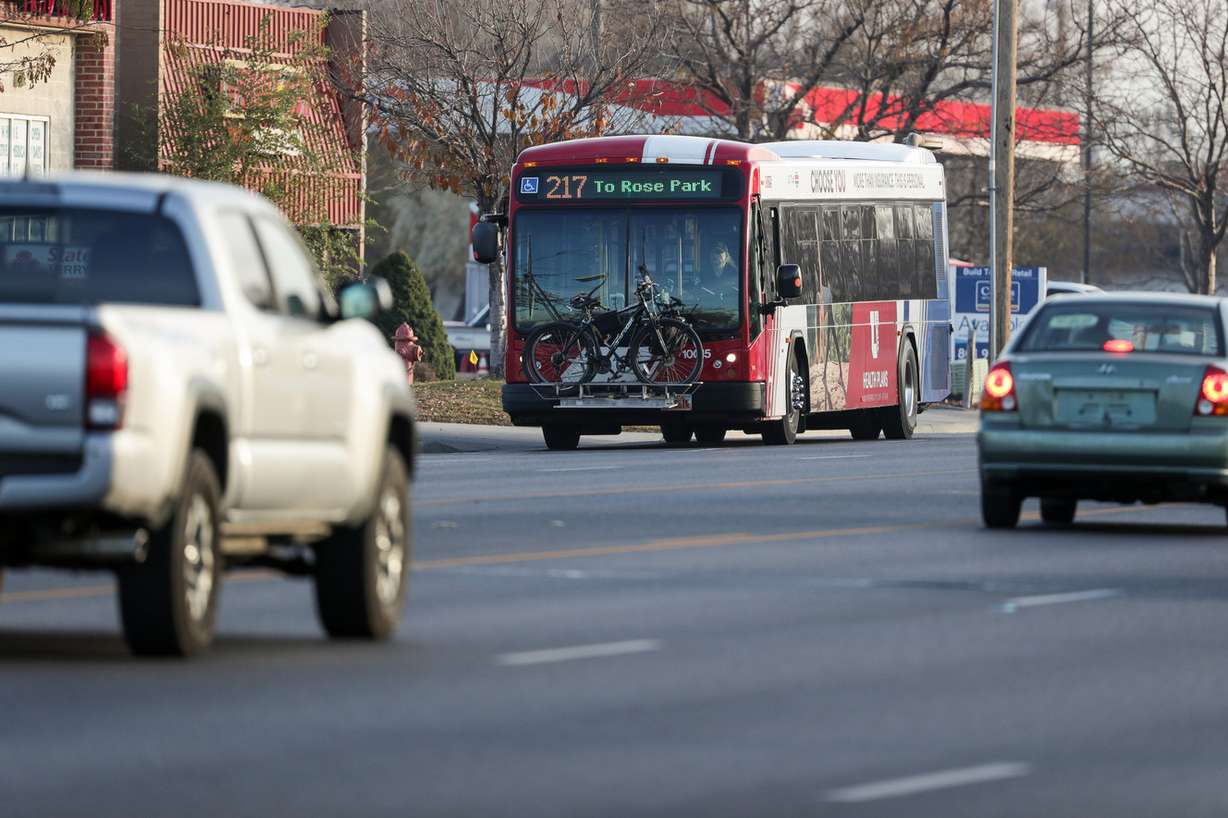 Hull noted that the use of smart technology in vehicles that can communicate with smart roadways can eventually lead to safer driving for everyone.
"Being able to have the infrastructure itself being smart, the roadway would be able to pick up situations where (a potentially dangerous circumstance is occurring)," Hull said.
She said even though all vehicles are equipped with smart technology, adding smart roadways and smart transit vehicles could help enhance safety in many places around the state.
Connected vehicle technology allows vehicles to share information with other vehicles, including basic safety messages like location, speed, direction and braking. Additionally, infrastructure can also communicate with vehicles to share information that can avoid crashes, improve traffic mobility and increase fuel efficiency, she said.
"The reason we did this is so we could have a live deployment to demonstrate how this (technology) works," Hull said. "The reason we picked (locations) with UTA is those areas frequently have difficulty keeping their (bus transit) schedule on time. We thought this would be a good opportunity to improve their schedule."
Walker reiterated that while the technology is currently available and being tested in specific locations, it has not yet been deployed statewide. With greater testing of self-driving vehicles underway by car manufacturers, this is the time to determine best uses for smart technology, he said.
"The whole notion of connected autonomous vehicles is that the infrastructure can connect with the vehicles and the vehicles can connect with the infrastructure," he said. "There will be a lot of data moving back and forth when that technology is (fully) in place."
---
The vehicles being developed now can see their surroundings and react to that information, but they'll need data, communicated from infrastructure sensors, to really be part of a smart network.
–Blaine Leonard, UDOT technology and innovation engineer
---
Hull said that under the current system, all data is anonymous, meaning the technology cannot recognize the make or model of any vehicle or anyone in the vehicles. For now, the point of the testing at this point is to help get more people using public transit in the most efficient manner.
"It really is an important improvement to keep the buses on time," she said. "If you can make transit work well, more people are likely to take transit and we can get more cars off the road."
Being able to get "platoons of vehicles" moving through corridors and moving through intersections more effectively will help make roads safer for all traffic, she said. As more vehicles and roads are equipped with smart technology, there will be even greater safety capabilities developed that will mean fewer crashes and fewer injuries to people on buses and in all types of vehicles.
"The long-term hope is with these connected autonomous vehicles, we take the human element out of the equation," Walker said. "Where these cars and the infrastructure take care of the driving (because) humans are responsible for 94 percent of the fatal crashes on our roadways throughout the nation, we're talking about saving lives here."
Related story:
UDOT debuted its connected/autonomous vehicle network — the first operational network of its kind in the country — in February. The technology behind the system is aimed at improving the safety and functionality of the driverless vehicles of the future, explained UDOT technology and innovation engineer Blaine Leonard.
"Right now, the CAV system will help move transit vehicles through this corridor more efficiently," he said. "But there are all kinds of future applications and uses for this two-way communication and monitoring system."
The intelligence behind the system, developed by UDOT in partnership with the University of Arizona, is capable of communicating with other smart and networked vehicles, Hull said.
Leonard noted he expects there may be some interest from autonomous vehicle developers to use the corridor for testing how emerging onboard driverless technology can interact with infrastructure data. That combination will be necessary to support roadways teaming with cars, sans drivers, he said.
"The vehicles being developed now can see their surroundings and react to that information, but they'll need data, communicated from infrastructure sensors, to really be part of a smart network," Leonard said.
Contributing: Art Raymond
×
Photos
Related stories
Most recent Features stories