SALT LAKE CITY — While talk of driverless cars and how they'll change the lives of motorists continues, important building blocks of tomorrow's transportation are already in play on Redwood Road.
Currently, Utah Transit Authority buses rolling on an 11 mile stretch of Redwood Road from 400 South to 8100 South communicate electronically with the traffic signals to improve their mobility and efficiency.
Blaine Leonard, technology and innovation engineer for the Utah Department of Transportation, said the bus and the traffic signal "talk to each other."
This is the first stretch of road in the U.S. that successfully operates like this, and UDOT demonstrated it to visiting transportation officials Wednesday as part of a workshop.
Local engineers are the first to establish this kind of communication between the buses and the traffic signals. If the buses fall behind schedule, they communicate that information to the traffic signals, which then give them additional time on green lights to get back on schedule, Leonard said.
"That's the first step for us in understanding how we send these messages back and forth," Leonard said.
Once they understand that, experts can expand the system to other vehicles and transportation infrastructure through Connected Autonomous Vehicle (CAV) technology.
"The connected part is the vehicles communicating or talking with others — talking with other vehicles, talking with the infrastructure, talking with other travelers," Leonard said.
He describes it as an ecosystem of information flowing between all of the parties on the road, sharing vital data.
Leonard said one of the end goals with this technology is to provide information to prevent crashes.
On Wednesday, more than two dozen transportation officials and consultants visiting from out of state took a ride on Redwood Road to see how the technology works.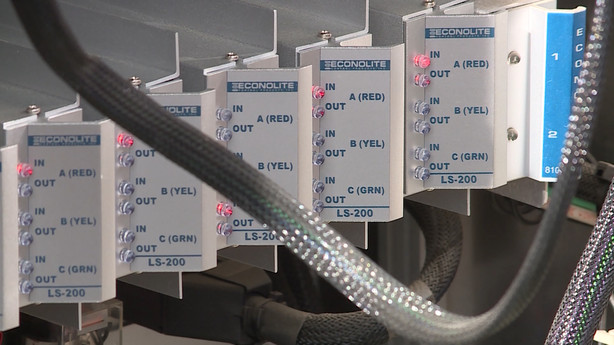 "I think it's really exciting in the way that we are able to actually utilize this for public good," said Patrick Son, managing director of the National Operations Center of Excellence. "I mean, just in terms of saving people's lives and preventing crashes, it can make a difference."
Once the technology is perfected and applied to all vehicles, the system should help in avoiding traffic crashes, Leonard said.
"The systems could communicate between the cars and say, 'Hey, wait a minute, you've got a green light but that guy is going to run the red light. You need to back off,'" he said.
Leonard points out that while the system is not that sophisticated yet, automobile makers are starting to work on this capability in their vehicles. Policy makers are also starting to get a handle on the decisions that will be necessary to make this technology work legally and logistically.
Long-term and improved safety is one the of the greatest benefits of this technology, Leonard said, and he predicts it should take about a decade to get there.
"The goal here is to zero fatalities," he said. "This technology will help us move towards zero fatalities. As humans, we make a lot of mistakes. Most crashes have an element of human error. These technologies will help us get past those mistakes and prevent crashes."
×
Photos
Related Stories