This archived news story is available only for your personal, non-commercial use. Information in the story may be outdated or superseded by additional information. Reading or replaying the story in its archived form does not constitute a republication of the story.
SALT LAKE CITY — 'Tis the season for shopping, where millions of people will do that online for the holidays.
The National Retail Federation anticipates 164 million Americans will shop during the five-day span from Thanksgiving through Cyber Monday, and it expects nearly half of that will be done online.
That means millions of additional mail and parcels will go through the mail service, which already processes billions of letters and packages each week, said Jared Bingham, team leader for the Salt Lake City branch of the U.S. Postal Inspection Service.
While the holiday season is full of cheer and joy, authorities also warn it's the season of mail and package theft, scams and other hoodwinks. Safewise.com ranked Salt Lake City as the second-most-likely metro area in the country for package theft this year after analyzing 2017 FBI larceny data.
For those who are victims of package thefts, mail theft and more, there's actually a federal agency that helps investigate several of these cases: The U.S. Postal Service Inspection Service, or the USPIS. It's one of the United State's first agencies, and even predates the Declaration of Independence.
What is USPIS and what does it do?
Postal inspection jobs actually date back before the founding of the country. It was formed by Benjamin Franklin in 1772 when Franklin served as the postmaster general under the colonial postal system, according to the agency's history.
While agents were initially called surveyors, the job description hasn't changed much since then. In all, there are about 200 criminal and civil statues that the agency enforces, according to Bingham.
Agents investigate anything from mail theft, identity theft, mail fraud, Ponzi schemes where mail is used, narcotics shipped through the mail, money laundering, and any sort of dangerous packages such as bombs or other suspicious items. They've also ventured into criminal investigations regarding the dark web in recent years.
"In many (dark web) cases, it's the only lead you have — that it came through the mail," Bingham explained. "So you have to backtrack and use cyber forensics and all of that."
The agency has played integral parts in solving recent mail bombing cases, the case of the Utah man charged in connection with mailing caster beans to the White House, the Park City "pink" case and even the large Cottonwood Heights fentanyl bust in 2016.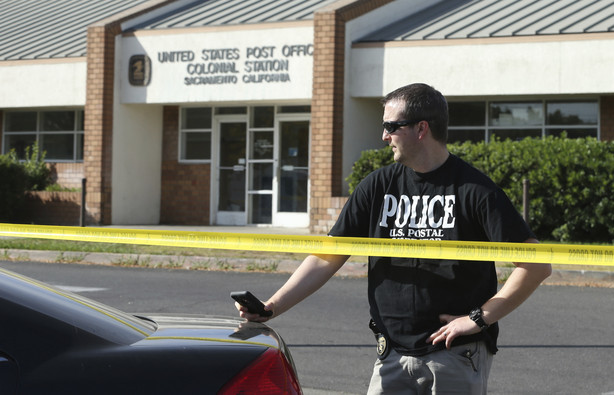 Bingham points out that mail is constitutionally protected, which is partly why they cover as much jurisdiction as they do, and it's also why agents need a warrant to search mail. Mail was important enough to the writers of the U.S. Constitution that Congress, in 1792, even imposed the death penalty for those caught stealing mail, according to agency's history.
"You can only imagine the types of things that go through the mail at any place in America," Bingham said. "If something pops up in any of those categories, we get involved."
But it's also a relatively small agency. There's about 1,400 employed in the U.S., according to Bingham, and seven are based in Utah. That's not to say they're overflooded with cases, because they often pair up with local, state or federal officials to solve them.
How local agencies work with USPIS
Salt Lake police detective Greg Wilking said local officers will work with postal inspectors when necessary. Local police will typically take initial reports of mail theft and if there's an ongoing trend, they'll alert USPIS to help solve it.
Here's another hypothetical: Woods Cross interim police chief Adam Osoro explained they would work with his agency if something illegal, such as narcotics, showed up in the mail in Woods Cross.
"They'll let us know so we can do the investigation into who would be responsible for shipping that contraband into our city," he said. The same goes if the city's investigators are alerted of something sent in the mail.
Related:
Dealing with package theft
When he started as an inspector, Bingham said the agency spent most of its time dealing with people who stole checks or credit cards. Those cases were "like shooting fish in a barrel" because the crooks would have to show up either at a store or a bank to cash in from their theft.
Things have changed as more people order online. An increase in online shopping equates to an increase in parcels shipped and processed. Thieves have switched to stealing packages, which has made investigations a little more complex.
"When they steal somebody's Xbox off their front porch, there's not really a way for us to track that," Bingham said. "They don't have to show their face somewhere. … That's a unique challenge that requires us to work closely with the state and local partners that are active in the communities."
These types of theft happened enough in Utah that Woods Cross police created the "Santa Squad" in 2017, where residents could ship their packages to the department for them to pick it up. It was successful, but recent cases involving mailed-in threats, made officers wary of accepting unscreened packages and the program was canceled, Osoro said.
"It was pretty popular with our residents and we enjoyed doing it, but after taking a second look at it, we felt that we were putting not only the public but putting our officers and city employees at risk," he said.
The agency went around informing residents of where to send packages safely at the post office and UPS for 2018 instead.
Mail/package prevention tips
As recommended by USPIS and local police:
Don't leave packages unattended for a long period of time. Retrieve them as soon as you can. Have a neighbor pick it up for you if nothing else.
Sign up for informed delivery, which gives people an email with information about what they will receive that day. That allows you time to contact someone you know and ask them if they can pick up that package or contact the post office and ask them to not deliver it.
You can go on the USPS website and ask them to hold a package for pickup instead. If you're going to be away from home for an extended period of time, put your mail on hold or sign up for a temporary mail forward to where you're going to be.
If you're able to, go online and change delivery location to a new spot that will suit your needs.
Purchase a security video doorbell, such as "Ring" or "Nest." This allows people to know of any threats. It also allows victims to show people images of the perpetrator and when the theft occurred. Some local police agencies have partnerships with these companies, too.
Install a lockbox that makes it difficult for thieves to break into.
Don't let package thieves turn your holiday season from happy to sad. #USPIS has info you can use. https://t.co/b7Li1mQhHB#FightFraud#PackageTheftpic.twitter.com/GI2CTcL1QL

— U. S. Postal Inspection Service - Headquarters (@USPISpressroom) November 16, 2018
Meanwhile, federal mail inspectors teamed up with FedEx, UPS, Amazon and other courier companies to track trends on where parcel thefts happen the most in communities, so they know where to keep a close eye on.
With the holiday season approaching, postal inspection agents paired up with Salt Lake police earlier in November for a package theft sting in an area where multiple package thefts had been reported.
Officers set up decoy packages that were delivered to a set location. No arrests were made then, but Wilking said they will likely do more stings in the coming weeks as package deliveries typically increase.
"Especially after Cyber Monday, a lot of people will start getting packages delivered and there'll be people out following vehicles," he said.
Bingham hopes those tactics will help sway would-be "porch pirates." Either way, he said postal inspectors will help prosecute anyone who messes with the mail.
"Sometimes that works, sometimes it doesn't," he said. "We do it to send a message that, hey, if you're going to mess with the U.S. mail that's federally protected, then you're going to be prosecuted federally."
×
Related Stories