Estimated read time: 3-4 minutes
This archived news story is available only for your personal, non-commercial use. Information in the story may be outdated or superseded by additional information. Reading or replaying the story in its archived form does not constitute a republication of the story.
SALT LAKE CITY — Utah voters showed up at the polls on Election Day in record-breaking numbers.
Early numbers by county
More than 268,000 people voted in Salt Lake County — the first county to release its early numbers after 8 p.m.
Utah County saw more than 87,000 voters.
In Davis County, more than 95,000 people voted, compared to 65,000 overall in 2014.
More than 25,000 voters cast ballots in Summit County.
More than 11,000 people voted in Iron County.
How this year compares
The state's elections director, Justin Lee, said that by Tuesday afternoon Utah had already passed previous midterms in the number of ballots cast.
About 815,000 ballots had been cast that officials had a record for as of late Tuesday night, Lee said, representing 58 percent of active voters.
"No question, we're breaking records," Lee said.
In 2010, 653,000 Utahns voted — 51.55 percent of registered voters. In 1990 and 1994, the turnout was about 58 percent, Lee said, but this year's percentage may beat those numbers as many ballots are still in the mail or being counted.
Lines at polls
Utahns voting in-person Tuesday had varying experiences at polling locations.
Areas of Utah County saw heavy voter participation and long lines.
In response, elections officials relocated additional machines to locations in the north end of the county and provided some paper ballots to make sure everyone waiting had the opportunity to vote, according to Utah County Clerk/Auditor Bryan Thompson.
But as of 11 p.m., people were still lined up waiting to vote in Utah County.
"It's the first time for vote by mail in Utah County and we anticipated that a lot of people would still show up," said Lt. Gov. Spencer Cox in regard to the wait time in Utah County.
Voters in Eagle Mountain saw wait times of up to two hours but were treated to cookies, water, donuts, coffee and hot chocolate at different times throughout the day.
Larry Dew went to two voting centers in Lehi, only to find more than two-hour waiting times. As waits at Lehi's City Hall grew to as much as three hours in the evening, pizza was dispatched to sate hungry voters.
#summit_fb
Summit County tweeted wait times of over 90 minutes in Park City, and encouraged voters to consider driving to Kamas or Coalville where wait times were under 10 minutes.
Lines were short at the Trolley Square voting center Tuesday morning, but each machine was still occupied and the room had a bustling atmosphere. In the first two hours, more than 100 ballots had been cast.
Shauna Bagley, the Trolley Square voting center lead, was impressed by the turnout and said she expected the evening hours to get very busy.
She believes this year's election drew more voters than usual for a midterm election because of the propositions and having a former presidential candidate on the ballot.
Grace Laughlin, who cast her first ballot Tuesday, comes from a family of dedicated voters.
"I like that I'm finally able to participate in the choices that are being made for me and the people I care about," she said after voting next to her parents.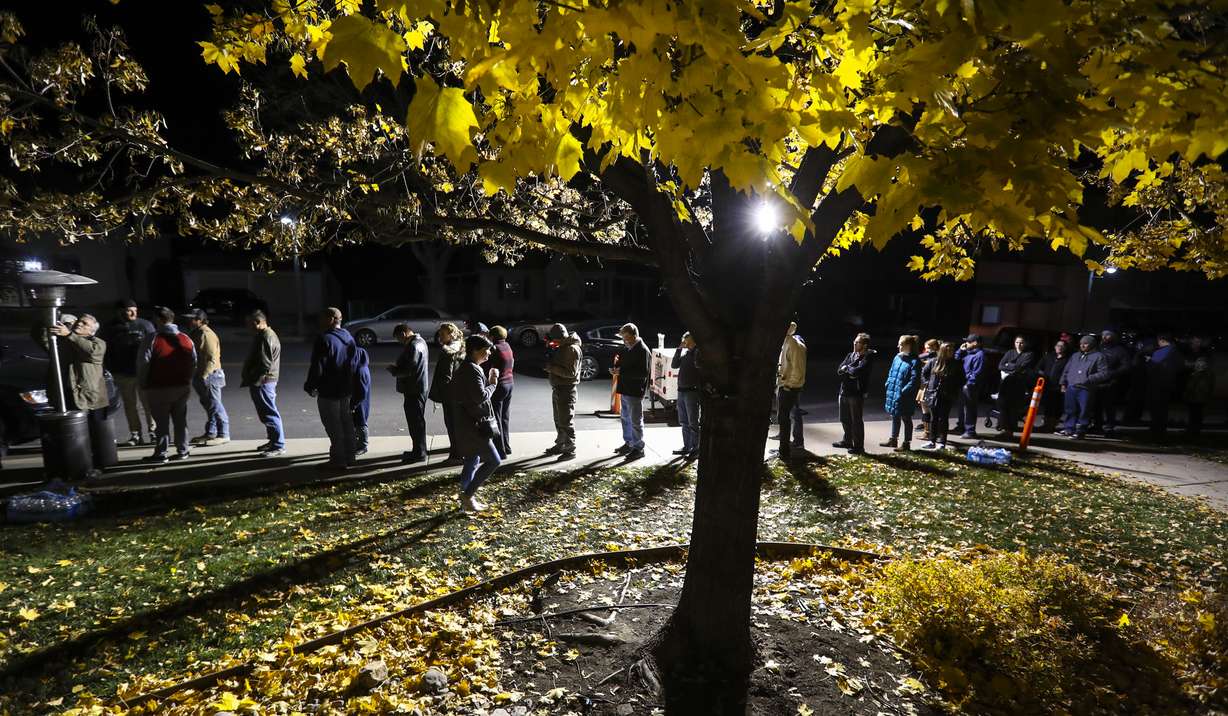 #lehi_pic
Her father, Shawn Laughlin, was excited to see her participate in her first election.
"Normally we would just mail our ballots in, but we wanted to do it down here in person for her first time," he said.
University of Utah senior William Lewis cast his ballot at the Marriott Library polling station Tuesday.
"I think it's more fun to vote in person," Lewis said.
The voting center at Columbus Community Center wasn't as busy but received 35 ballots within the first two hours of opening.
"I want change, and it's time now," said James Montgomery after casting his ballot at Trolley Square. "Change is for the best, and people want something different now."
A previous version said 1.4 million votes had been counted as of Tuesday. That number actually represents the number of active voters. More than 800,000 votes were counted as of late Tuesday night.
×
Photos
Most recent Politics stories