This archived news story is available only for your personal, non-commercial use. Information in the story may be outdated or superseded by additional information. Reading or replaying the story in its archived form does not constitute a republication of the story.
PROVO — Six years ago, Qualtrics CEO Ryan Smith said "no" to a half-billion dollar offer for a startup he began in his basement. On Friday, the company filed to go public in what could be the biggest IPO in Utah history.
Smith has seen Qualtrics grow from ideas his father scribbled down while recovering from throat cancer to what it is now — a historic IPO and a valuation of about $2.5 billion.
He watched the company grow organically for ten years as Qualtrics "bootstrapped" its way to the top before taking outside money or venture capital. Qualtrics has since brought in about $400 million in venture financing after a $180 million funding round in April 2017 when the company received its latest valuation.
Now, private investors say that valuation is probably even higher — and the documents the company filed with the U.S. Securities and Exchange Commission support their claim.
Qualtrics boasts an annual revenue growth over 50 percent after the company made about $190 million in revenue for 2016, then jumped to almost $290 million in 2017, according to the filing. The company also took in almost $185 million in revenue for the first six months of 2018 — meaning the company is growing about 27 percent compared to last year.
The company's initial offering of $200 million in the prospectus filed with the U.S. Securities and Exchange Commission will likely change when they officially go to market. Company officials have not yet released details about the full offering or share prices, but Qualtrics will be trading under the ticker "XM" for "experience management."
Qualtrics began as more of a simple survey software that was popular with academics but has since grown and evolved into a leader in the experience management world. The company's software allows businesses and organizations to determine where the gaps are when it comes to employee, customer, brand and product experience via complex data input and analyzation.
In short, Qualtrics' software allows everyone to "play moneyball," Smith said during a user conference in 2017 when he announced the software's newest upgrade and focus on experience data.
"There are two types of data: operational data and experience data. For too long, we've been looking exclusively at data about the past — the operational data, or 'O data,'" Smith said during the conference. "Where companies fail is with experience data or 'X data.' X data is the human-factor data; the beliefs, emotions and sentiments that tell you 'why' things are happening and help predict what's going to happen next."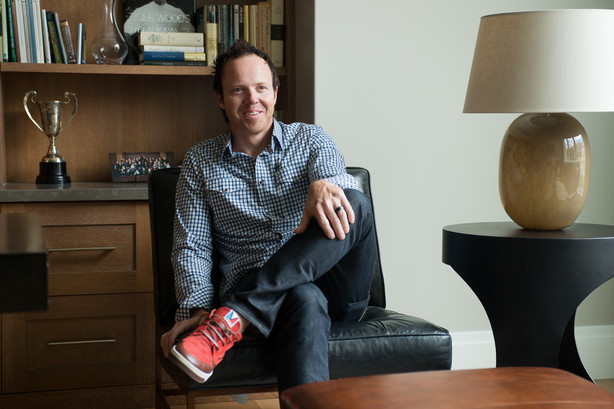 But the road to success hasn't been easy, Smith said. After founding the company in 2002 with his father, brother and college roommate, he often felt overwhelmed with the plethora of competition.
"Very early on, I felt like we were way behind," Smith told KSL.com in 2016. "We were a two-person company. Our website didn't look good. We had no money. I went to my dad and started asking a lot of questions: 'Why don't we do this? How come we haven't done that?' He just looked at me and said, 'What's stopping you from doing it?' It took me a few days, but I realized then that if things were going to happen, it was up to me to make them happen."
Qualtrics really began to grow when it took its early product to the world of academia. University students became familiar with the software, and it began to spread as those students left to work for companies around the globe.
It was in 2012 that Smith was offered $500 million for Qualtrics and turned it down as he watched the company continue to develop.
"Some of the best advice I ever got was that you can either write your own story or have someone write it for you," Smith said. "I love Qualtrics. This is my last job. It's the only thing I want to do."
Qualtrics is the third local tech company to go public this year — fulfilling Smith's prediction at the Silicon Slopes conference in January that "three or four" tech companies in Utah would make the jump.
Local tech education company Pluralsight went public in May with an offering over $350 million, and business analytics company Domo went public in late June with an offering of nearly $200 million.
Domo faced serious skepticism after the company initially filed with the SEC, and so far trades at a market cap of under $500 million. Pluralsight's shares value the company at about $3.6 billion.
Qualtrics will likely have a larger public offering than both — and all other companies in the history of the state.
×
Related Stories