BOUNTIFUL — Ashley McGavin and her husband welcomed another little baby, Parker, to their family five weeks ago.
"Everyone just loves him and wants to hold him all the time," McGavin said.
Parker is often on the go. "He's already been out and about," she said.
McGavin does everything she can to keep him healthy. "He's so little and so vulnerable … hand washing only goes so far," she said.
This year, she had everyone in her family get a flu shot to protect their new baby, who isn't old enough to receive his own shot.
Infectious disease expert Dr. T.W. Jones with the University of Utah School of Medicine and Primary Children's Hospital said the flu shot is only for children over the age of 6 months. He said babies are at high risk of getting the flu.
"Almost a couple hundred deaths due to it," Jones said. "We had a lot of kids who wound up in the ICU. I've seen kids personally who wind up on heart-lung bypass machines because it causes such a huge amount of puss and fluid in their lungs. It can be really destructive for kids."
Jones said babies aren't the only ones threatened by people who don't get a flu shot.
"It also helps protect patients who can't get flu shots. So people who have immunocompromise — whose immune systems don't work so great because of a hereditary problem or because they have cancer," he said.
McGavin recognizes how serious the consequences could be for her baby.
"Our oldest is in public school, so there is a lot of different kinds of germs that come in from the home," she said.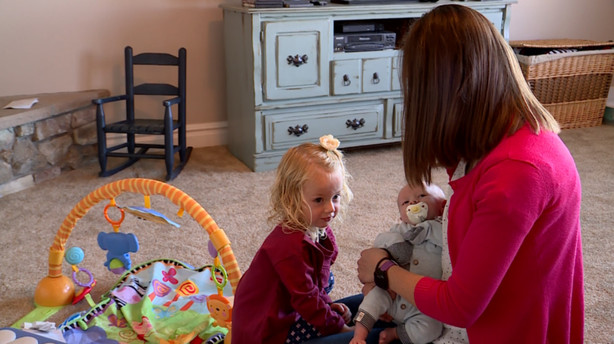 McGavin said she relies on others to keep her baby healthy.
"We encourage everyone to create this shield or wall of fly vaccinated people around those individuals who are at special risk," Jones said.
He said if there is any question about whether a patient is eligible to receive a flu shot or not, he or she should check with their primary care doctor.
"The vast majority of people can," Jones said about getting a flu shot. "Even people who don't have necessarily strong immune systems often can still get the flu shot and, in fact, should get the flu shot to help protect them from complications."
As scary as the shot may seem, Jones said it's worth it.
McGavin's other son, Austin, was hesitant to get the shot when he saw the needle. But with a little encouragement from his mom, he did it.
"That didn't even hurt that much," Austin said.
Related story:
Jones encourages people to get their shot before the end of October before the flu begins.
He recommends the flu shot vaccination over the inhaled vaccination to give family members extra protection this year. The American Academy of Pediatrics also recommends the flu shot as the first choice of protection since the nasal spray did not work well against the influenza strain during the 2013-2014 and 2015-2016 flu seasons.
×
Photos
Related Stories