SALT LAKE CITY — Grayson Allen sat on the bench, much like he had for the first two games of his rookie season with the Utah Jazz.
His coach, Quin Snyder, turned to him and said one word — "Grayson" — and he didn't need to hear a second.
Allen immediately took off his warmups and sprinted onto the court. He wasn't going to let any chance at playing time pass him up for lack of attention.
"I was really just excited to be out there," Allen said. "I've been ready for whenever the opportunity was going to come from coach. It came, and I felt like I was ready for it.
"Overall, it was good. I'm happy to be in the NBA."
Monday night's debut was probably more happenstance than miracle; it was only a matter of time before Allen saw significant minutes for the Jazz, Snyder said.
"Tonight we were looking for a spark, so I put him back in when Ricky (Rubio) had played an extended period. He's our point guard, and at that moment, he needed a blow," Snyder said.
"Part of having depth is guys supporting each other. That happened tonight, and it's going to continue to happen. Our play has to reflect that."
Not much went well for the Jazz during a stunning 92-84 loss to the Memphis Grizzlies late Monday night.
But if they take one thing from their third game — and second loss — of the 2018-19 regular season, maybe it will be Allen.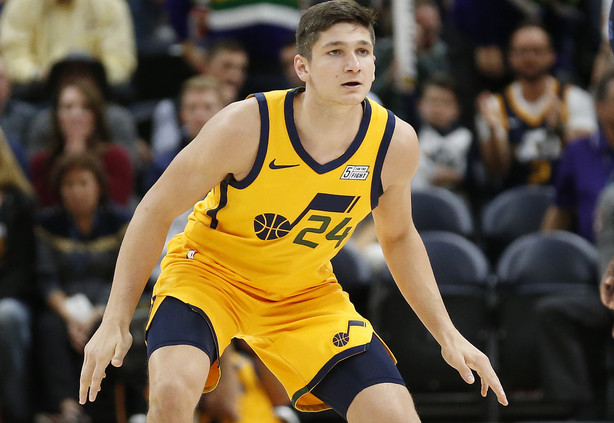 The former Duke standout, who the Jazz selected with the No. 21 overall pick last June, had 7 points on 2-of-2 shooting, including his first career NBA 3-pointer, in just over 10 minutes off the bench.
On a night when all but two players factored negatively into the plus-minus, Allen had a team-high plus-6. Joe Ingles, who had 9 points, 8 rebounds and 5 assists on just 1-of-7 shooting from 3-point range, had a plus-4.
"They got very physical, and we started thinking too much when shots didn't go in," said Rudy Gobert, who had 11 points and 10 boards. "We've got to keep trusting each other and keep playing as a team."
Donovan Mitchell was minus-3, Gobert minus-2, and Ricky Rubio minus-7.
It was a tough night for the Jazz, who searched for a spark of life from anywhere they could get it.
"I was definitely coming in to try to provide a spark," Allen said. "I think we were down 11 at the time I went in, and so it's whatever I can do to make sure we aren't still down, try to bring a little spark and a little life offensively and defensively."
Allen wasn't perfect, and he knows that; within two minutes of his debut, he already had two fouls — including a clear-path foul just moments after he stepped on the court.
Take away those two fouls, and the Jazz's 11-point deficit may have shrunk even more than the 70-63 lead Memphis held to start the fourth quarter.
Related
But the rookie earned respect from his teammates, too.
"He's great," said Rubio, who had 6 points and 5 assists in the loss. "He stayed ready for the opportunity, he came ready and scored for us on a night when nobody was really scoring."
Allen's contributions weren't much — especially in a loss, the somber ex-Dukie said along with his teammates. But he was already thinking of ways he can improve as the Jazz move to a four-game road trip beginning Wednesday night at Houston.
"I'm just going to stay ready, like I always am, and see if there are nights like tonight where I can get in," Allen said. "It's up to me to just stay ready whenever my name is called."
×
Photos
Related Stories