Estimated read time: 4-5 minutes
This archived news story is available only for your personal, non-commercial use. Information in the story may be outdated or superseded by additional information. Reading or replaying the story in its archived form does not constitute a republication of the story.
SALT LAKE CITY — If the Utah Jazz proved they can play with anybody last Friday in a nail-biting 124-123 loss to the defending champion Golden State Warriors at the buzzer, then Monday's game proved the Jazz can lose to just about anybody.
Even a Memphis team that finished just 22-60 a year ago during an injury-plagued 2017-18 season.
Mike Conley had 23 points, seven rebounds and four assists, and Marc Gasol supplied 18 points, including three 3-pointers, to go along with 13 rebounds and four assists, to help the Memphis Grizzlies take a 92-84 win over the Utah Jazz in front of 18,306 fans Monday night at Vivint SmartHome Arena.
Jaren Jackson Jr. scored 11 for the Grizzlies (2-1), which shot just 36 percent from the field but seemed more content to run at a slower pace than the Jazz three nights ago.
"We obviously didn't play well, particularly on the offensive end," Jazz coach Quin Snyder said. "The substance of this team is that we move the ball and work together to get good shots. We didn't do that tonight."
Donovan Mitchell had 14 points on just 6-of-17 shooting to lead Utah, which shot just 33 percent from the field. Jae Crowder added 15 points and eight rebounds on 4-of-7 shooting for the Jazz (1-2), which got 11 points, 12 rebounds and a block from Rudy Gobert.
"We just missed good shots," Mitchell said. "We took a lot of shots. I think that we only made like (eight) 3-pointers in the game or something like that. We've got to rely on our defense a little bit more."
Utah rookie Grayson Allen made his NBA debut Monday night, scoring seven points on 2-of-2 shooting, including his first career 3-pointer. He was one of 11 players to enter the game for the Jazz as Snyder searched for something — anything — to spark the team's offensive funk.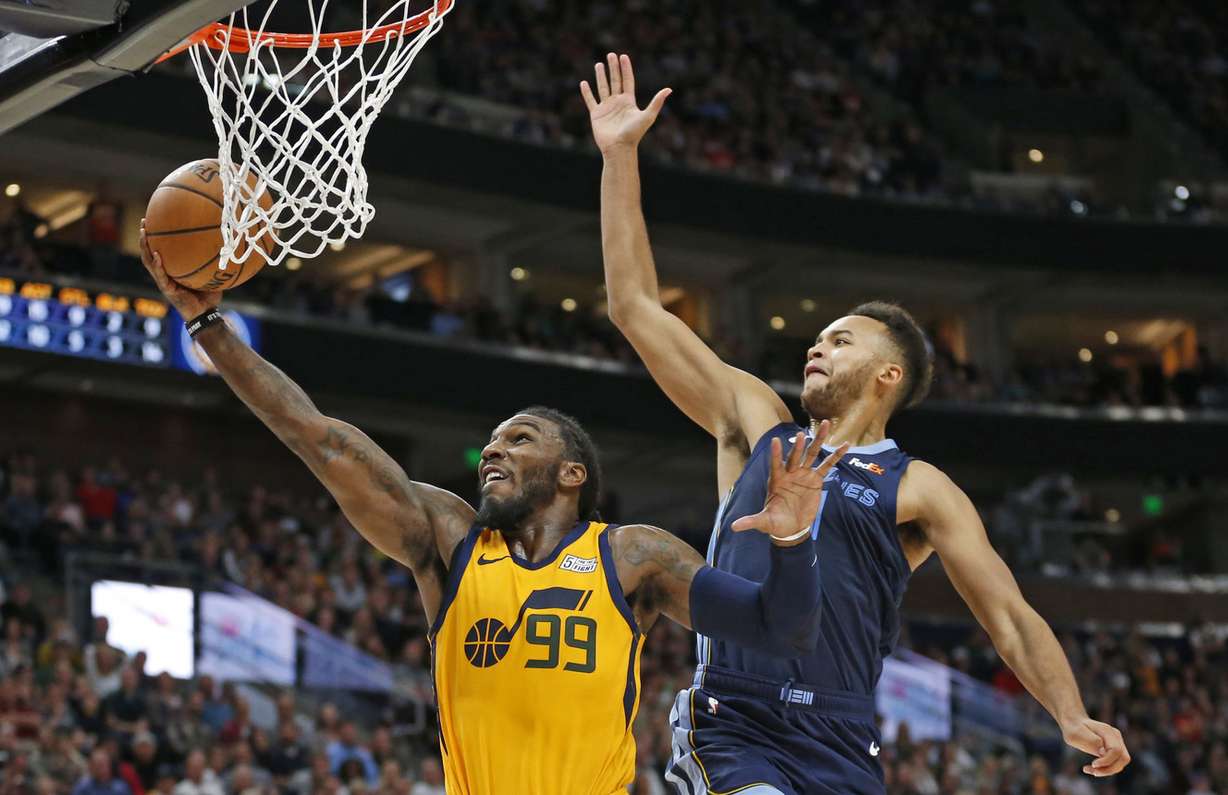 The Jazz scored a franchise-record 81 points in the first half of its 124-123 loss to Golden State last Friday, but slowed it down Monday against a Grizz team that couldn't build up more than a six-point lead through the first half.
Utah couldn't capitalize, though, shooting 35.4 percent from the field and just 8-of-32 from 3-point range. Crowder went 2-for-4 from beyond the arc, while only six Jazzmen had one trey each.
"I think we were doing the right things, but we couldn't the rhythm," said Utah point guard Ricky Rubio, who had six points and five assists. "After a great game that we played the other night, I don't see what happened. We need to play more as a team."
It's no time to panic, though, Gobert cautioned; it's only the third game of the season, and Utah was in far worse trouble all the way into December of last year before surging to the Western Conference semifinals.
"It's going to come, because we have guys that care," Gobert said. "I feel that we are getting better; we almost beat the Warriors, but lost by a tip-in by Jonas. We're coming. It's going to get there; I'm confident."
Allen, the former Duke standout whom Utah drafted with the 21st pick in this summer's NBA draft, picked up two fouls in his first three minutes.
The Jazz also promptly responded with a pair of field goals and two free throws by Allen to pull within four, 67-63 before a last-second 3-pointer gave Memphis a 70-63 lead ahead of the fourth quarter.
Both teams combined for six points in the first six minutes of the fourth quarter before Memphis stretched its lead to 76-66 on Wayne Selden's triple with 6:33 remaining.
There were sparks of life after that — Allen drained his first career 3-pointer, and added a dunk that sent swaths of cheers through the home crowd. But the Jazz couldn't find the rhythm to prevent the stop-and-go Grizzlies from becoming the second-straight team to leave Salt Lake City with a win.
Don't call it a hangover, though.
"This was an important game," Snyder said. "Our guys knew it was an important game. We wanted to win."
Next up
Memphis plays at Sacramento at 8:30 p.m. MT Wednesday.
The Jazz open a four-game road trip Wednesday at Houston. Tipoff is scheduled for 6 p.m. MT on AT&T Sportsnet Rocky Mountain.
×
Related Stories