SALT LAKE CITY — As players met in the middle of the field to shake hands following the conclusion of Utah's drubbing of the visiting USC Trojans, some Utah players took the opportunity to wave goodbye to the opposing side. The gesture irritated many on the USC side and a war of words and close, heated conversations resulted between the players.
Coaches on both sides had to separate the groups, but the waving and taunting continued as the Trojans' players slowly walked off the field at Rice-Eccles Stadium Saturday night. All in all, it was harmless banter after a truly dominant performance over a program that has grown to be a South Division rival for the Utes.
But the result remained: Utah had beaten the Trojans at their own game and were celebrating years of pent-up frustration.
Utah has split the last four games against the Trojans, each claiming the home victory, but Saturday's performance was different. The Utes dominated the Trojans in every facet of the game and stopped the USC playmakers from getting much of anything they wanted. Instead of doing just enough to squeak past the Trojans, Utah executed in near perfection and won the game 41-28.
The Utes now sit in the driver's seat of the South Division title race, have three consecutive dominant performances and have a No. 23 ranking in the Associated Press Top 25 poll to propel them into their final five games of the regular season.
Here's a look at what has made Utah so successful over this most recent stretch of games, where the Utes have scored more than 40 points per game and have won by double-digit scores.
Offensive production and execution
When asked after Saturday's game what has made Utah so successful these last few weeks, quarterback Tyler Huntley pointed to the offense executing their plays. It sounds like an oversimplification of what has been a monumental change to a Utah program that has looked for years for a dominant offense, but his examination was valid.
Even ignoring the fact that receivers have started catching the ball, Utah has shifted to an offensive scheme that fits their style of play and allowed them to break down defenses in a methodical way.
Here's a brief look at their first three games versus the last four games (Utah suffered a loss in the first game of the four-game stretch, but that's when the offense made the shift).
Utah's first three games:
52.3 percent passing plays
47.7 percent rushing plays
1.36 points per drive (avg. 13 drives — 17.7 point average)
0.26 points per play
41.5 percent of necessary yardage
Utah's last four games:
33.3 percent passing plays
66.7 percent rushing plays
2.99 points per drive (avg. 13 drives — 38.9 average)
0.52 points per play
53.2 percent of necessary yardage
The change to a run-heavy offensive scheme has allowed Utah to pick apart defenses in a multitude of ways. Instead of locking up receivers on every down as Utah looks to pass, the Utes are now using running back Zack Moss to establish a standard in the game. Fail to defend the run and Moss will make you pay with big gains. But sell out on the run and the passing game spacing opens up and Huntley is able to deliver the strike.
In the first three games of the season, Utah's average depth of target — the average yard line where a receiver is targeted — was at 6.36 yards. That's a lot of quick, short passes to receivers. In the last four games, that aDOT has shifted to 8.18 yards — an indication that Huntley is able to take more shots downfield and move the chains.
Add to all that Huntley's ability to extend plays with his legs, and opposing defenses have little way to effectively guard Utah when the offense is executing well. It's a simplistic view of a monumental change, but it's how Utah has been able to be successful. We could go deeper, but it's not necessary to see how Utah is exploiting teams.
Defense suffocating opposing teams
Head coach Kyle Whittingham said Saturday night that his defense doesn't really have a weakness, and it's hard to argue with the long-time coach of the Utes. From the defensive line to the secondary, Utah has the physicality, speed and depth to take it to opposing offenses.
Against Utah, teams are averaging a start at the 28.2 yard line (thanks Mitch Wishnowsky) and are only averaging 25.5 yards per drive — that's just barely into Utah territory on the average drive. The Trojans, however, only averaged 16.4 yards per drive — the lowest of all of Utah's FBS opponents this season — with an average field position on the 38-yard line.
All that converts to an average of just 17.7 points per game for opposing teams, or 1.41 points per drive, and Utah's offense has more than doubled that production in the last four games.
Additionally, the run-stopping ability of the defensive line and linebackers has made it extremely impossible for teams to gain any footing. In fact, Utah now leads the nation in rush defense by only giving up 74.57 yards per game. That, mixed with an improved passing defense, gives Utah a No. 7 ranking in total defense for an average of 286.4 yards per game.
All around, Utah is a nightmare for teams to play, and there's little that can stop them unless they move away from the principles that have allowed them to be successful. Should that production continue, there's little doubt Utah will finally claim the coveted South Division title and have an opportunity to claim a conference championship.
Utah opponents' average field position start and stop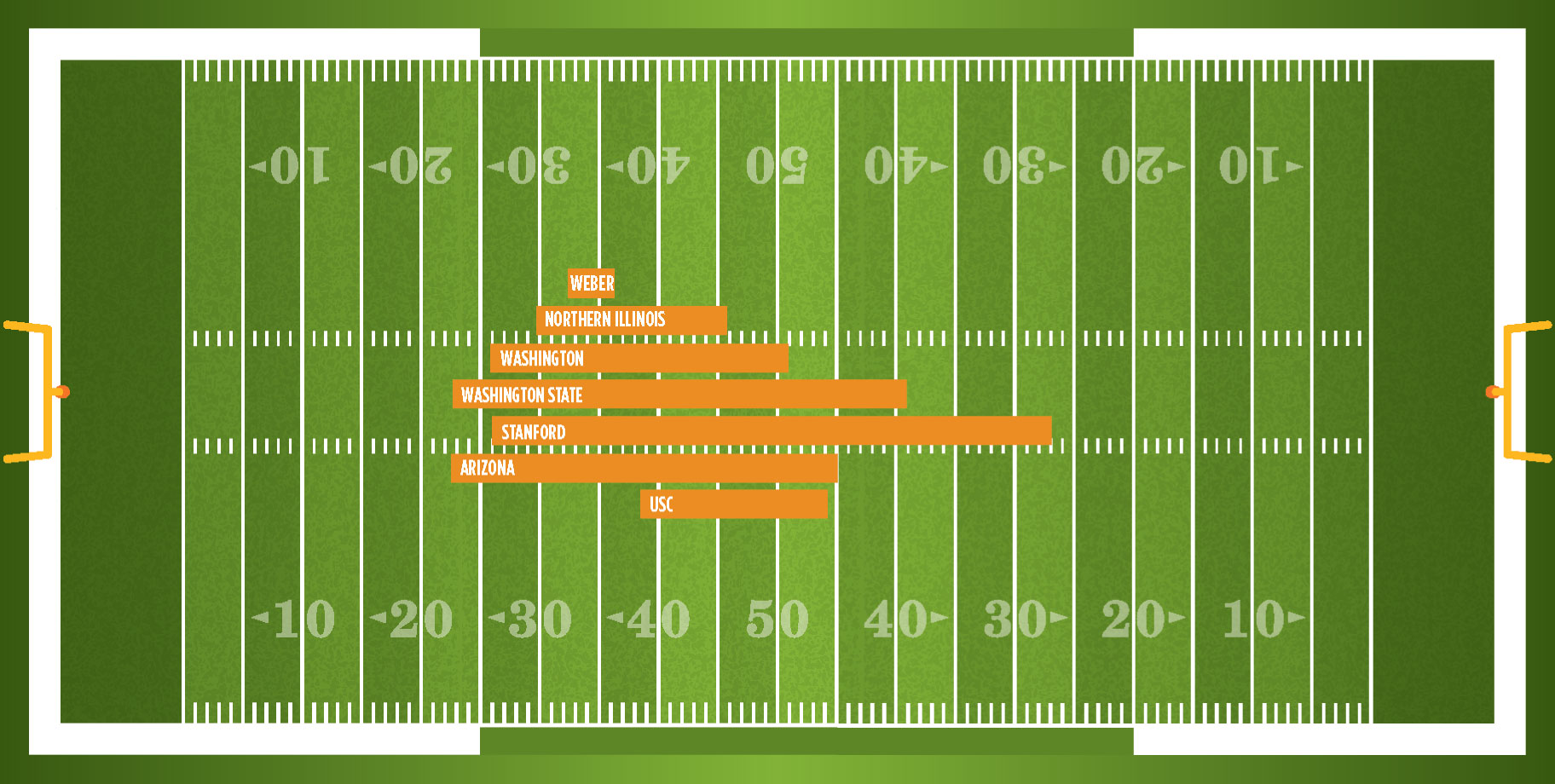 ×