Estimated read time: 4-5 minutes
This archived news story is available only for your personal, non-commercial use. Information in the story may be outdated or superseded by additional information. Reading or replaying the story in its archived form does not constitute a republication of the story.
SALT LAKE CITY — Having lived in Utah most of my life, I've become familiar with the biannual general conference of The Church of Jesus Christ of Latter-day Saints. I have never attended the conference since I'm not a member of the faith. I grew up Pentecostal and never considered changing my beliefs.
That said, I think respect for each person's faith is vital to help us understand each other better. All faiths have positive messages that cross religious boundaries and can be appreciated by most, even those who do not believe in a specific, or any, faith. There are things we can all agree on that lead to society's betterment.
When I listen to another faith's leader speak, whether it's Pope Francis, the Dalai Lama or President Russell M. Nelson, I am not listening to seek great revelation or even to convert. I'm listening to hear what positivity I can gain from these leaders.
With this in mind, I decided that I would sit down and listen to the messages given by church leaders during general conference to see what even non-Latter-day Saints could learn from, appreciate and apply.
Here are three things that caught my attention this past weekend:
"Lessons taught through the traditions we establish in our homes, though small and simple, are increasingly important in today's world." — Elder Steven R. Bangerter of the Quorum of the Seventy
I think most of us can agree that the lessons and values we teach our children will help shape who they are when they grow up. And those things taught don't necessarily have to be religious: They can range from moral to cultural.
I thought Elder Bangerter's message was a good reminder because, as he mentioned, those lessons taught at home are becoming more important in today's world. With more distractions around for children and youths than ever, it's important to keep communication open and teach children candidly about whichever subject the parent or guardian sees fit.
Kids now are more informed because of tools like social media and the internet. But even though technology and information-collecting have changed, the most influential things taught to kids still come from daily interactions with their loved ones.
"Believe, love and do." — Elder Dieter F. Uchtdorf of the Quorum of Twelve Apostles
Discipleship starts with believing, loving and doing, he said. While it sounds rather simple, the three words Elder Uchtdorf focused his message around are not followed by too many people. In my opinion, believing, loving and doing not only apply in a spiritual context; they are foundations for those of any, or no, faith.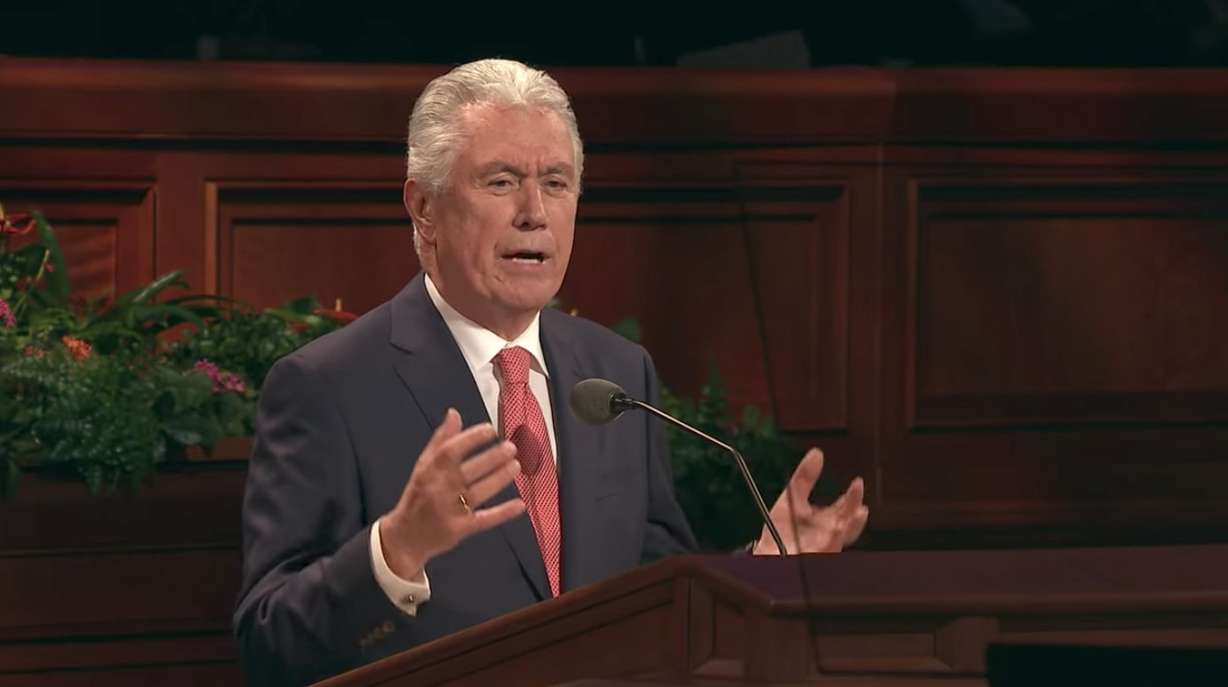 First, anything we want to accomplish has to start with some sort of belief. Next, love is the main ingredient we need so we can pursue any passion of ours. Lastly, action must always be taken.
I also found it very refreshing when Elder Uchtdorf said Latter-day Saints are "welcoming, loving, kind and sincere. ... And they are also painfully imperfect."
He also said, "They make mistakes. From time to time, they say things they shouldn't. They do things they wish they hadn't."
For me, this was refreshing because it's not every day a church leader says the members of his religion are imperfect. And that's OK to say because it's true. No one is perfect and being a person from any faith doesn't change this.
Elder Uchtdorf added that the members of his church want to improve and get closer to their savior.
"They are trying to get it right," he said. "They believe, they love, they do."
To me, trying to get it right and persistence in doing so is a fundamental concept all people must follow to better their lives and communities.
"'If there is anything in your life you need to consider, now is the time.'" — Elder Jack N. Gerard of the Quorum of the Seventy
After a health scare, Elder Gerard said he learned a lesson he wanted to teach others: Step back from the world and assess your life. It seems that at times it takes nearly dying for some to begin to look at what they've done and what they regret. No one needs to face death for that epiphany to occur.
I liked that Elder Gerard told the congregation, "Unless we take the time to reflect, we may not realize the impact of this fast-paced environment on our daily lives and the choices we make."
Your faith is a power that can help you reconsider, assess and make the changes necessary to better your life. But even if you are not a person of faith, the fundamentals of what Elder Gerard said are still true. You must reflect to gain perspective and knowledge, and then use that to go about your life in a more appreciative and wise manner.
×
Most recent Religion stories