This archived news story is available only for your personal, non-commercial use. Information in the story may be outdated or superseded by additional information. Reading or replaying the story in its archived form does not constitute a republication of the story.
LAYTON — Decorating a yard for Halloween can be a full day's work, but it's every day's work for the Voss family.
For the past three years, TJ and Shaylee Voss have made their collection of skeletons a constantly evolving display along Gentile Street, starting in early September and counting down to Oct. 31.
"(Bicyclists) are up and down the road all day long, and I was looking at the bikers and I was like, 'You know, I have an idea for these skeletons,'" TJ Voss said. "It kind of blossomed from there. I was like, 'I should just change it out every day and I just continued with it.'"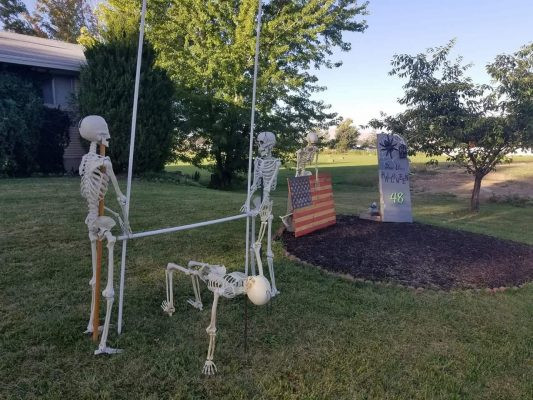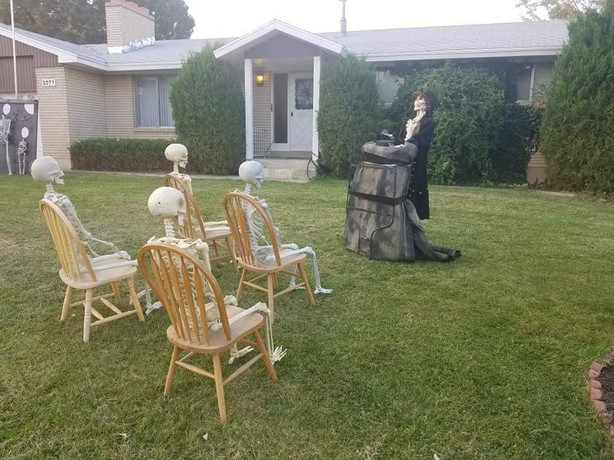 Displays so far this year have featured skeletons on a bicycle, skeletons in church, skeletons riding cars, skeletons having a barbecue and even skeletons doing the limbo.
Thursday's display featured skeletons in a rowboat.
Voss said occasionally the displays carry a deeper meaning or message.
"I always try to say, 'Sunday (is) family time,' or 'spend your time with your family,'" he said.
Voss said their yard displays have been well-received, with numerous people either slowing down to take a look or stopping to take a picture.
Some people have even taken the time to write thank-you letters.
"It just helps them have a better day," Voss said.
So, our live shot died at the end of our story...but I really wanted to show you this. Well-played, Voss family. Enjoyed covering the display of the Layton skeletons. Think tomorrow's display is 💯 @KSL5TV#KSLLive#Utahpic.twitter.com/biTx5FMctJ

— Andrew Adams (@AndrewAdamsKSL) October 5, 2018
#AAD_tweet
The family started a Layton Skeletons Facebook page on Wednesday, which had grown to 481 likes by Sunday evening.
"If it's something as simple as a couple skeletons outside and it makes them have a better day, it makes it great," Voss said.
×
Photos