This archived news story is available only for your personal, non-commercial use. Information in the story may be outdated or superseded by additional information. Reading or replaying the story in its archived form does not constitute a republication of the story.
SALT LAKE CITY — Peter and Sylvia Thornhill from New Zealand only had 24 hours to visit the state of Utah.
They knew they wanted it to be memorable, so 9 months ago they booked a private charter flight over the West Rim of the Grand Canyon, with Utah business Utah Airways. In January, $1,159.83 was charged to their credit card.
Thursday morning, Dean Olsen with Drive Utah Executive Shuttle took them to the Ogden-Hinckley Airport.
"I had an eerie feeling something wasn't right," Olsen said. "I decided to walk into the airport with them because something felt unsettling. When we walked inside, it was empty. Nobody was there."
There was no plane from Utah Airways waiting for the Thornhill couple. The Operational Manager at Ogden-Hinckley confirmed that Utah Airways was not scheduled to fly that day.
"It was just so disappointing," Sylvia Thornhill told KSL. "We double checked before we left New Zealand. My husband, Peter, rang Utah from home and spoke to somebody who confirmed that the flight was still a go."
The Thornhills received a confirmation reminder email from Utah Airways on Wednesday, the day before the scheduled flight. Peter Thornhill also printed off a Utah Airways confirmation with the booking number and processed credit card information.
"This happened two months ago to a Chinese couple who came with one dream to see the Grand Canyon," Olsen said. "I think this company is targeting people who live out of the country, because they think they have no recourse."
KSL reached out to Utah Airways cofounder, David Story, who said Utah Airways has been non-operational for 18 months. He claimed relationships with all third-party affiliates like Groupon were discontinued two years ago.
"Nobody is being targeted," Story said. "Why would we do that? Our company mission is to lift and inspire. I really don't have this couple in my system. I don't have their money."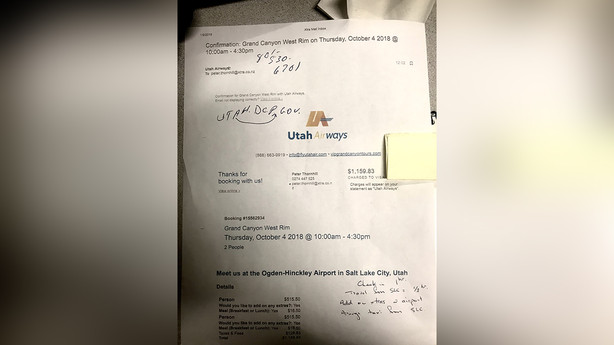 In an email reply sent to Sylvia Thornhill Thursday afternoon, the text read, "We have taken all booking pages down from the internet."
But the website is full-functioning and still taking reservations.
"We aren't actively advertising so if someone does book, I just refund them," Story said. "I will do my due diligence to find the Thornhill's money, but I really don't know where it could be."
From 2015:
Story said Utah Airways is non-operational while they improve their aircraft. They expect to be operating at capacity come February 2019.
"We spent our entire day in Utah trying to back pedal and fix this mess," Sylvia Thornhill said. "I couldn't eat all day. My hands were shaking. I was in a delayed shock. I was really looking forward to this, but now it's just a lost dream."
×
Photos
Related Stories