Estimated read time: 5-6 minutes
This archived news story is available only for your personal, non-commercial use. Information in the story may be outdated or superseded by additional information. Reading or replaying the story in its archived form does not constitute a republication of the story.
SALT LAKE CITY — The 10 finalists in the American Dream Ideas Challenge announced Wednesday include a "strike team" to help address Carbon and Emery counties' challenges with economic contraction and opioid abuse as well as a proposal to share living arrangements among single parents.
The challenge, hosted at the University of Utah and sponsored nationally by Schmidt Futures, received 152 proposals from across the state to boost prosperity in Utah.
The ideas must have the potential to increase net income by 10 percent for 10,000 middle-class households in Utah by 2020.
Courtney McBeth, project director and special assistant to U. President Ruth Watkins, said the top 10 teams came from all areas of the state and include entrepreneurs, students, faculty, university staff, nonprofit organizations and government agencies.
Each finalist will receive $10,000 to further develop their proposal.
Next month, an advisory board led by Watkins and Utah Lt. Gov. Spencer Cox will select the three best ideas among the 10 finalists.
"Each of these ideas reflects our state's innovative, creative and collaborative mindset," Watkins said. "Utahns from across the state have rallied to come up with great ideas to help fellow citizens gain and keep a foothold in the American dream."
The top three teams will receive $30,000 each to further develop their ideas and they will be eligible to compete at the national level for up to $1 million from the Alliance for the American Dream.
"Utah has a history of innovation, a history of leading out, and I think that it is very fitting that the University of Utah was one of only four institutions that was chosen across the nation to participate in this American Dream challenge. The country is looking to Utah for leadership and guidance in many different areas, but especially in this one," Cox said.
The three other universities serving as inaugural partners in the challenge are Ohio State University, Arizona State University and the University of Wisconsin-Madison.
The Alliance for the American Dream is an initiative of Schmidt Futures launched in April 2018. The alliance is a network of communities, each anchored by a public research university, that provides access to capital and access to market for new ideas to support distressed communities locally.
Schmidt Futures seeks to "advance society through technology, inspiring breakthroughs in scientific knowledge, and promoting shared prosperity," according to its website.
Eric Schmidt, its founder, is a technical adviser to Alphabet Inc., a member of its board of directors and its former chairman. Alphabet Inc. is the parent company of Google. He lived in Utah during the 1990s.
The Alliance for the American Dream will provide up to $1 million for additional support to the best ideas.
Natalie Gochnour, director of the Kem C. Gardner Policy Institute at the U., leads the Coal Country Strike Team, a group made up of academics, government officials, educators, business owners and others.
"It was a really humbling thing for a public policy institute. This is our craft. This is what we do. How do we lift these people? How do we help them? So we came up with the strike team and we're going after a bunch of interventions we think can help. If we can't help them, it's like shame on us," Gochnour said.
Since 2010, job growth has increased 16 percent in Utah statewide. But in Carbon and Emery counties, jobs have contracted by 17 percent, she said.
Moreover, Carbon County "has more retail opioid prescriptions than people," Gochnour said, noting that is the case in three other Utah counties as well.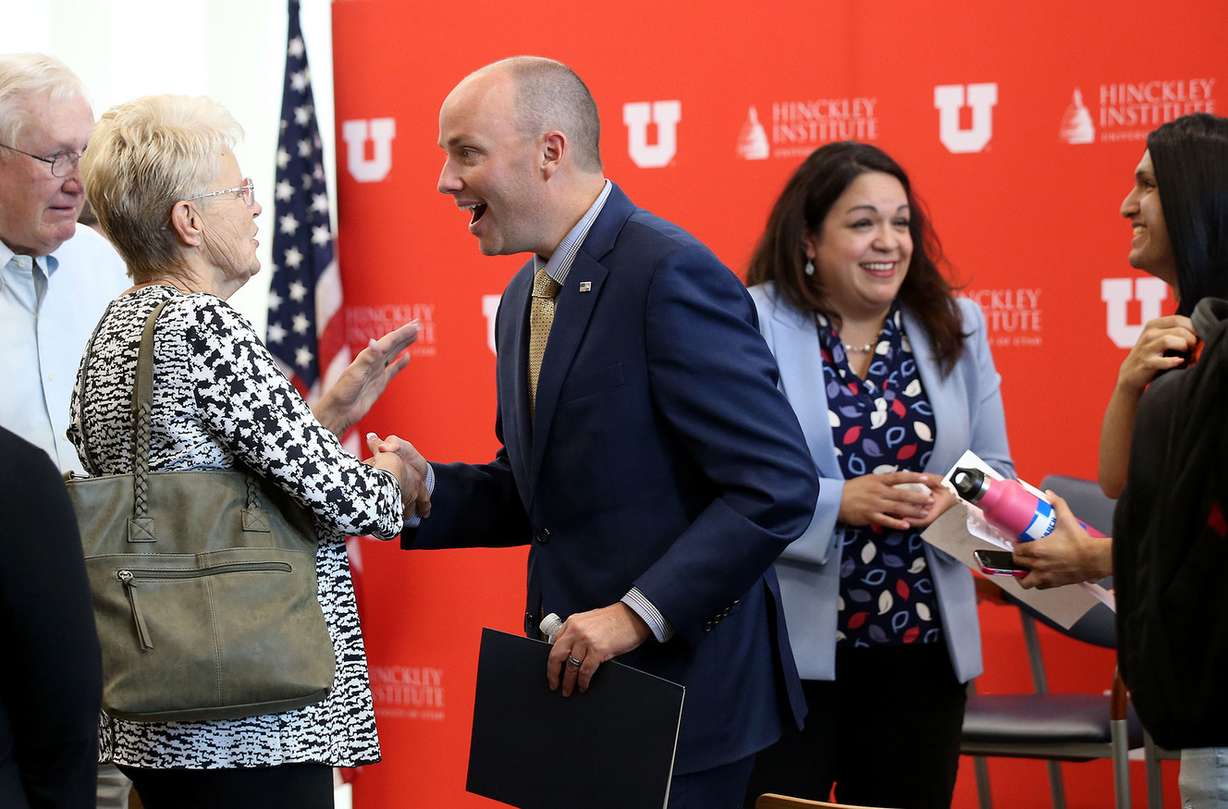 The 10 finalists include:
Autism Futures: Expand employment and services for adults on the autism spectrum through a platform that connects them with employers, focuses on raising the income of these newly hired employees and supports families in transitioning youth with autism to the workforce.
Coal Country Strike Team: Create a "strike team" to work with community leaders to pursue a five-pronged policy platform in Utah's rural coal country, focusing on Emery and Carbon counties, to address problems (such as the opioid crisis) and promote opportunities in health care, tourism, employment and economic development training, technology and housing.
Community Design Innovation Hub: Design and implement a community hub in one of Salt Lake City's westside communities as part of a public-private housing development to connect residents to innovative educational and career pathways.
DASH Digital Pathways: Develop in-demand digital skills for educators, entrepreneurs and early career professionals. DASH, which stands for Design, Arts, Social Sciences and Humanities, aims to help participants build skills and earn verified credentials that support relevant, sustainable careers in Utah's classrooms and high-tech economy.
Debt-free Middle Class: Develop an app that creates a new culture of saving money by helping individuals and families restructure payments to get out of debt faster and make smarter financial decisions.
Developing Skills and Rural Businesses in the Gig Economy: Increase gig-economy employment in rural Utah through education and outreach to enhance freelance worker success and expand freelance opportunity throughout rural southern Utah.
Leveraging Value to Convert Healthcare Premiums to Income: Through a partnership with regional health plans, implement medication value assessment, value-based insurance design and outcomes-based contracting to decrease health care premium costs.
Mobility as a Service: Save middle-class citizens significant transportation-related expenses through a new mobility-as-a-service pilot that encourages use of and integrates public transportation options — transit, ride hailing, bike sharing, etc.— and reduces automobile ownership and use.
Neighbor: Allow Utahns with unused space in their homes or apartments to rent their RV pads, basements, sheds, closets, attics, etc. to other Utahns in need of self-storage, both reducing costs and providing income.
Single Parent Shared Living: Encourage shared living arrangements among single-parent families through the development of an app that matches interested parties, reducing living costs and, potentially, child care costs.

×
Photos
Most recent Utah stories