PROVO — Dax Milne didn't have to walk on with BYU's football program.
The former Bingham High standout won three state titles for the Miners and earned all-state honors from both Salt Lake City newspapers as a senior in 2017-18.
He had a few scholarship offers to play in college, most notably from Weber State under offensive coordinator Fesi Sitake.
But when Sitake took the wide receiver coaching job under his cousin Kalani at BYU, Milne suddenly found himself in a spot to contribute quickly to the Cougars — just without an immediate scholarship spot.
"It was a hard decision," Milne said Wednesday after practice in Provo. "But Fesi was a big part of it; he recruited me to Weber State, and when he came over here, he helped.
"I've known Kalani since I was 8 years old, too, so it just seemed right."
Milne enrolled in school over the summer and immediately joined the team alongside former Miner teammate Brayden Cosper, who is on scholarship.
Having that familiarity and friendship with a classmate also helped his decision.
"We're best buddies, and no matter who gets playing time or more attention, it doesn't matter," Milne said. "It's been fun."
Cosper caught 53 passes for 976 yards and 10 touchdowns as a senior at Bingham, while Milne was a red-zone target at 619 yards and 12 touchdowns.
So Milne will get a chance to compete for immediate playing time, even if it comes in games like the Cougars' Saturday 4 p.m. kickoff against FCS foe McNeese State (BYUtv, KSL Newsradio).
Head coach Kalani Sitake stressed that since the group signed back in April. And in last Saturday's upset that snapped Wisconsin's 41-game non-conference home winning streak that dated back to 2003, the Cougars deployed three true freshmen pass catchers in Milne, Gunner Romney and Dallin Holker at tight end.
"We had a lot of young guys contributing, and I like the way they played," Sitake said. "Maybe they were naive and didn't understand the type of stage they were on. But that's OK; they were just really excited to play the games and they felt really comfortable with the preparation."
When the time came for Milne to make his collegiate debut, he was ready. Or at least, he thought he was.
But when he stepped on the field in the second half of the Cougars' now-historic upset of then-No. 6 Wisconsin, Milne heard the roar of the 80,000-plus at Camp Randall Stadium and stopped.
"It was unbelievable," Milne said. "Going from a high school game to that being my first experience in college was eye-opening.
"A lot of people asked me if I was nervous, and I really wasn't. But then that first third-down play that I was in, the crowd was going crazy and I had to take a second and calm myself down."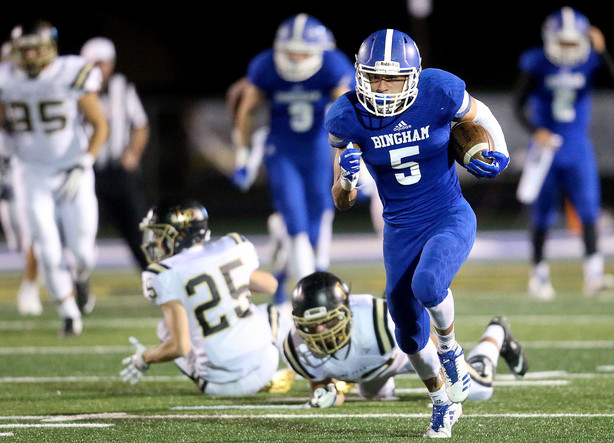 The 6-foot, 180-pound wide receiver from Bingham High then ran his route on a short yardage play in the red zone, and though he didn't make the catch, he promptly drew a pass interference penalty on Badger safety Faion Hicks.
The penalty gave the Cougars a first down, and Squally Canada scored his second touchdown of the game to take a 21-14 lead en route to a 24-21 final decision.
After the game, Hicks insisted the refs got the call wrong — that there was no way he should've been called for pass interference.
Milne disagrees.
"He's wrong. It was PI," Milne said. "I definitely expected to see that yellow flag."
Milne's quick development — even for a walk-on — hasn't surprised the Cougar coaching staff. Offensive coordinator Jeff Grimes has called practice "our proving ground," and added that players like Milne have shown themselves worthy of play time on the proving ground.
Academics at BYU can make it difficult for some true freshmen to find their footing, as can the school's honor code that encourages students to live a Latter-day Saint-friendly lifestyle.
But when the coaches see something special in these young players, Sitake said they want to give them every opportunity to get on the field as soon as possible.
"We have a coaching staff that wants to play the best guys, and we'll let them compete it out. The best will play," he said. "I look at guys like Dax, who is a walk-on and had other offers. He chose to come to BYU, and there's a reason he was on the field against Wisconsin. He deserved to be on the field."
×
Photos
Related Stories