SALT LAKE CITY — You can't make this kind of stuff up. Scientists have recovered historic Utah artifacts hidden away in a closet for decades on a college campus over a thousand miles away.
Later this month, the Natural History Museum of Utah will debut the first public exhibit of newly found artifacts related to renowned scientist, environmentalist and Civil War soldier John Wesley Powell, one of the earliest explorers of the American West for whom Lake Powell is named. He gained notoriety for leading the Powell Geographic Expedition, a three-month river trip down the Green and Colorado rivers in 1869 that included the first official U.S. government-sponsored passage through the Grand Canyon.
Recently transferred to the Natural History Museum of Utah, the objects were in storage at Illinois State University, according to Marjorie Chan, professor of geology and geophysics at the University of Utah, who was a guest speaker at Illinois State in March 2017.
"When I first saw them at Illinois State in the closet, I was just amazed that they had survived all that time," she said. "It was really impressive to me that it was some of the geology faculty that had preserved them."
Many of the objects have ties to Utah Native American tribes, she noted, giving them even greater significance to Beehive State history. She said the artifacts were put in the closet after objects with ties to Illinois history were designated for display at the school's museum, leaving the other Powell objects relegated to storage.
"They had just been there for about 20 years," Chan said. While visiting the central Illinois campus, she was made aware of the Powell items by a faculty member upon learning of her fascination with Native Americana.
"He said you might be interested in seeing these things that we have stored in the closet that was from Powell," she said. "When he brought them out, I said, 'Oh my gosh, these are really old and some of them look like Ute material.'"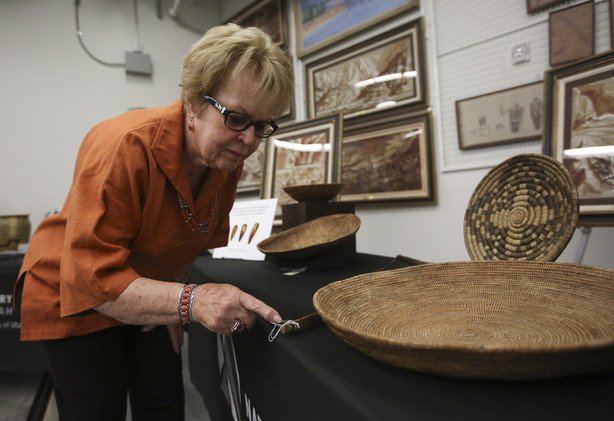 In what she describes as a serendipitous moment, later that day the faculty member told her "today was John Wesley Powell's birthday (March 24)."
"The one day that we took these (items) out of the closet is his birthday. That was a sign," Chan said. "John Wesley Powell's ghost is calling out to me and he wants me to help find a home for these items."
She was allowed to bring the objects back to Utah to be shown beside artifacts already in the museum's collections.
On Sept. 22, the Natural History Museum of Utah will unveil a number of artifacts collected by Powell and his cartographer, Frank Marion Bishop, during their explorations of the southwest, curator of archaeology Lisbeth Louderback said.
Included in the exhibit are a number of Native American baskets, a Native American child's wearing blanket, moccasins and a wooden bow with its sheath, she said. Also on display will be several original sepia drawings by noted American painter and Utah artist Dean Fausett, which illustrate the Powell expeditions.
"It's really nice to see them coming to a museum that can care for them," she said. "We're already doing conservation work on a lot of these objects."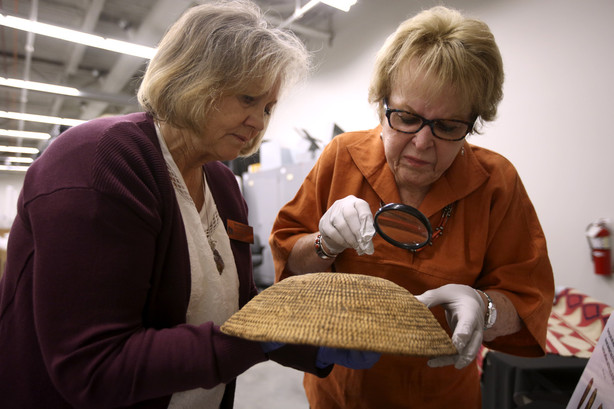 "It's also important that they're coming back home," Louderback said. "This is where he did a lot of work and he interacted with a lot of the Native American tribes in Utah. A lot of these objects were made by (tribe members)."
She said the cultural artifacts help tell the story of anthropological history collected by Powell, well-known in Utah for his famed Colorado River expeditions in 1869 and during 1871-72, usually accompanied by Bishop.
"It's fascinating to see objects that were actually collected by Powell," Louderback said. "It's a testament to his expeditions, his knowledge and his interactions with the native tribes. It's a remarkable story."
Meanwhile, Don Fowler, professor emeritus of historic preservation and anthropology at the University of Nevada, Reno and noted Powell expert, said having an opportunity to share a new connection to Powell and his long history with Utah is something to be treasured.
"He was one of the very first people to study the native people in a sort of systematic way," he explained. "He is more important to the history of the West and to Utah because he fought for rational use of water in the West."
He said Powell was considered as a staunch supporter of land conservation and preservation, as well as championing responsible irrigation systems and state boundaries based on watershed areas to prevent conflicts between states regarding water rights.
His views, however, were not shared by many powerful business and political leaders of the day, he noted, which prompted them to ignore Powell's suggestions in favor of water-hungry farming despite the West's arid conditions that made agriculture particularly challenging.
During his life, Powell served as an officer in the Union Army during the Civil War, where he lost one arm, was appointed the second-ever director of the U.S. Geological Survey and became the director of the Bureau of Ethnology at the Smithsonian Institution, a position he held until his death in 1879.
Fowler said Powell's legacy was one of distinction and historical significance.
"He was a founder of American anthropology, a founder of the U.S. Geological Survey and a genius in terms of water (conservation)," he said. "And he ran two agencies at the same time out of one office with one secretary. Impressive."


×
Photos