This archived news story is available only for your personal, non-commercial use. Information in the story may be outdated or superseded by additional information. Reading or replaying the story in its archived form does not constitute a republication of the story.
SANDY — Utah's newest professional soccer team won't be playing for a postseason bid Saturday.
But Utah Royals FC has a lot to look forward to in Saturday's home finale against the Chicago Red Stars (1:30 p.m. MDT, KSL.com & KSL TV app).
Utah was eliminated from playoff contention with Chicago's 5-0 win Tuesday over last-place Sky Blue FC.
The Royals (8-7-8, 32 points) held out a slim hope of making the playoffs, but needed winless Sky Blue to record its first win of the season Tuesday night.
That didn't happen — the New Jersey side remains historically bad in the brief history of the National Women's Soccer League, and the Red Stars (9-4-10, 37 points) clinched the final spot in the four-team postseason with the win, which saw former BYU star Michele Vasconcelos notch the first professional goal of her career.
But the Royals have no one to blame but themselves, head coach Laura Harvey said.
"I say this all the time: You get what you deserve," Harvey added. "There were too many times this season where we didn't put games to bed, when we got points when we should've got three, or lost when we should've at least tied. Those are the things we have to look back on and be frustrated — not what Chicago did to Sky Blue."
Amy Rodriguez, who made her triumphant return to the league and the U.S. women's national team this season after a torn anterior cruciate ligament a year ago, agreed with her coach.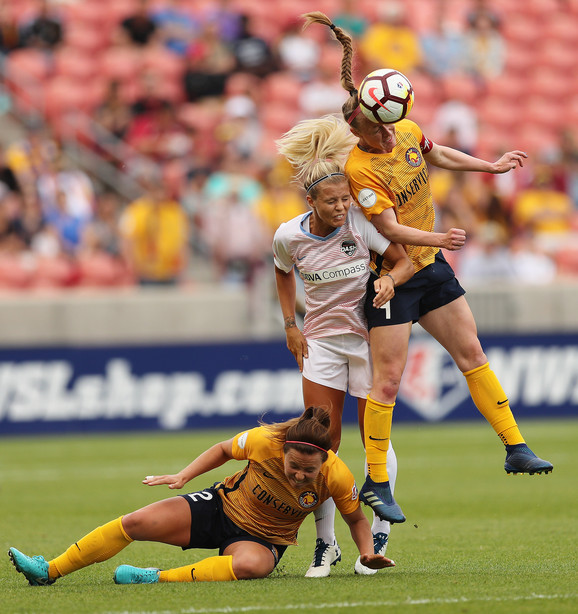 She added the troubles of the 2018 season can serve as a learning point for younger players on the team.
"Nobody wants to wait until the end of the season to get points," Rodriguez said. "I wish we had collected more to start the season, and now it's just too late. I hope that next year we can go in with a firmer foot in the ground, ready to hit the ground running."
Chicago can climb as high as third place in the playoffs with a win Saturday at Utah (and if Portland loses or draws Seattle late Friday night). So what are the Royals playing for?
For one, they're playing for roster spots next year.
"You want to show really well in your last game, because it's the last game," Utah captain Becky Sauerbrunn said. "Some people might be making offseason decisions to not be here next year. But there are also players who will be fighting for a spot next year. They need to be all-in for this game."
Utah is 0-2-0 against the Red Stars in 2018, including Chicago's 1-0 win in the team's inaugural home game on April 14.
So there will be plenty of motivation for the individual match. The Royals were the only team to go unbeaten against runaway league-leaders North Carolina in 2018 — but were winless against the other three teams in the playoffs, Seattle, Portland and Chicago.
A win against the Red Stars would end the season on the highest note short of an NWSL title.
"It stinks that they took that away from us, so hopefully we don't let them do that again," Rodriguez said.
TO OUR FANS: Thank you for the incredible amount of support you've shown us during our inaugural year. What a ride it has been! Unfortunately, we will not have the opportunity to compete in playoffs this year, but please join us SATURDAY for #UTAvCHI & one last goodbye 👋 ♥️ pic.twitter.com/LnB9t9m3b1

— Utah Royals FC (@UtahRoyalsFC) September 5, 2018
Chicago doesn't have to worry about making the playoffs anymore, nor do the Royals have a chance at the postseason. Taking that hope away from Utah with Tuesday night's win was "miserable," "terrible" and "defeating," said Utah winger Kelley O'Hara, who made her return from a hamstring injury just two weeks ago.
"It sucks; there's no other way to put it," O'Hara said, "Unfortunately, we didn't do what we needed to do to have it in our hands, and I think that will be a big learning curve for us going forward.
"I think all things considered, we owe them a bit of a beating," O'Hara added. "So hopefully that happens on Saturday."
×
Related Stories