Estimated read time: 4-5 minutes
This archived news story is available only for your personal, non-commercial use. Information in the story may be outdated or superseded by additional information. Reading or replaying the story in its archived form does not constitute a republication of the story.
MIDVALE — Overstock.com, Utah's e-commerce darling, is going all in on blockchain and cryptocurrency — and the company's stocks are following the move.
Overstock's shares peaked in early January, just weeks after bitcoin reached a high of almost $20,000 in mid-December 2017. The online retailer's stock then followed the cryptocurrency's decline in 2018.
In August, the company's shares again surged more than 15 percent when a Hong Kong private equity firm invested millions in the company, the majority of which went to Overstock's cryptocurrency unit, tZERO.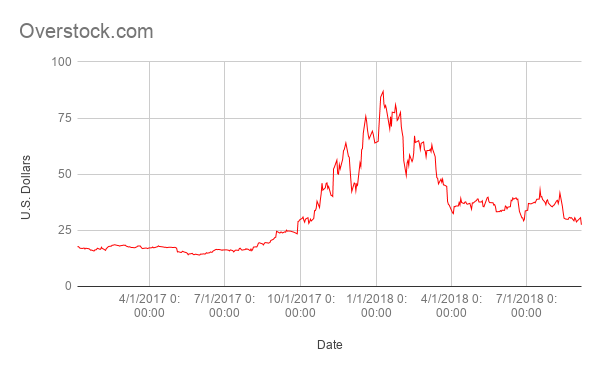 Shares dipped again more than 10 percent on Wednesday amid a general decline in cryptocurrency stocks after Goldman Sachs announced it would not launch a cryptocurrency trading desk, according to an initial report from Business Insider.
And though Overstock is known as an online retailer of interior decor, CEO Patrick Byrne recently wrote in a letter to company shareholders that the e-retailer will spend less on its retail unit and focus on "developing more nontraditional means of growth and profitability," according to a report from CNN.
To many, Overstock has always been a technology company first, so it makes strategic sense to go all in on cryptocurrency and blockchain — the digital ledger where cryptocurrency transactions are recorded.
A technology company first
Overstock claims it was the first major, billion-dollar company to allow customers to purchase items using bitcoin in 2014. Now the company accepts over 50 different types of cryptocurrencies, according to Jonathan Johnson, president of Medici Ventures — a wholly-owned subsidiary of Overstock that invests in blockchain technology.
"We think blockchain is the next revolutionary, transformative technology," Johnson told KSL.com. "Like we were early on the wave of e-commerce and the internet, we think we're even earlier on what we think will be a tidal wave of blockchain revolution."
Overstock currently converts half of all its cryptocurrency revenue into dollars and keeps half as bitcoin — sometimes using it to pay employee bonuses, Johnson said.
Right now, only 0.25 percent of Overstock's total purchases are bought with cryptocurrency, but that's still somewhere between $30,000 and $400,000 a week (depending on the time of year), Johnson said, though he expects those numbers to grow significantly in coming years.
In fact, Johnson believes everyone will be using blockchain a lot more in the next five years than they may expect. Blockchain will make life easier in the same way the internet made life easier by allowing for a free and frictionless flow of information, he said.
"For those that are calling it a fad, the internet may have been a fad to them in 1988," he said.
To learn more about blockchain technology, watch the video below.
Jumping on the blockchain train
Medici has made investments in 15 or 16 portfolio companies that are working toward advancing blockchain technology, and the subsidiary employs about 70 of their own blockchain developers. Ultimately, the organization's mission is to use blockchain technology to "democratize capital, eliminate middlemen and rehumanize commerce," Johnson said.
To do that, Medici invests in companies that are focusing on different industries where blockchain could be revolutionary.
The technology could replace stock exchanges that require broker-dealers, transfer agents and two days to settle a trade, Johnson said. Blockchain's decentralized and secure platform would allow someone who wants to buy stock from another to do so without any middlemen by simply exchanging money for a digital stock certificate.
It could also help those (often in still-developing countries) that aren't able to join a bank or produce the same kind of property records for a loan to which most in the U.S. have access, he added.
Blockchain will make the voting process and supply chain more secure while advancing biometric identification, Johnson said. In fact, blockchain and cryptocurrency will revolutionize the world in more ways than we know, he added.
And Overstock's faith in the technology seems to be a main focus — even if it means the company's stock will rise and fall as the rest of the world decides whether blockchain and cryptocurrency are worth it.
"We view ourselves as value investors, trying to build long-term value for our shareholders," Johnson said. "We think blockchain technology will be the wave of the future, and we want to nurture that, advance it in ways that we think will be meaningful."
×
Most recent Utah stories