HERRIMAN — A fire burning in the hills southwest of Herriman prompted firefighters Saturday afternoon to to issue a voluntary evacuation order for residents of more than 400 homes.
Unified Fire Authority spokesman Ryan Love said a reverse-911 call was used to inform the residents of 432 homes located south and west of 14101 S. Shaggy Mountain Road to be prepared to evacuate.
The evacuation order was lifted at 8:30 p.m. after Unified fire officials said crews had achieved 50 percent containment on the fire.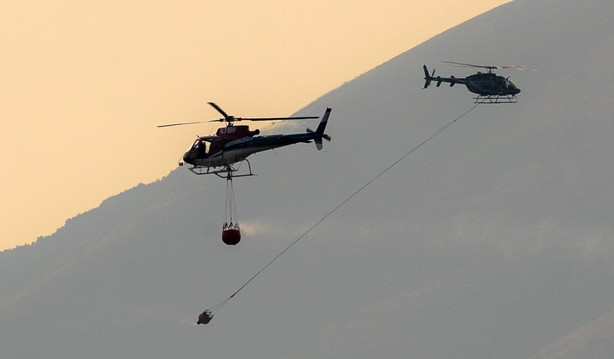 The fire was first spotted shortly after 3 p.m. near 8028 W. Step Mountain Road, Love said. But investigators believe it was likely started by lightning from a thunderstorm that rolled through the area Friday night.
"A lot of times at night, we have ... lightning storms that come through, strike down and create a little fire," Love said. Those fires usually burn themselves out, but occasionally they flare up when daytime temperatures increase and humidity drops, he said.
Officials said 40 firefighters, two helicopters and an air tanker worked to get the fire under control. As of 5:50 p.m., an estimated 5 to 7 acres up Rose Canyon had burned. A more updated acreage count was not available Saturday night.
Fire officials said they expected the fire to be 100 percent contained by 10 p.m., but crews also planned to keep an eye on it through the night.
Contributing: Ashton Goodell
___
Editor's note: This story has been corrected to show the fire is burning in the hills southwest of Herriman, not east of the city.
___
Crews continue to battle wildfires across the state. Watch here for the latest updates on all the blazes across Utah:
Residents near Coal Hollow Fire (Sanpete County) can return home, officials say
North Eden Fire (near Bear Lake) 50 percent contained, officials say
Bear Trap Fire (Grand County) at 5 percent containment, officials say
×
Photos