This archived news story is available only for your personal, non-commercial use. Information in the story may be outdated or superseded by additional information. Reading or replaying the story in its archived form does not constitute a republication of the story.
SANDY — Changes are coming for Utah Royals FC fans.
With three games remaining in the regular season, Royals games will no longer be broadcast on television station KMYU or ESPN 700 radio; games will still be streamed live via KSL.com and the KSL TV app.
"With regards to our coverage of Utah Royals FC and the National Women's Soccer League, we fully support the initiatives of the league and continue to grow women's soccer in the state of Utah," RSL chief business officer Andy Carroll said in a statement from the club.
The voices may sound a little different, too. TV play-by-play broadcaster Greg Wrubell has returned to his role as the "Voice of the Cougars" for BYU Athletics — principally football, men's basketball and women's soccer — on KSL Newsradio and will no longer be available for game broadcasts, while color analyst Carla Swensen-Haslam has left the club to pursue a law degree at BYU.
"My experience with the Royals has been an incredible journey," Haslam said in an email to media earlier in the week. "This moment is bitter-sweet as I will miss all the good people I work with, but I am also looking forward to starting a new adventure in graduate school."
Wrubell added that the broadcast duo was prepared to finish the season with the Royals, despite lingering commitments. But that will no longer be the case.
"I was prepared to fulfill my professional commitment to the club through the end of the season," he told KSL.com, declining to comment further.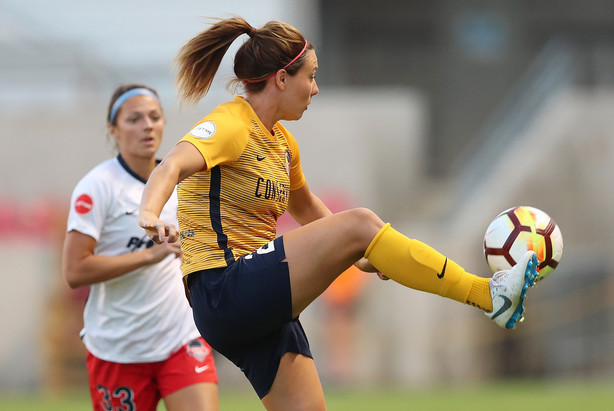 Instead, game broadcasts on KSL.com and the KSL TV app will feature the NWSL feed, also available at NWSLsoccer.com. The league originally had a contract in place to stream through Verizon's Go90 app and Go90.com, but the service shut down July 30.
"Utah Royals FC has seen unprecedented growth since the club's inception at the beginning of the 2018 season," Carroll said in his statement. "Our live match broadcasts on KMYU and the KSL TV app have played an integral role in that growth. In fact, over the course of the 2018 NWSL season, the club has broadcast more Utah Royals FC matches than any other NWSL team.
"Our partnership with KSL in 2018 to digitally deliver over 200 hours of live soccer coverage, combined with our outstanding over-the-air broadcast partnership with KMYU, has allowed us to reach new heights across our three professional teams, and deliver more live soccer than any other market in the U.S."
The Royals play at Sky Blue FC at 4:30 p.m. MDT before they'll travel to Washington at 5:30 p.m. MDT Wednesday. Both games will be available on KSL.com and the KSL TV app. The club will host its home finale Saturday, Sept. 8, at 1:30 p.m. MDT in a game broadcast on Lifetime TV.
The Royals are 7-7-7 in their inaugural season with 28 points, just two points behind Orlando for the fourth and final postseason berth. Chicago is two points ahead of Utah in the playoff chase, with a game in hand.
In addition, Real Salt Lake's road matches on KMYU will be broadcast remotely for the remainder of the season, according to multiple reports. The broadcast will include a feed for each match, including Saturday's road kick at Houston, while team broadcasters David James and Brian Dunseth will call the game remotely from a studio inside Rio Tinto Stadium, according to Dunseth.
DJ & I will call the #RSL away games from #TheRioThttps://t.co/gnr0mtkCPb — Brian Dunseth (@BrianDunseth) August 18, 2018
×
Related Stories