Estimated read time: 3-4 minutes
This archived news story is available only for your personal, non-commercial use. Information in the story may be outdated or superseded by additional information. Reading or replaying the story in its archived form does not constitute a republication of the story.
PROVO — Two BYU engineering professors have been tasked with a $5.8 million project to build a super antenna for the giant telescope dish featured in the 1995 James Bond film "GoldenEye."
"Astronomers will use our array feed to map dark matter clouds around galaxies and better understand how structures in our universe formed billions of years ago at the cosmic dawn," said BYU electrical engineering professor Karl Warnick.
Based in Puerto Rico, Warnick and BYU professor Brian Jeffs have worked for over a decade on the massive, 1,000-foot diameter Arecibo Observatory radio telescope featured in the finale of the action movie.
The telescope better processes signals from deep space.
Now, with a $5.8 million grant from the National Science Foundation, they'll take it another step further.
"Without steering the dish, we can now cover a significantly larger area of the sky with this new phased array feed," Jeffs said in a press release. "It's like building a massive digital camera for radio astronomy."
The super antenna Jeffs and Warnick will build and install over the next couple months, known as a "phased array feed," is expected to increase the telescope's capabilities five times over, they said.
"BYU has many research groups that are doing work that is on par with colleagues at the world's greatest universities," Warnick said. "Winning a highly competitive grant like this is tangible recognition that our work is of high enough quality to be recognized with funding support."
Researchers from Cornell and the University of Central Florida will join the BYU duo, along with BYU graduate students, when they build and install the world's first full-sized "cryogenically cooled phased array feed" on the telescope.
"The project will provide graduate thesis topics for these students, as well as financial support," Warnick said. "When they graduate, they will leave with cutting-edge skills in electrical and computer engineering that are eminently marketable and will allow them to work at the forefront of scientific and technical research and development."
The new array will be a computer-controlled group of smaller antennas that create a beam of radio waves, processing signals from space.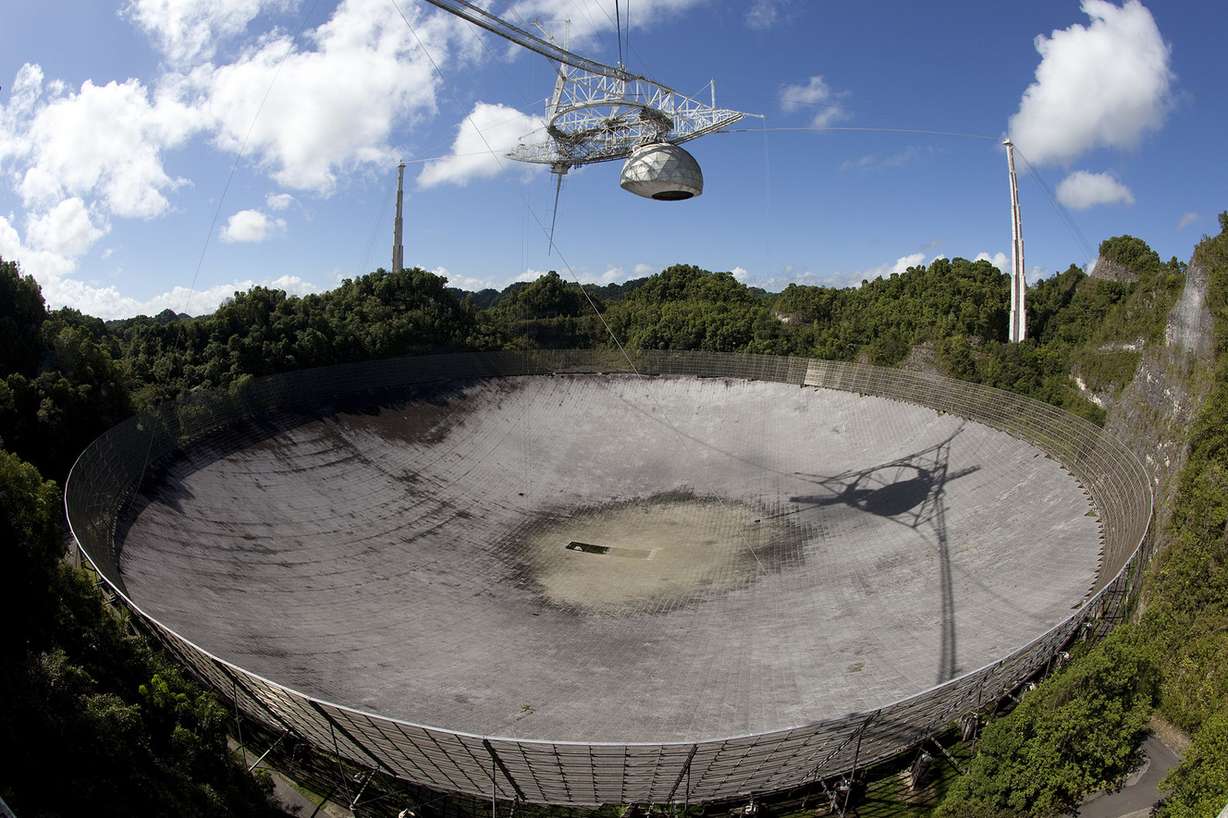 Part of the mission the BYU professors are helping is tracking new pulsars — especially millisecond pulsars that help signal the presence of gravity waves.
"(Astronomers) will use it to find pulsars, which can be used as highly accurate clocks. Tiny jitters in pulsar signals can be used to detect gravitational waves predicted by Einstein," Warnick said. "The array feed will be used to look for unexplained fast radio bursts, which are mysterious, super bright objects that flare up for a few seconds in the sky."
Gravity waves are produced by catastrophic events, such as two colliding black holes, and they cause ripples in the fabric of space-time, according to BYU.
Part of the new phased array feed will be used to search for the existence of extraterrestrial life, Warnick said.
This isn't Warnick and Jeffs' first rodeo. They installed a gold-plated array of many small antennas on the telescope nine years ago. That work made the telescope's surveying ability seven times better.
"Brian Jeffs and I have been working on engineering research projects related to astronomy for almost 20 years," Warnick said. "For me, this has been a major part of my academic career."

×
Photos
Most recent Utah stories