Estimated read time: 2-3 minutes
This archived news story is available only for your personal, non-commercial use. Information in the story may be outdated or superseded by additional information. Reading or replaying the story in its archived form does not constitute a republication of the story.
SOUTH SALT LAKE — Every day, Sharen Hauri would drive past Lions Park on her way to work at City Hall. And every day, she wished for better.
"I've worked for the city for eight years, and we've always talked about, 'Let's get a playground here,'" Hauri, the city's urban design director, said. "We have no playgrounds for any kids in this neighborhood."
That changed on Thursday when more than 200 volunteers descended upon the 50-year-old, near-vacant park, armed with wood chips, slides and jungle gyms to build a playground based on the designs of its intended users — neighborhood kids.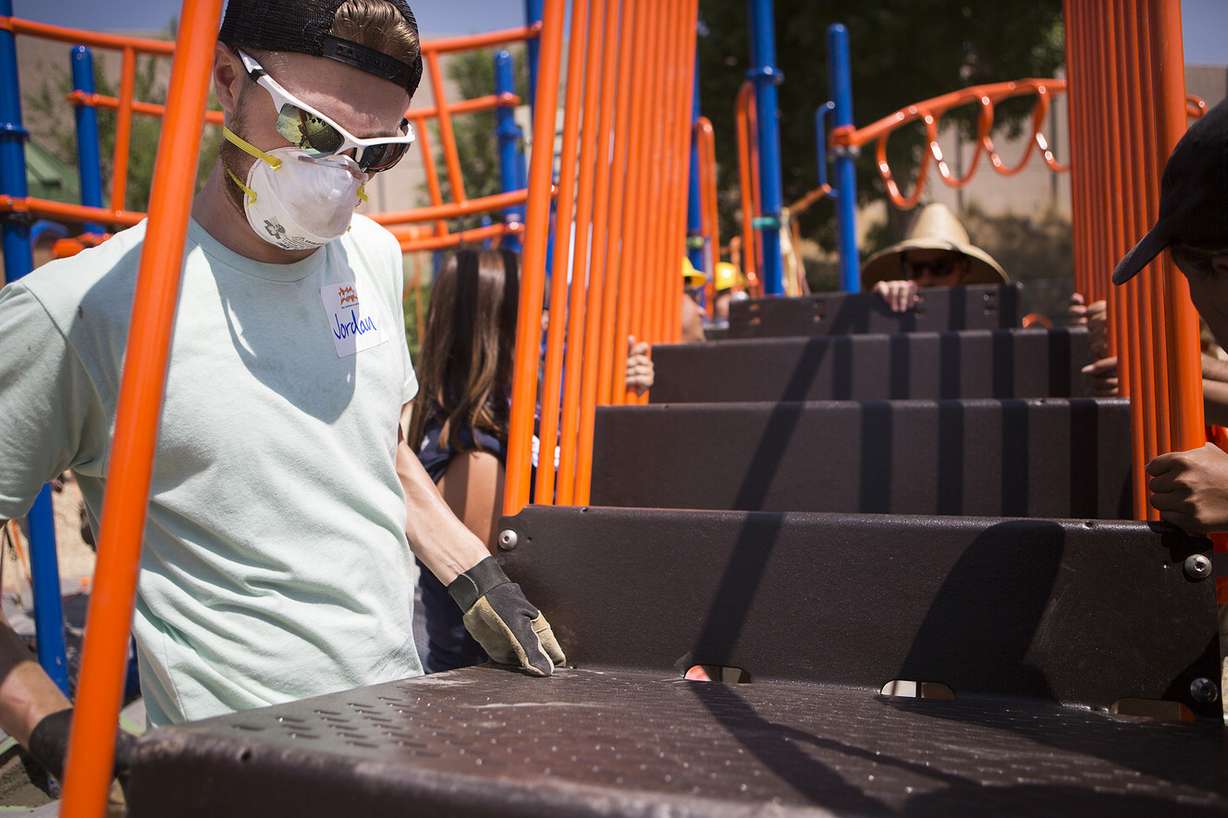 Besides volunteer help, the city also needed an outside boost to make it possible.
"A typical playground is $50-100,000. It's a lot of money," Hauri said. "So, our city budget can't cover it."
After applying twice, Hauri said, a grant was provided by JetBlue and KaBOOM! a nonprofit that helps communities build playgrounds, to fund the playground's construction costs. While most of the funding comes from JetBlue's grant, Hauri said the city pitched in 10 percent of the playground's cost.
In June, organizers spent time with local kids, picking their brains, according to Kayla Carpenter, a spokeswoman for JetBlue Airways.
"We took time to look at their drawings and hear their explanations of what they wanted to play on. And that inspired the design of the playground," Carpenter said. "We have a triple slide that's going to go in, we have a whirl-around and we have some fun balance items that are going to be installed as well on this playground."
Organizers said there are over 700 kids in South Salt Lake and with the city only owning nine parks, outdoor play has been hard to come by.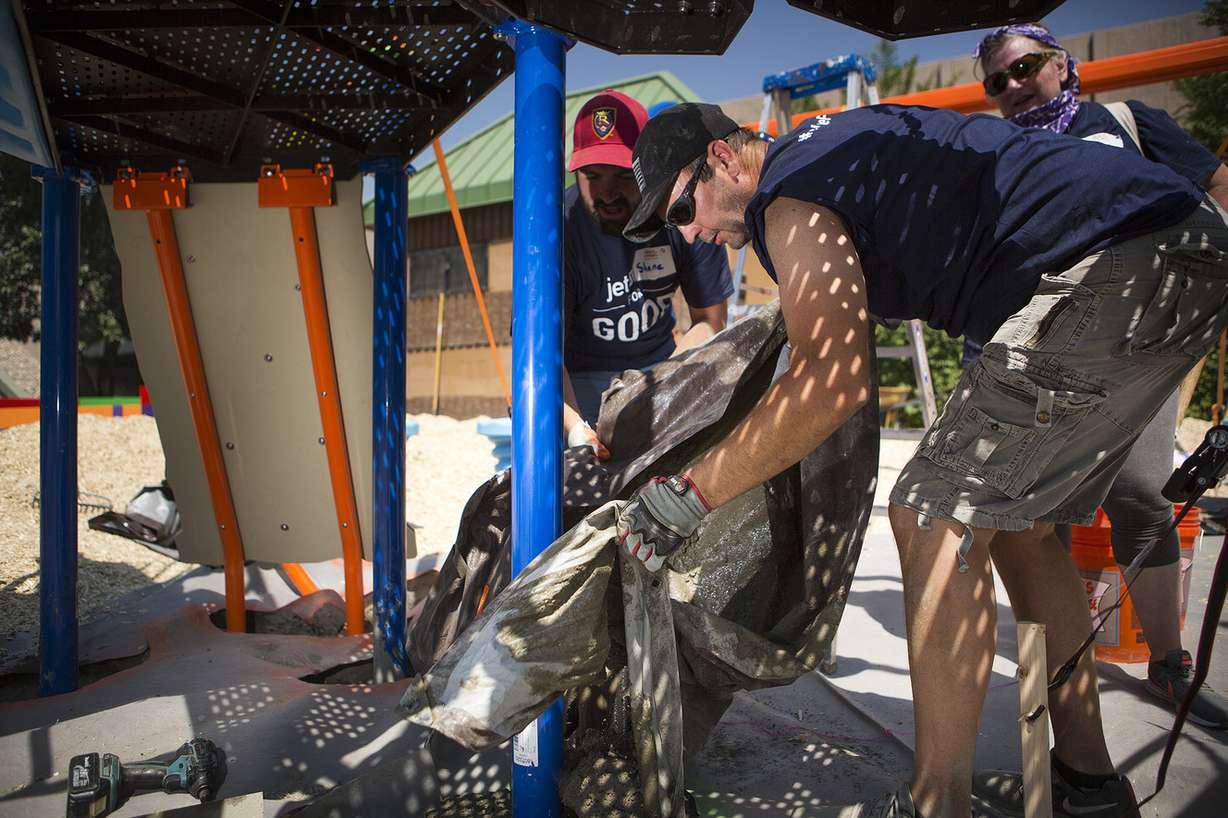 "There is no playground in South Salt Lake north of the freeway here, there's no playground until you get to 2700 South," Hauri said. "So, we call it a 'play desert.'"
Lions Park, which gets its name from the Lions Club that sold it to the city, only had a small swingset and gazebo on the stretch of grass that hugs I-80.
"Kids need play, first of all, and then outdoor play on top of that," Jessica Becerra said. "This park was pretty — there was just some swings, you know?"
Since an opportunity for improvement was possible, Becerra volunteered her time Thursday, watching over a group of some volunteers' children. She has her own 4- and 6-year-old ready for the park to be finished.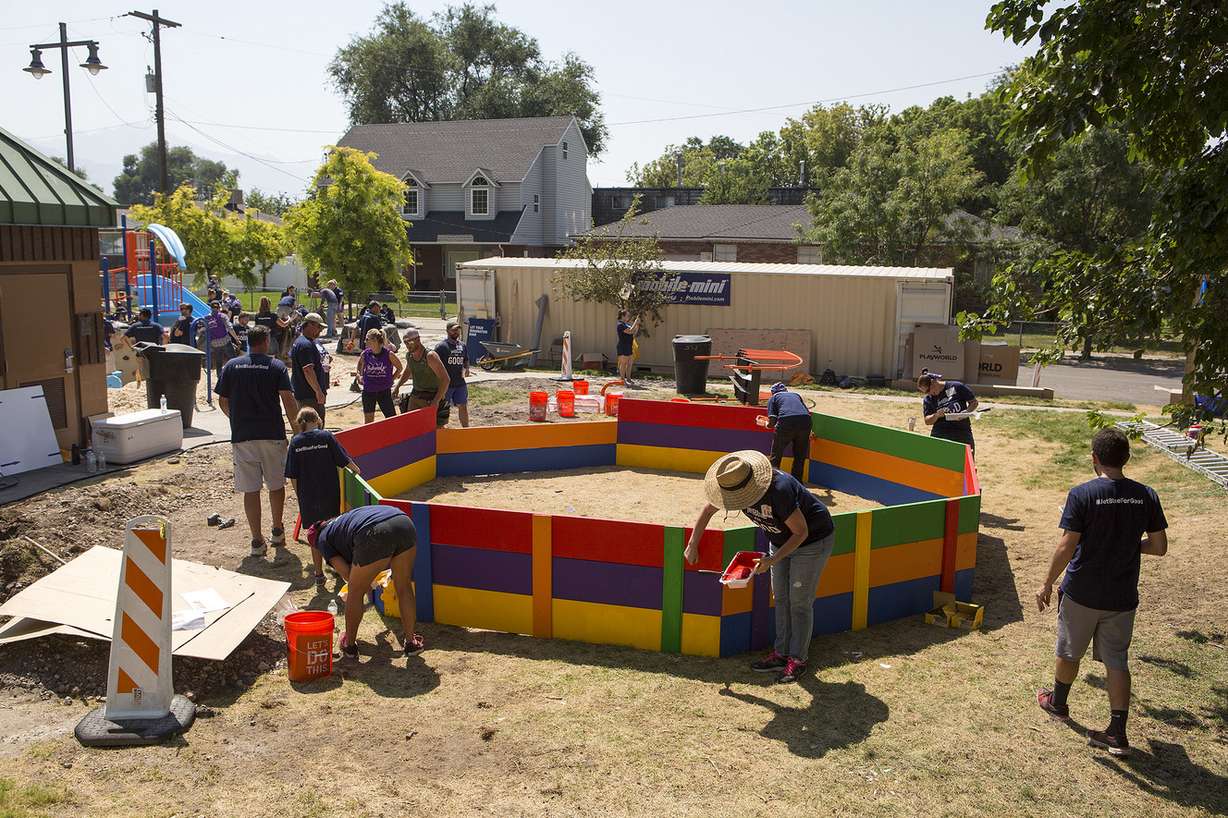 "It's just super exciting to have lots of different options that our kids can love," she said.
Hauri believes half of Thursday's volunteers are South Salt Lake community members, among them Mayor Cherie Wood, members of the City Council and other city officials.
While the playground's construction is to be completed in less than a day, South Salt Lake's kids will have to wait until Sunday for the concrete to dry before they can play.
×
Photos
Most recent Utah stories