Estimated read time: 5-6 minutes
This archived news story is available only for your personal, non-commercial use. Information in the story may be outdated or superseded by additional information. Reading or replaying the story in its archived form does not constitute a republication of the story.
SALT LAKE CITY — The annual overnight Point in Time Count of Utah's homeless in January found that almost the exact same number of people were homeless compared to a year before, but the proportion of those who were unsheltered increased, according to a report released Wednesday.
The count held Jan. 24 found 2,876 homeless people across the state, just 11 more than were recorded last year, says the annual homelessness data report from the Department of Workforce Services.
Of that population, 2,456 had assistive shelter of some kind, according to the study, which was presented to the State Homeless Coordinating Committee on Wednesday.
The 420 unsheltered individuals mark an increase compared to the 291 counted in 2017 and the 236 counted the year before that.
Jonathan Hardy, director of the Housing and Community Development Division of the Department of Workforce Services, cautioned that some of that increase "is also due to better counting efforts" in various areas around the state, and said he didn't view the total as "a huge concerning number."
Hardy also attributed part of the increase to "a little bit of dispersion" of those who are homeless throughout different parts of Utah as a result of Operation Rio Grande in downtown Salt Lake City.
"We knew there would be some dispersion among unsheltered individuals throughout the state, so we think this is a little bit of that showing up in the data," he said.
One area where better counting efforts played a big role in the data, Hardy said, was Washington County, where 98 more unsheltered people were found compared to last year. The number of unsheltered also increased from 13 to 30 in Weber County, and decreased in Salt Lake County from 161 to 136.
The number of unsheltered individuals in Utah County remained relatively steady. In Davis County, the third most populous county in the state, there were fewer than 10 unsheltered homeless individuals counted. Exact numbers were not released for data points under 10, in an effort to protect people's privacy.
Among those counted as unsheltered statewide, 184 reported suffering from mental illness, 176 had a problem with substance abuse, 74 were currently fleeing a domestic violence threat and 17 were veterans, the report said.
Hardy said the Point in Time Count is "a one-night snapshot" and merely one data point among many important factors in measuring the scope of homelessness in Utah, but still "important to look at."
First-time homeless
The new report says that according to data kept in the Homeless Management Information System used by the state, 10,133 people experienced homelessness for the first time between October 2016 and September 2017, a decrease of 732 compared to the prior yearlong period.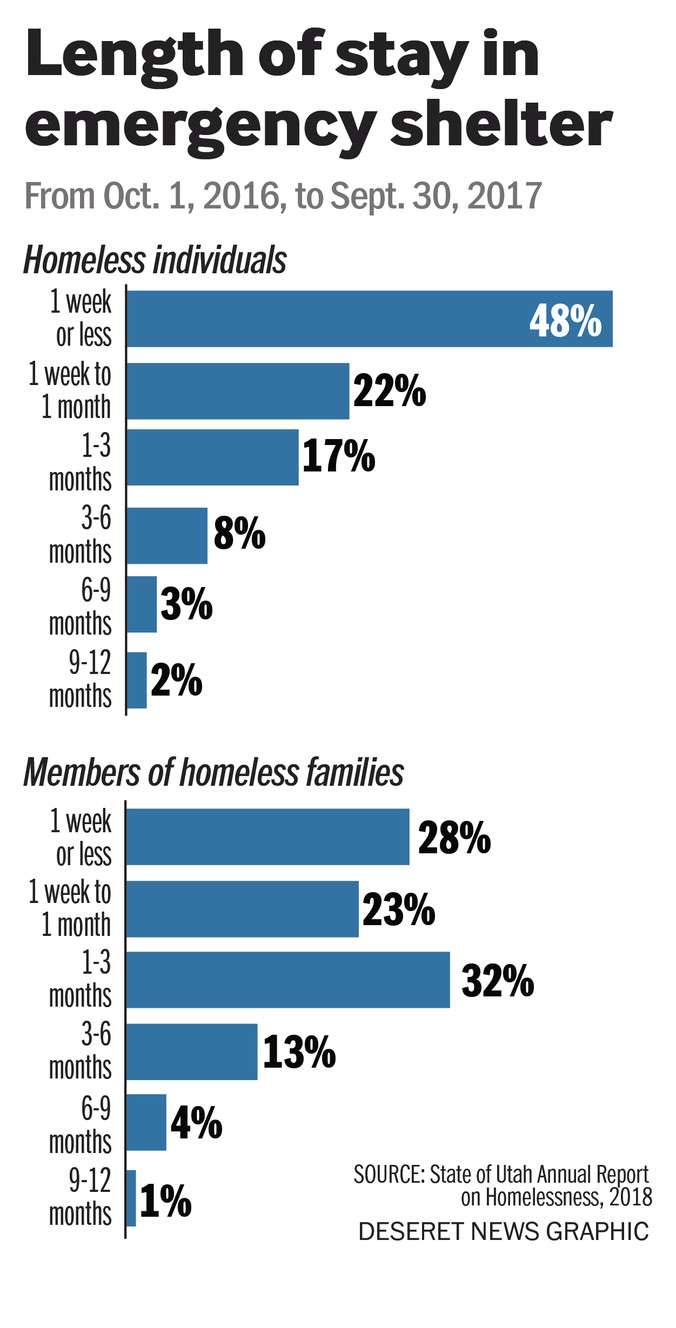 The report defined a person becoming homeless for the first time as someone entering emergency shelter or other assistive programs who has "no prior enrollments in" the Homeless Management Information System database.
The declining number of people experiencing homelessness for the first time is "encouraging," Hardy said.
Still, he said, "we probably have less control over this" than other data, such as the average length of a shelter stay.
The report said most Utah residents who used emergency shelter between October 2016 and September 2017 were there for less than one month, including 70 percent of homeless individuals and 51 percent homeless families. Five percent of both groups stayed in emergency shelter for more than six months.
"The majority of our homeless population is staying very short term in shelter," said Joseph Jensen, the administrator of Utah's Homeless Management Information System. "It's not intended to be permanent or even long-term housing."
The average length of a person's stay in the downtown Salt Lake Road Home shelter is currently 43.5 days, down from 48.5 days in state fiscal year 2017.
Relapse
Another important metric is the proportion of people who fall back into homelessness after achieving a stable living situation due to getting services, Hardy said. From October 2016 to September 2017, 39 percent of clients who received homelessness services of some kind within two years prior, and then achieved stable housing, had fallen back into homelessness.
Related story:
That metric is new, Hardy said, and there is not a well-established national baseline to help determine what to make of that number in Utah. Still, "it's probably a little higher than we want to see right now," he said.
"(We want to be) helping people stabilize and stay out of homelessness, not just temporarily solve that issue," Jensen said. "We want to make sure they're staying there (in stable housing). ... That's the way we're going to stay on top of the homeless population."
Operation Rio Grande
The report released Wednesday also provides statistics connected to Operation Rio Grande, a wide-ranging project launched a year ago this month in an effort to reduce drug dealing and other crime near the downtown shelter.
Since then, crimes defined as "serious or frequent" have decreased by 43 percent, while 105 people entered into a drug court program offered as part of Operation Rio Grande, the report said. Additionally, 243 behavioral treatment beds were created in Utah in the course of the operation, as were 66 sober living residential beds, according to the report.
Lt. Gov. Spencer Cox told the Deseret News that he believes the report taken as a whole shows positive signs about Utah's efforts to combat homelessness.
"The foundation is there. We're working in the right direction," Cox said. "We still have work to do."
---
Correction: An earlier version of this article incorrectly referred to the state Homeless Management Information System, mistakenly calling it the Homeless Information Management System.
×
Photos
Related stories
Most recent Utah stories