Estimated read time: 3-4 minutes
This archived news story is available only for your personal, non-commercial use. Information in the story may be outdated or superseded by additional information. Reading or replaying the story in its archived form does not constitute a republication of the story.
PROVO — For a while, Matt Hadley thought he had played his last down with the BYU football team.
The senior linebacker had just had surgery to repair a broken kneecap, a procedure that involved cleaning fragments out of his knee and reattaching the patellar tendon, during the middle of the 2017 season.
He missed the remainder of the year, and submitted a waiver to the NCAA to regain the year as a medical redshirt. But the response didn't come.
And so Hadley waited … and waited … and waited.
Finally, the response came: the fifth-year senior would be back to finish his BYU career, hopefully without an injury.
And he would be moving back to running back, the position of his high school career.
"Thankfully, a lot of people put in a lot of hard work for me to come back," Hadley said. "I'm so grateful for them … and here we are."
As the Cougars progressed through the second day of fall camp, Hadley was with running backs like Zach Katoa and converted quarterback Beau Hoge as the Cougars kicked off the second day of fall camp in the Indoor Practice Facility.
Will it be his permanent position for a 24-year-old converted linebacker who still carries both positions on the BYU roster?
"Not sure. It's day two, and they haven't said anything to me yet," Hadley said. "But I'm just not sure.
"As of right now, I'm playing running back."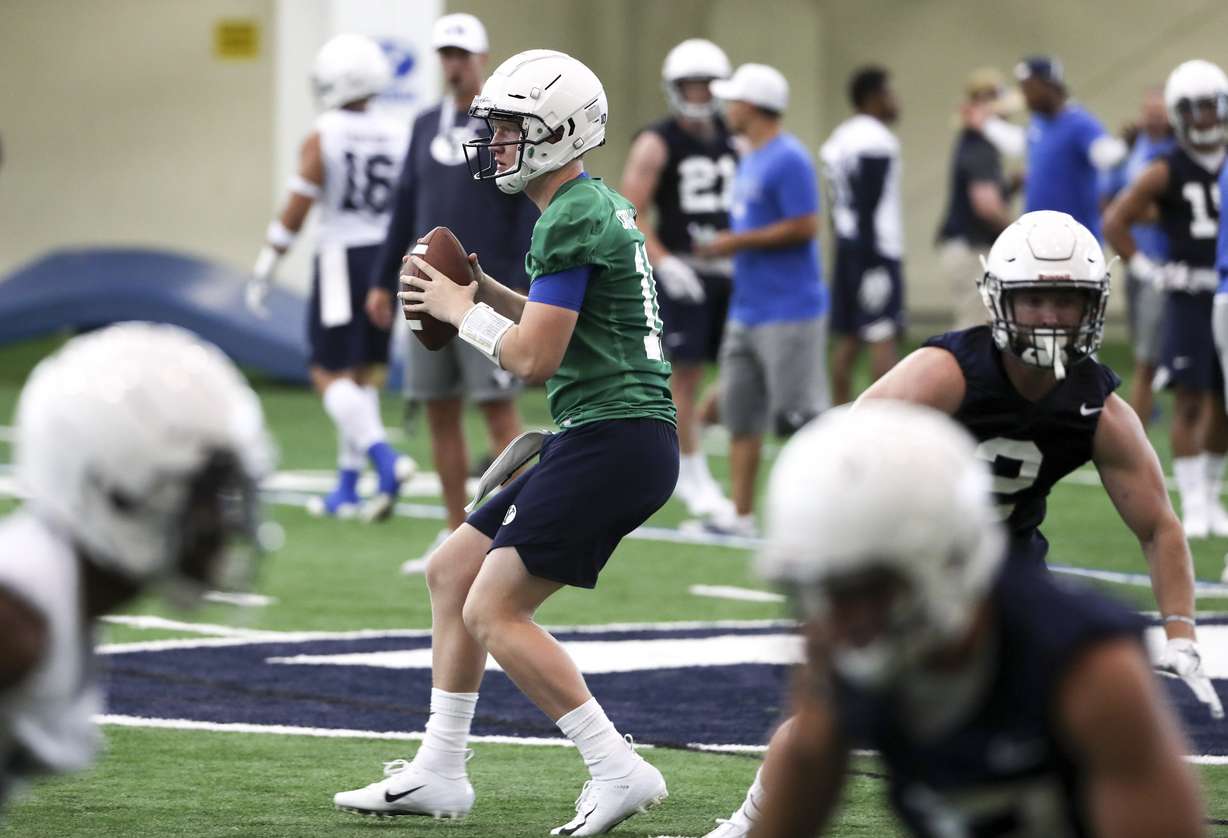 Set to graduate in December, Hadley still has a ways to go — by his own admittance, but Hadley characterized the Cougars' progression from Thursday's opening day through Friday: Improvement. Progression. Just trying to get better.
"You can probably look at every position and see that everyone is getting better," BYU coach Kalani Sitake said. "But the guys are starting to grasp the scheme, and I think defensively we're getting a lot of young guys some reps to work on getting depth.
"I'm really pleased with the guys' work today."
But after hours in the BYU athletic training room doing rehab, and endless weeks of waiting for an NCAA waiver to play one more year, Hadley is just happy to be back on the field.
"I thought we were great," he said of the running backs. "Our rhythm on offense was good. I'm new to the position, but everyone looks a lot more in sync in day one or day two than some years past. It was really, really good."
Freshman reels one in
The highlight of the media viewing portion of Friday's practice was Malik Moore's session-sealing interception.
The freshman from San Diego reeled in an errant pass from Tanner Mangum to end practice, causing his teammates to mob the youngster after making the first big practice play of his career.
"Some of the guys are making great plays," Sitake said. "I'd rather not throw any interceptions, but if the defense is doing great things … then I'll just never be happy. That's the life I live."
But defensive coordinator Ilaisa Tuiaki didn't even see it; he was working with the defensive line while the Cougars ran through 7-on-7 drills.
"Good for him, I guess," Tuiaki joked before adding, "Obviously, success for a young kid is really, really good. False success can be bad sometimes. But it's good for his confidence, even though we have to make sure we continue to push him and push through."
Camp continues next week before the Cougars' season opener Sept. 1 at Arizona.
Fake news?
The Cougars practiced through the first two days with helmets and shorts, but are set to begin putting on shells and pads next week.
The rule is designed to acclimatize players to heat, as well as physicality, in an effort to limit head and other serious injuries. The biggest change may come to the offensive and defensive linemen, Tuiaki said.
"This is all fake football (without pads)," Tuiaki quipped in jest. "We're all successful."
×
Related stories
Most recent Sports stories