Estimated read time: 5-6 minutes
This archived news story is available only for your personal, non-commercial use. Information in the story may be outdated or superseded by additional information. Reading or replaying the story in its archived form does not constitute a republication of the story.
PROVO — Ty Detmer's unceremonious firing as BYU offensive coordinator just days after a shocking 4-9 season sent shockwaves through the Cougar fan base.
Arguably the BYU football program's most-recognizable player, the 1990 Heisman Trophy winner was ushered out after helping the Cougars to a 13-13 record in two seasons alongside head coach Kalani Sitake and replaced by former Louisiana State offensive line coach Jeff Grimes.
But the man who drew hordes of BYU fans in the 90s and still commands an NFL-sized presence in Utah following a 13-year pro football career hopes his departure doesn't sway the fanbase and university he's come to love so deeply.
Just don't expect to see him on campus for a little while; that's understandable, and it will just take a little time, he says.
"I'm a Cougar for life. Great things happened for me at BYU, and this doesn't change that," said Detmer, who met his wife Kim at BYU and joined The Church of Jesus Christ of Latter-day Saints during his junior year. "It will take a little time for me to be around the program a little bit, but I just need to let things settle and let those guys do the things they need to do.
"I'll hang back, let things settle, and then we'll still always be a part of the program."
Detmer and his family have moved from the home in Mapleton to Gilbert, Arizona, in part to be closer to Kim Detmer's family and to allow their youngest daughter to finish high school around a large number of cousins.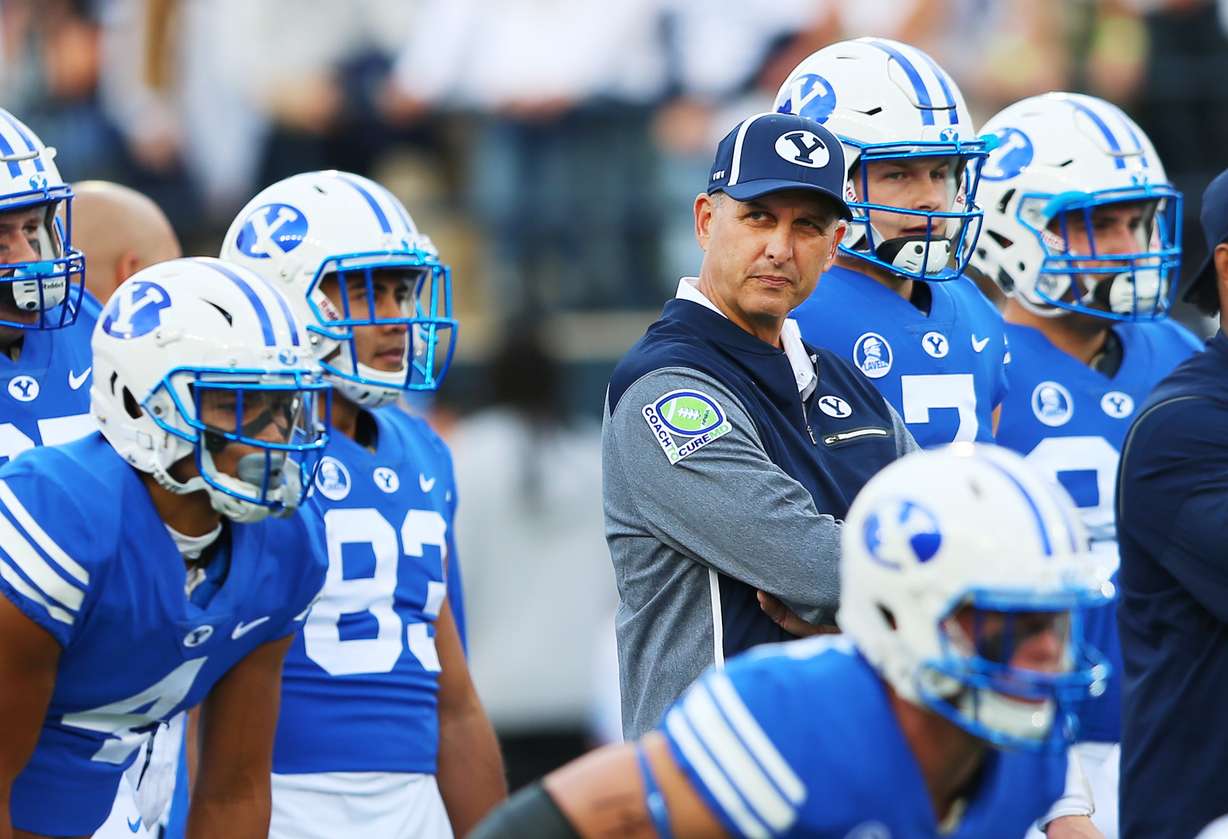 BYU athletic director Tom Holmoe said the door is always open to Detmer's return in some fashion, but the former standout signal caller is keeping his distance from campus to spend more time with family.
He's also expecting a grandchild — his first — via his oldest daughter in November.
Ty Detmer, a grandfather? You heard that right. It's a lot of change to take in for the 50-year-old former BYU star.
Eventually, Detmer wants to return to coaching football — likely in the NFL, but he hasn't ruled out a return to college or the high-school game, where he spent six seasons at St. Andrew's Episcopal School in Texas.
For now, though? He's slowing down to appreciate some of those changes
"I'm planning on enjoying some of those things that I haven't had a chance to the last couple of years," Detmer told KSL Sports. "There are a lot of changes overall, but we're just going to take this year, enjoy it with the family, and decide on the future after the new year."
Detmer is laying low in Utah, but he still comes back to run camps with QB Elite co-founder Dustin Smith, as well as former NFL quarterbacks Kurt Warner, Mark Brunell and Brandon Doman. He's also spent a lot more time golfing, and recently drew an elk tag in the state's lottery, so he'll be back on the Wasatch Front enough.
A New Era
Maybe coming back is a reminder of the failure that was the 2017 season.
But Detmer keeps coming back to what has become a second home.
And to this day, Detmer doesn't have a magic formula for what went wrong during the 2017 season, what most consider to be the Cougars' worst season since going 5-6 in LaVell Edwards' second year in 1973.
"There are things I would've done differently, and maybe fought for," he said. "But it was really that we were a young team with a tough schedule — and then the injuries kicked in to make the winnable games a dogfight.
"If we had the schedule we had last year in my senior year, we would've started 0-6, too. It's just open of those years that we had to go through, and unfortunately, I didn't get a chance to correct it."
Despite the early departure following a drastic 2017 season, Detmer's effect, influence and fame in Provo is still strong. He was the first BYU coach to offer a scholarship to Arizona four-star quarterback Jacob Conover, a rising senior at Chandler High who committed to play for the Cougars following a two-year church mission. He's expected to enroll with the Class of 2021.
Detmer is also still close to the BYU quarterbacks he mentored in two official seasons, including incoming freshman Zach Wilson, who attended Smith's QB Elite camp in high school, and returning signal callers Tanner Mangum, Beau Hoge and Joe Critchlow, among others.
"They're all great young men, and they are as disappointed as anybody in how things went," Detmer said. "I hope somebody emerges and there's a clear winner, though. Hopefully, one of those guys steps up, has a great fall camp, and can lead the team."
Detmer will coach again, though the door at BYU is probably shut — at least in the near future.
But does he regret anything about the decision to return to Provo, or have any second thoughts about potentially tarnishing his Cougar football legacy?
Not at all.
"That's part of the job, you know?" Detmer said. "That's what you sign up for when you become a coach — the scrutiny and all those things. But I'm glad I did it.
"I'm disappointed in not getting a chance to fix things and correct the ship. But I've never been a person who just dwells on the past. Life is full of things that you do that you aren't happy about. For me, it's OK and that chapter is over. What's next?"
×
Photos
Related stories
Most recent Sports stories