Estimated read time: 4-5 minutes
This archived news story is available only for your personal, non-commercial use. Information in the story may be outdated or superseded by additional information. Reading or replaying the story in its archived form does not constitute a republication of the story.
PROVO — BYU offensive coordinator Ty Detmer has been relieved of his duties, head coach Kalani Sitake announced Monday morning.
Detmer, who is also the team's quarterbacks coach, and all other assistant coaches remain under contract following the 2017 season, according to a school release.
"Although I'm disappointed I won't have the opportunity to turn things around as the offensive coordinator, I'll always be grateful to Kalani for giving me the opportunity to return to BYU and coach there," Detmer said via Twitter later Monday. "I want to thank those that have supported me through these past two seasons. I love the people I've beeb able to work with these past two years and wish everyone the best.
"At this time, I don't know what the future holds for our family, but I'll always be proud to be a Cougar."
Under the first-time college coordinator, BYU went 13-13 in two seasons, including a 4-9 record in 2017. The Cougars were among the worst offensive teams in the Football Bowl Subdivision, ranking No. 118 out of 129 teams in total offense.
Among BYU's offensive foibles, the Cougars were 123rd nationally in scoring offense, 117th in passing efficiency, 104th in completion percentage, 91st in passing offense, 104th in rushing offense, and 124th in turnovers lost with 27.
With the understanding that changes could be on the horizon, Detmer addressed the end of the season prior to BYU's trip to Hawai'i for the season finale.
"That's coaching; you are judged on your results," he said. "I think people in the program understand the circumstances we've been in, with youth and injuries. I'm not worried about that — we'll evaluate it after the season, with discussions with Kalani, and we'll go from there."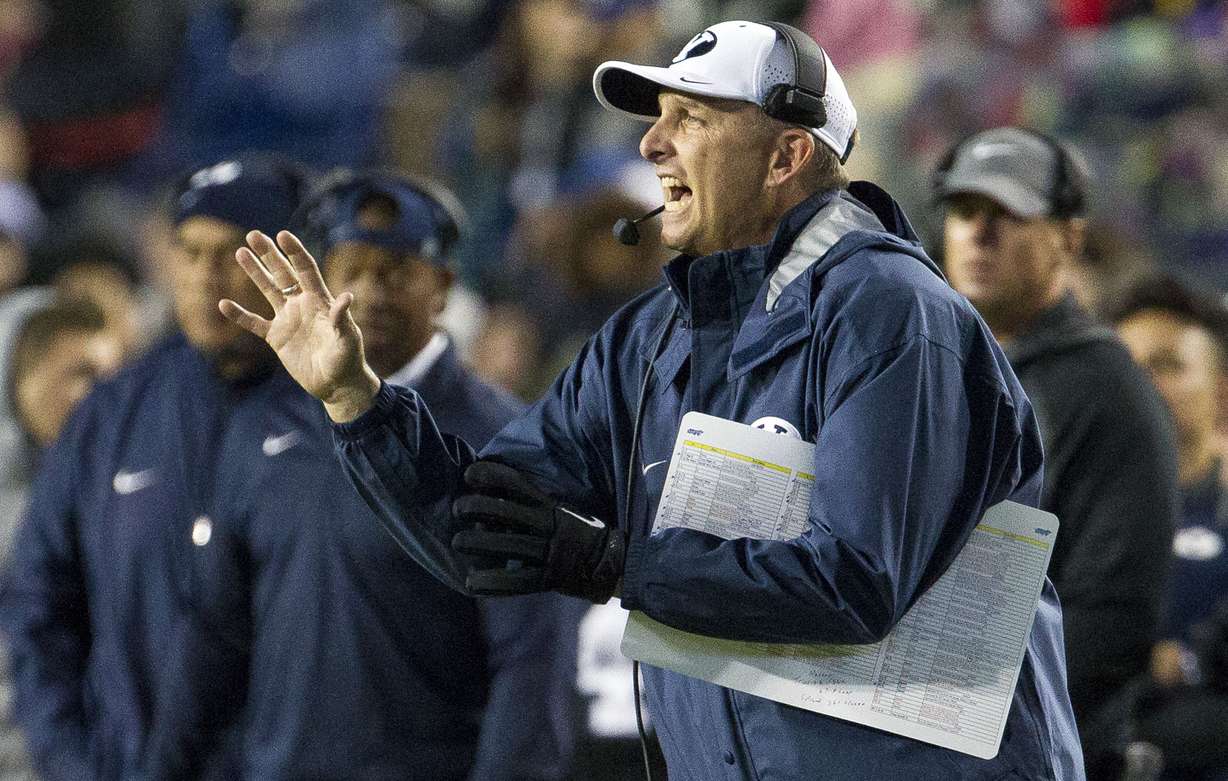 The Cougars scored 20 points or less nine times in 2017, finishing the season with the team's fourth-string quarterback and seventh-string running back in last Saturday's 30-20 win over Hawai'i in the season finale.
ESPN reported earlier Monday morning that Detmer had been fired by BYU, but school officials said in a statement that the new coordinator will make decisions regarding the offensive staff, once hired.
Detmer returned to Provo shortly after the hire of fellow Cougar alum Sitake at the end of 2015. Detmer threw for 5,188 yards and 41 touchdowns as a junior, becoming the first player from the Western Athletic Conference to win the Heisman Trophy, given annually to college football's top overall player.
He finished his career with 63 NCAA records, and still holds three of them, and went on to a 14-year NFL career in Green Bay, Philadelphia, San Francisco, Cleveland, Detroit and Atlanta. As a player, Detmer brought arguably the greatest fame to the BYU athletic department in school history, comparable to the team's national championship in 1984.
In 2016, Detmer helped take BYU to a 9-4 record and a win in the final Poinsettia Bowl in San Diego before the bowl game ceased operations. The Cougars relied heavily on fifth-year senior quarterback Taysom Hill and BYU all-time leading rusher Jamaal Williams, two players on NFL rosters in New Orleans and Green Bay, respectively.
Prior to returning to BYU, Detmer was the head football coach at St. Andrew's Episcopal School in Austin, Texas since December 2009. His father Sonny, a former All-American wide receiver at Wharton College, is considered a high school football coaching legend.
Of the nine coaches on the Cougar's football staff, eight are BYU graduates. Defensive coordinator Ilaisa Tuiaki, a Southern Utah alum, graduated from Timpview High School in Provo and former BYU wide receiver Aaron Roderick was also involved in an advisory role following two seasons as co-offensive coordinator at Utah in 2015-16.
BYU will immediately begin a search for a new offensive coordinator. Potential candidates include Roderick, who was a former teammate of Sitake at BYU and co-worker at Utah; former Oregon State offensive coordinator Kevin McGiven, an Orem native who also spent time at Utah State, Weber State and Southern Utah; Weber State offensive coordinator Fesi Sitake, Kalani's brother; Oklahoma receivers coach Dennis Simmons, a former BYU player; and Snow College head coach Paul Peterson.
Contributing: Jeremiah Jensen
×
Related stories
Most recent Sports stories