This archived news story is available only for your personal, non-commercial use. Information in the story may be outdated or superseded by additional information. Reading or replaying the story in its archived form does not constitute a republication of the story.
SOUTH JORDAN — A rise in off-highway vehicle accidents in Utah — resulting in the deaths of nine people since April — have prompted state and University of Utah Health officials to partner to remind the public of proper OHV safety.
"Mainly, we're seeing head injuries and spinal cord injuries; those are the ones that are leading the way," said Zach Robinson, trauma outreach coordinator at University of Utah Health. The hospital reported 34 percent of OHV incidents involve head injuries and 16 percent involve spinal cord injuries.
According to Robinson, as the hospital has continued to see a "scary trend" of OHV-related deaths and injuries, officials jumped at the opportunity to accept a partnership with the Utah Division of Parks and Recreation for a safety awareness campaign.
"We've already had 10 fatalities this calendar year. On average, we see about 14 fatalities," said Chris Haller, OHV program coordinator for the parks and recreation division.
On the Monday ahead of the holiday, Haller and Robinson demonstrated correct OHV helmet safety with two parks division ATVs as part of the campaign launched at the university's South Jordan Health Center helipad.
While state law does not mandate helmet usage for those over 18 years of age, the two encouraged riders to wear DOT-approved helmets that are properly fitted and fastened to avoid arriving at the hospital's trauma center.
"The helmet does save your life — no if, ands, or buts about it," Haller said. "It's just like wearing a seat belt in a passenger car."
University Hospital reported that between 2014 and 2016, 76 percent of off-highway vehicle users brought to the hospital were not wearing helmets or protective gear correctly. A parks division survey found that 57 percent of OHV-riding respondents said they wear a helmet often, down 1 percentage point from last year's survey.
Haller said the sudden increase in deaths since April should raise alarm since the summer has just begun. Robinson said the state is on track to surpass the state's annual average number of deaths.
"That is very concerning to us that work in the trauma department," Robinson said. "People aren't wearing helmets. People are riding aggressively. People are not being aware of their surroundings and that's how they're getting injured."
The awareness campaign's warnings come on the horizon of the July 4th holiday — a day that has seen the most OHV deaths every year in the U.S., according to data compiled by the Consumer Federation of America. Nationwide, 44 people have died on the holiday between 2013 and 2017.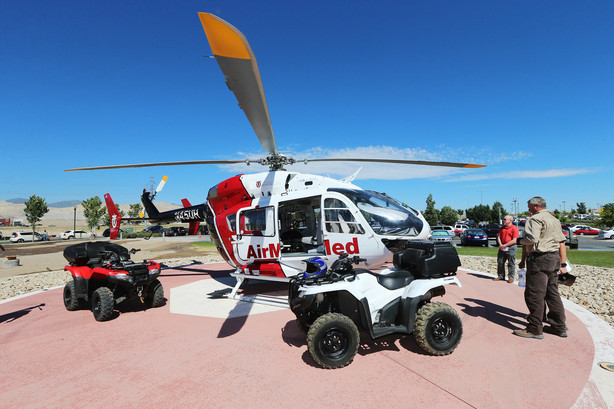 Middle-aged men, usually around 39-40 years old, tend to be admitted to the hospital for OHV-related injuries, according to Haller. That is the demographic their awareness campaign is hoping to reach.
Haller thinks that reaching a certain age causes an urge for freedom.
"Maybe we want to still look good — so to speak — and we want the wind to blow through our hair," Haller said, leaving riders susceptible to injury and death.
The campaign, now in its second year, was named "Nobody is Invincible" with that audience in mind, Haller said.
However, it is not solely a helmet issue, he said.
"They've gone through the education course, they've been wearing their helmets, they've been wearing their proper protective gear. However, they're not very situational aware of their surroundings," Haller said.
Among those injured and killed, he said, are riders driving too fast or not judging terrain accurately.
Between 2014 and 2016, University Hospital reported dealing with 144 OHV injuries, which account for 3 percent of its trauma-related injuries. While alcohol can contribute to OHV accidents, most incidents do not involve drinking.
Haller and Robinson, beyond the serious dangers of riding OHVs improperly, reiterated that they want the public to enjoy the vehicles.
"We're trying to keep people out of the hospital," Robinson said. "We'd rather have them out having fun and recreating, instead of visiting us in the trauma center."
×
Photos