Estimated read time: 2-3 minutes
This archived news story is available only for your personal, non-commercial use. Information in the story may be outdated or superseded by additional information. Reading or replaying the story in its archived form does not constitute a republication of the story.
LINDON — The Orem Fire Department unveiled its newest fire-fighting tool Monday morning: a specialized drone.
The unmanned aerial vehicle, more commonly known as a drone, has three specialized cameras onboard to provide real-time information to an incident command for a slew of situations: one camera has thermal imaging, another has a 30x zoom capability and the third provides a normal view of what the thermal camera is looking at.
Ryan Peterson, a battalion chief for the Orem Fire Department, said the large zoom allows the department to identify people from several miles away during search and rescue missions. The thermal technology cuts through smoke and anything else that impairs visibility to give firefighters a bird's-eye view of hotspot locations and the path of a structure fire.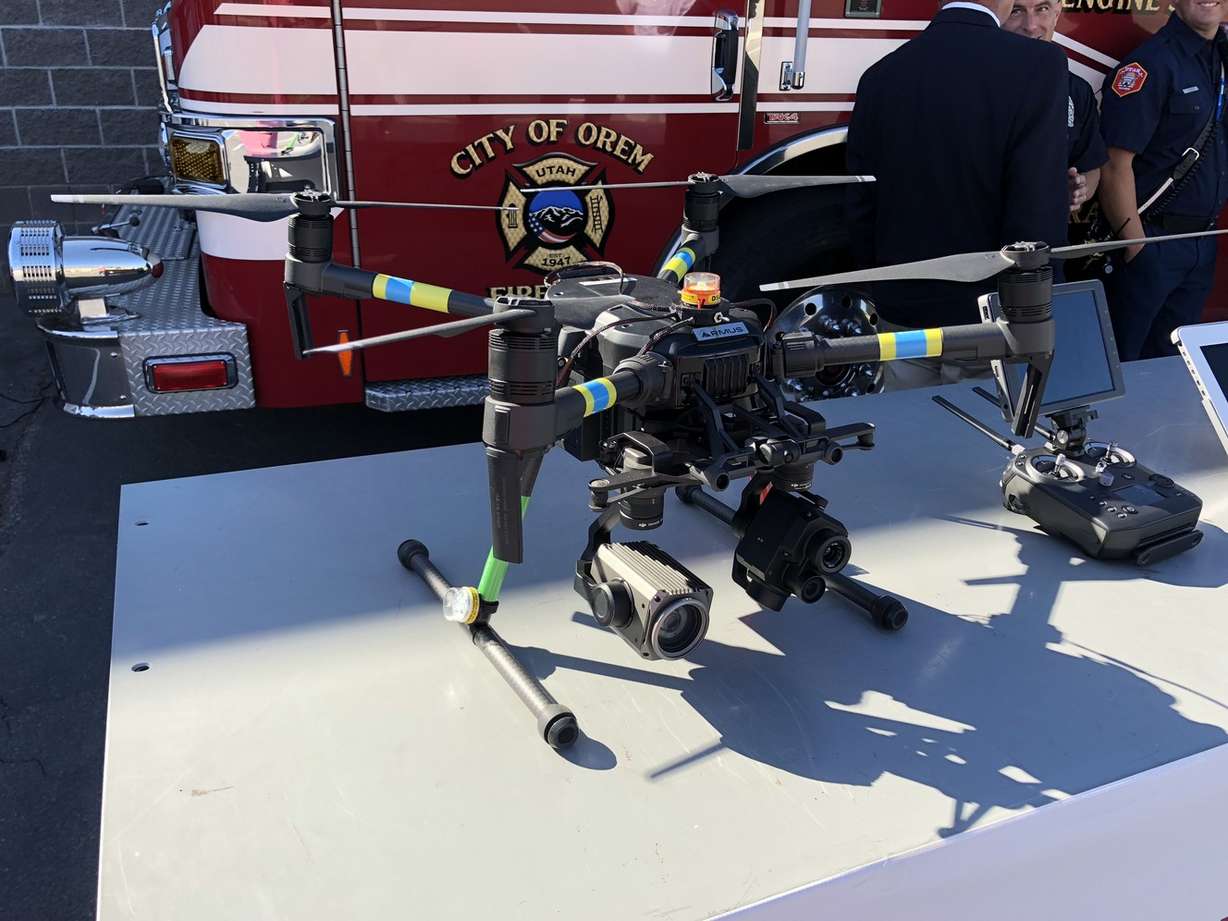 #drone_pic
The cameras can also help with road incidents.
"In the unfortunate event that we have a tanker rollover on the freeway, the camera technology would allow us to look at the liquid level inside that trailer which would help us mitigate that incident much quicker," Peterson said.
Peterson mentioned that their department is also willing to assist law enforcement during a police chase. The drone's camera can both track the subject of a chase automatically and provide thermal imaging of the subject at night.
The drone can fly in inclement weather such as light rain, moderate winds and cold temperatures, Peterson said. The battery-operated aircraft can fly for about 22 minutes for each flight, and the department has enough batteries to complete eight flights before having to recharge.
The fire department will operate the drone under the current regulations from the Federal Aviation Administration, specifically the Part 107 regulations that apply to commercial operators of unmanned aircraft. Some of the regulations include keeping the aircraft below 400 feet above ground level and within visual line of sight, and not operating over people.
At this time, only one person is certified to operate the unmanned aerial vehicle for the department, but there are plans to have more pilots certified in the near future.
The aircraft, with the cameras, costs about $30,000 and was donated to the department by Profire Energy.
×
Photos
Most recent Utah stories