This archived news story is available only for your personal, non-commercial use. Information in the story may be outdated or superseded by additional information. Reading or replaying the story in its archived form does not constitute a republication of the story.
SALT LAKE CITY — Christen Press' journey to Utah Royals FC was roundabout, to say the least.
And that's just the literal journey, which involved a round-the-world ride by airplane from Gothenburg, Sweden, to Salt Lake City, then to Cleveland, back to Sweden and finally stateside back to Salt Lake City. That's just in the last two weeks.
But what she's found in her new club and with head coach Laura Harvey is exactly what the 29-year-old U.S. striker with 44 international goals in her career needs.
"I think that I've been searching for an environment that can help me get to the next level, and I thought it was important for me to do my best and to put myself in a position where I can be inspired and be taught, to be around the right people and the right resources to take the next step in my career," Press said Tuesday in her first public comments since returning to the National Women's Soccer League.
"It's not as easy as it sounds. But I think it's worth fighting for, and I really believe that Utah has the resources, the opportunity and the right structure to make my life exclusively about football — without distractions or anything else. I'm here to play football, and I have what I need to do that. There are no excuses now … and let's see how good I can become."
On paper, acquiring her NWSL player rights was just as circuitous for the Royals.
When Press left the NWSL at the conclusion of the 2017 season, the Chicago Red Stars — for whom she scored 35 goals in 68 appearances over four seasons — traded her rights to the Houston Dash.
Press' party was reportedly only interested in an NWSL move to Portland, Seattle or Utah, so her rights were moved back to the Red Stars in exchange for Taylor Comeau and Sofia Huerta. Chicago then quickly flipped Press' rights to the Royals, sending along defender Sam Johnson in a blockbuster trade in which they acquired five NWSL college draft picks and defender Brooke Elby.
What Press has found in the Royals, for whom she has trained two days and will be eligible to play Wednesday against Seattle Reign FC (8 p.m. MDT, KSL.com/KSL TV app), is more than just a team and an organization.
It's a family, she says — right down to the thousands of fans that met Press and Johnson prior to Real Salt Lake's match Saturday against San Jose.
"They continued to say 'welcome to the family,' and I'm excited to be a part of that family," Press said. "I've never played in a city where every week you come out and see the same fans with a ton of them, so you can play for your fans. I think that's a unique thing, and it's really special in women's soccer.
"There aren't many cities that have the fan base like Salt Lake City has, and I'm really excited."
Press coming back to the United States to play with Johnson is a unique coincidence, too. Johnson said Tuesday she had requested a trade from Red Stars management, but didn't think it would come so soon — or with the return of one of her good friends from Chicago.
"We both came the same year to Chicago, and grew to be very good friends," Johnson said. "It's kind of funny that we ended up coming here together."
Harvey knew she wanted to acquire Press for her team for several years. She first met the young striker from Southern California when she coached at Arsenal Ladies in England.
Her side was playing Swedish side Kopparbergs/Göteborg FC, better known by its home city Gothenburg, in the Women's Champions League. And though Arsenal won the home-and-away series, Harvey took special notice of the rising star who played just 19 games at Florida-based magicJack in the now-defunct Women's Professional Soccer League.
"I didn't know that she was American at the time," Harvey recalled of the Stanford graduate. "She had just come out of college, she played against me in the Champions League, and thankfully we beat them — but she scored a few goals in those two games. I left Arsenal not long after that, and was desperate to try to get her back."
What Press brings to the Royals is simple: goals. One of the most consistent defensive teams in the NWSL, Utah has struggled to score goals. The Royals have scored 10 goals in 2018, tied for the second-fewest in the league, and Brittany Ratcliffe leads the team with two goals (both against league-leading North Carolina).
Standout U.S. striker Amy Rodriguez has one goal and one assist for the Royals, who are hoping the creation of a Press-Rodriguez tandem up top will overhaul the attack.
"I'm really excited to play with Amy," Press said. "Her quality is so obvious; just watch her for five minutes. She's incredibly talented and dynamic, and I think those qualities could partner very well with mine, and I hope we can give defenders hell this season."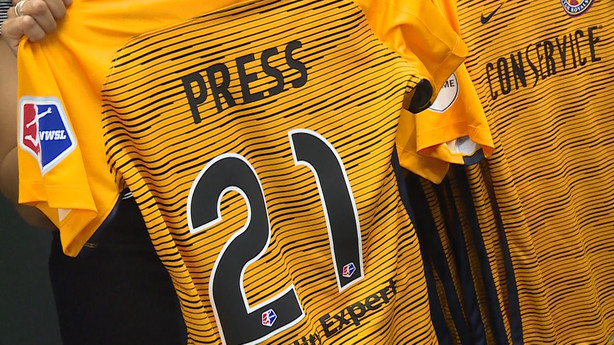 Old team vs. New team
Wednesday will mark the first meeting for Harvey against the club she coached five years, the only other team she knows in the NWSL.
But don't expect tears from the manager on facing her old side.
"Seattle's always going to have a special place in my heart. When you're building something from nothing, it tends to have an effect on you," Harvey said. "But once you get into a game, it's a game. I'm sure they want to win as badly as I do, and that's what makes us who we are. It will be good to see them, but once it gets to game time, it's game time."
The Reign went 58-29-27 under Harvey from 2013-2017, including winning two NWSL regular-season titles. Harvey was named NWSL coach of the year in 2014 and 2015, when she led top-seeded Seattle to the NWSL championship game before losing to the now-defunct FC Kansas City.
That same Seattle team — with many of the same players, including Harvey's longtime friend Megan Rapinoe — are now led (thanks in large part to Harvey's recommendation) by former Kansas City manager Vlatko Andonovski, while Harvey leads many of his ex-KC players in Utah.
"I think me and Vlatko have always tried to play the same way, honestly," Harvey said. "But there are still a little bit different."
Altitude training
The reception toward Press and Johnson has been warm, from the team, support staff and fans of the Real Salt Lake organization. But there is one thing to which they are stilling adjusting: the altitude and the weather.
"Oh boy; it's a struggle, right?" Johnson said. "Let's be clear: I'm coming from Chicago, which is 60 percent humidity, and then I come her to zero percent.
"I've been doing some fitness, but I'm told it will be four-six weeks — which is a nice struggle to have."
×
Photos
Related Stories