This archived news story is available only for your personal, non-commercial use. Information in the story may be outdated or superseded by additional information. Reading or replaying the story in its archived form does not constitute a republication of the story.
ZION NATIONAL PARK — Getting the poop out of national parks takes a lot more work than you might think.
At Zion National Park, a helicopter is required to remove human waste from vault toilets at one park location. At Arches National Park, maintenance personnel make a 250-mile round trip to transport sewage to a wastewater treatment plant.
And at Yellowstone National Park, officials are spending $12,000 on toilet paper alone for this year's summer season.
Those are three of the West's most popular national parks, and all of them have seen their visitor numbers balloon over the past decade or so.
That means managing the amount of human waste that gets disposed of in the parks each year takes more than just flushing. Maintenance officials are working hard to keep the facilities clean, and to keep them updated and able to handle the number of people that visit the park each season.
"It's just something we do," said John Lewis, chief of maintenance for Arches and Canyonlands national parks. "We're good at it because we do a lot of it."
Here's a breakdown of how park staffers manage the waste in the parks, and what you can do to help them out when you visit the sites.
How park officials manage human waste
About once a year, officials at Zion use a helicopter to remove waste from two vault toilets at Scout Lookout, which is along the trail to Angel's Landing, one of the park's most popular trails, according to Zion Spokeswoman Aly Baltrus.
Between the helicopters, the pump truck and personnel costs, the annual cost to remove the human waste at Scout Lookout is about $20,000, Baltrus said.
There are seven other vault toilets in the park, she said. To deal with increasing visitation, the park also rents portable toilets, which costs more than $20,000 per year to maintain.
Between Arches, Canyonlands and the many Bureau of Land Management areas around Moab, there are 200 vault toilets that need to be pumped out in that region, Lewis said.
The waste gets removed through two 3,000-gallon pump trucks, as well as a smaller, 300-gallon truck that is used for toilets in hard-to-reach backcountry locations, he said.
Then, it's transported 250 miles round-trip to a wastewater treatment in Wellington. Park personnel used to transport the waste to Moab, but the city's wastewater treatment plant was testing its capacity limits, so city officials asked that park officials take their waste somewhere else, Lewis said.
Now, Moab is building a new treatment plant that will be able to handle the park's waste loads. But until it's finished in the fall, Arches and Canyonlands staffers are forced to log overtime to transport the waste to Wellington, Lewis said.
"We were at a big loss on what we were going to do with the waste," he said.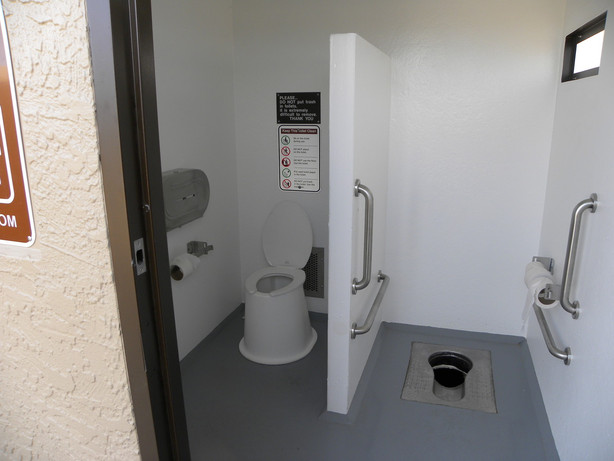 At Yellowstone, there are 153 vault toilets, mostly along the Grand Loop Road, park sustainability coordinator Lynn Chan said.
Like Arches, the park uses two pump trucks to get the waste out. That process costs just under $150,000 in fuel and labor last year, Chan said.
The total cost for custodial work at Yellowstone — including cleaning and stocking toilets and all other buildings in the park — was about $505,000 last year, she said.
"(Cleaning the facilities) takes continual maintenance," Chan said. "We have not been able to hire extra staff in a lot of cases to do a lot of this work, so the same number or even less staff are doing the same work for many more people."
More people in the parks = more waste
Zion, Arches and Yellowstone all have experienced big movements in terms of visitation in recent years.
Zion officials are spending double what they were ten years ago for paper goods, Baltrus said. Staffers also are removing more than twice the amount of trash from facilities in the park, she said.
In addition, graffiti and other vandalism have increased in the park's public restrooms over the last five years, which means the park is spending more to repair those damages, Baltrus added.
Yellowstone's costs for toilet paper also have doubled in the last few years — to $12,000 during last year's summer season, Chan said.
During that season, the park also spent nearly $28,000 on hand sanitizer, which sometimes gets stolen from restrooms, she said.
The park previously had one person responsible for driving the pump truck to the various toilets in the park, Chan said. Last year, however, the park bought another truck and added another full-time staff member to handle that responsibility, due to the increased visitation at the park.
Since the park is crowded, it makes that job more difficult, she said.
"It takes us a lot longer now to do our work in the park because it's just busier and it's harder to get to places," Chan said.
At Arches, staffers also are dealing with the challenges of increased visitation, Lewis said.
"Just within the last decade, we've gone through our popular sites at Canyonlands and Arches and added toilets to try to meet this increase in demand," he said.
One particularly crowded spot is The Windows area, where there are just two toilets. There is usually a line for the restroom, which makes it tougher for maintenance staff members to get in to clean them, Lewis said.
That facility is scheduled to be upgraded next year with new toilets that will double the capacity, he said.
The park has seen exponential growth over the last decade, past the point where the current toilet facilities can handle the capacity of people in the park.
"Those numbers have just gone up exponentially as far as the amount of waste we are hauling just due to the increase in visitation here," Lewis said. "It's huge."
Yellowstone also added two new toilets this year, Chan said.
What you can do to help keep the toilets clean
How can you help maintenance staffers keep the toilets in working order when you visit a park?
Respect the facilities and keep in mind that people have to clean them every day, Chan said.
"Make an effort to keep the toilets clean and respect the fact that we have to clean the toilets," she said. "And if a lot more people are using them, that's a lot more work."
There's no way to say this delicately, but officials at Yellowstone and Arches sometimes have dealt with waste not going where it needs to go.
Sometimes people who are visiting the parks from other parts of the world aren't used to seeing the European-style, sit-down toilets present in the park, Chan said.
At Arches, some people don't want their body to touch the toilet seat, Lewis said. Some will stand on the toilet seat, or even do their business in the corner, he said.
"When people come in and just trash them and don't use them like they're supposed to, it's really discouraging," Lewis said.
To combat this problem, Arches officials have installed signs instructing people how to use the toilets, and asking them not to stand on the seat. There also have been several squat toilets installed in the park to accommodate people from other cultures, he said.
Yellowstone officials also have added instructive signs at toilets, and they are considering adding squat toilets, Chan said.
Lewis said those new changes haven't eliminated the problem, but they have helped.
"I just really want to make sure that the visitors have the best experience they can," he said. "We're doing all we can to really make sure that visitors have a good experience."
×
Photos