This archived news story is available only for your personal, non-commercial use. Information in the story may be outdated or superseded by additional information. Reading or replaying the story in its archived form does not constitute a republication of the story.
SANDY — Somehwere in the limited space of time after Laura Harvey was named Utah's inaugural head coach in the National Women's Soccer League and the team's first match in March, the two-time NWSL coach of the year began spinning a trade idea with Chicago coach Rory Dames.
For a variety of reasons, the trade never worked out — until Monday.
That's when the Royals made headlines and acquired Chicago Red Stars center back Samantha Johnson.
Oh, yeah, and an American forward playing in Sweden with 44 goals in 100 international appearances.
Utah Royals FC made arguably the biggest trade of the franchise's inaugural season Monday, acquiring U.S. striker Christen Press' rights in exchange for Brooke Elby and five college draft picks.
"It's no secret that I've wanted Christen Press on my team for years," said Harvey, who previously coached at Seattle. "I'm just happy that we could make it work.
"I think it was a lot to give up Brooke; she was exceptional for us, and is a fantastic person. But I think it's a good move."
In the end, the sign of a good trade is that both sides leave satisfied, but also disappointed in what they are giving up.
"I'm sad, because I love Brooke," Utah reserve forward Brittany Ratcliffe said. "Brooke's one of my good friends, and we all love Brooke. She was a great addition to our team, and we're going to miss her.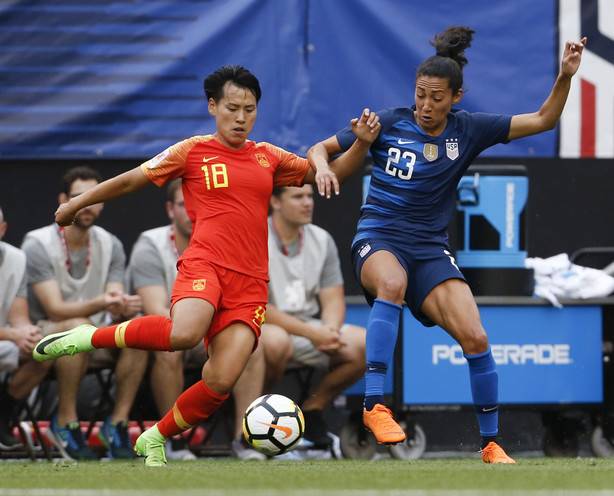 "But I'm excited to get Sam and Christen; they are great players as well, and I think they are going to help our team a lot. It was a big trade, but I'm excited."
The trade began by the Houston Dash sending Press' rights along with a conditional first-round pick in the 2020 NWSL college draft to Chicago in exchange for Sofia Huerta and Taylor Comeau.
The three-team trade ended with Utah receiving Press' rights, and sending the popular Elby, a remarkably reliable fullback who was among the team leaders in touches per 90 minutes, to the Windy City.
In Johnson, the Red Stars had a consistent center back who started nearly every game she played in the Windy City — as well as rights to one of the United States women's national team's most potent scoring options, though Press has been under contract with Goteberg FC in Sweden until July 2018.
The close of the contract is likely a formality for Utah, though; Harvey said Press could arrive in the Beehive State by the end of the week, if everything works out smoothly.
"We traded for her rights, but in the process of doing it, we felt very confident that we could solve her (contract) in Sweden while being respectful of Goteborg," Harvey said. "We just want to make sure that we do the right thing by them."
Related Story
Neither Press nor Johnson will be available for the Royals match Saturday at Chicago, per an agreement the two sides made prior to the trade. Johnson, who touched down Tuesday in Salt Lake City, will train at altitude for the week, while Press could be available as early as next Wednesday against Seattle Reign FC.
Both players can elevate the quality of the side, Utah forward Amy Rodriguez said.
"I am stoked. I really am delighted for the addition that (Press) is going to make to this roster," she added. "We have quite the list of star power and potential, and I think this boosts us even further."
Rodriguez attended Southern California briefly with Johnson, and the center back brings an NWSL veteran to the back line that includes U.S. stalwart Becky Sauerbrunn and Scottish captain Rachel Corsie. Johnson's inclusion also gives the Royals the option of playing a lineup with three defenders, Harvey said.
"She's a solid defender, and I'm really excited to add her to the roster," said Rodriguez, who has also played with Press in the USWNT. "Our whole roster is going up and up, and we are only getting better."
In bringing Press and Johnson to Utah, the Royals also gave up five draft picks — including the No. 1 overall pick in next year's NWSL college draft.
But it's a small price to pay for two players of quality for the league's newest franchise, which didn't sign either of the two draft picks from the 2018 draft (only five picks were signed, league-wide).
Both Press, 29, and Johnson, 27, are in the prime of their careers.
"I've always been OK if I feel like we have something we can invest in now and in the immediate future," Harvey said. "In this league, you can solve long-term at a later date.
"Sam and Christen are both young enough that they will have great years yet to come, and I feel like both have a lot of years left in their career. I think we've set ourselves up well for the next 4-5 years with this trade."
×
Related Stories