Estimated read time: 4-5 minutes
This archived news story is available only for your personal, non-commercial use. Information in the story may be outdated or superseded by additional information. Reading or replaying the story in its archived form does not constitute a republication of the story.
SALT LAKE CITY — The owner of a craft soda company behind three soda brands pulled from a Macey's grocery after a customer complaint said he believes the products aren't offensive; rather, they're satirical of some of the darker moments of the 20th Century and any outrage is an "overreaction."
"None of our stuff promotes Nazism or communism, and I would not promote any of those because I don't believe in any of those philosophies and I don't like those philosophies," said Danny Ginsburg, the founder of Real Soda in Real Bottles, Ltd., which is based in Gardena, California.
"We're just a beverage company," he said. "We're not out there to promote any sort of political (ideal). When you have things that are sort of provocative and so on, it can grab people's attention. Everyone has their own gimmick."
The commotion all started with a tweet from a customer shopping at Macey's in West Jordan. The customer, Kate Boyle, spotted a soda called "Not See Kola" on the shelves of the grocery store. The soda name reads off close to Nazi and the logo looks similar to the Nazi "imperial eagle."
"It's not just a mistake or me being sensitive," Boyle told KSL TV on Monday. "It's definitely racist."
Macey's responded within hours, saying they planned to pull the drink from its shelves, along with "Leninade" and "Orthodox Jooce."
Related:
"This item was not approved at a corporate level," Associated Food Stores, which include Macey's, told KSL in a statement. "We have reviewed our craft soda offerings and decided to discontinue 'Not See Kola.' We apologize and our stores have been instructed to remove the product from shelves immediately."
Ginsburg said he was making deliveries in Los Angeles Monday when his wife told him of an online brouhaha happening with the company's Utah distributor. He said he has received complaints about the cola or other sodas made by the company in the past, but nothing quite like this.
"(It) has been around for 10 years, and it has never had this kind of extremity of focus," he told KSL.com in a phone interview Tuesday.
Ginsburg, who is Jewish, contends that it's not racist, nor is it promoting Nazism and "that's not what the point of the drink is." He explained that the name came from a series of events and also its clear cola color. The logo is actually Germany's "Bundesadler," or "federal eagle" logo and all of it is meant to be a play on words.
The drink originated with another German soda, Afri-Cola, in the late 1990s. After a legal mishap, they lost the rights to the soda but wanted to still make another cola in the early 2000s. The new one was clear, like Crystal Pepsi — or a cola people could not see, which led to the name.
It's pronounced "note-zay," or a German translation for "lake emergency" as it is marketed on its list of sodas it sells.
"That's just how this drink was formed," Ginsburg said. He likened any comedy about Nazism to the popular 1960s TV comedy show "Hogan's Heroes," which showed how spoofing Nazism can be well-received comedy.
Two other sodas, "Leninade" and "Orthodox Jooce," also have similar word-play backgrounds.
"Leninade" has a message on the bottle that spoofs the Soviet Union slogan "Lenin lived, Lenin lives, Lenin will live."
"You change one letter (in Russian), it becomes Lenin drank, Lenin drink, Lenin will drink," he said. He first designed the logo for that drink in the late 1980s and was popular with classmates he first showed the design. It has since become the company's most popular drink and is sold worldwide.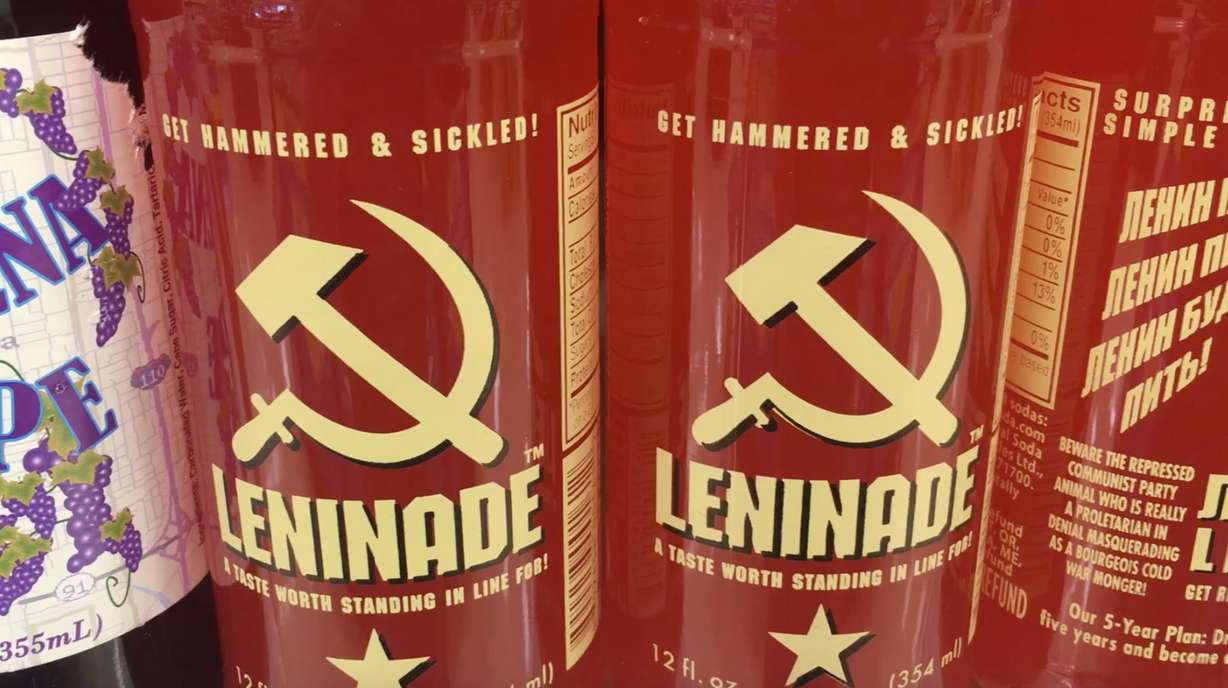 The drink's fans include those who lived under communist Russia who laugh at the word-play, Ginsburg added.
"Orthodox Jooce," was created after Ginsburg said he wanted to make a soda similar to sweet wines used as a part of Passover.
As the company has grown through the years, it has distributors all over the country, including Utah.
The local distributors go to stores across the state to sell Real Soda in Real Bottles products. Ginsburg said there is no plan to scrap the drinks in the future.
"I don't understand all of this controversy without any discussion," he added. "It just seems like overkill to me."
Contributing: Ashley Kewish, KSL TV
×
Most recent Utah stories