This archived news story is available only for your personal, non-commercial use. Information in the story may be outdated or superseded by additional information. Reading or replaying the story in its archived form does not constitute a republication of the story.
OREM — Derek Soffe wasn't planning to pitch Friday during the Class 6A state baseball championship.
But life throws curveballs, and Riverton's 7-0 win over the Miners in the first game of the championship series was one of those.
It took Bingham coach Joe Sato about two seconds to decide who he wanted to pitch in the Miners' final game of 2018.
"There wasn't any discussion. He was going to have the ball, and he went," Sato said.
"He's the MVP of our region, he led our team in pitching statistics, and in hitting too."
Soffe fanned nine batters and scattered just five hits in a complete-game performance to lead Bingham to a 9-0 win over Riverton in the winner-take-all finale of the Class 6A state baseball championship Friday at UCCU Ballpark on the campus of Utah Valley University.
"Whatever it takes," said Soffe, who pitched a 10-2 win over Davis in Monday's quarterfinal. "I just had a mindset to do whatever it takes, and that was a must-win. We went out and got it done."
Bingham (21-10) won the inaugural 6A state baseball title, and the 22nd championship in program history — a run that stretches across more than 50 years and dates back to the third-ever Class A baseball championship in 1932.
"The tradition here is crazy," Soffe said. "I know people who bring hard hats from the old Bingham mine, and there's a tradition here that we love to carry on.
"It's great to be part of it."
⛏ ⛑ 🏆

(H/T @HemaHeimuliJr) https://t.co/yDSFjo8q1Jpic.twitter.com/zj40lZpHeM

— KSL SportsBeat (@kslsports) May 26, 2018
Noah Wallick crushed the seams off a fastball, sending it over the left-field wall to give the Miners the first lead of the game with a three-run homer in the top of the third.
That opened up the Miners' offense, which was held scoreless in the first game for the first time since May 9, a 2-0 loss to American Fork after the Miners had already wrapped up the Region 4 title.
"I heard we hadn't scored in over nine innings. So he gave me a pitch in the middle of the plate, and I just hit it," Wallick said.
"I don't think I've ever hit the ball that hard in my life. It's crazy what happens when your brothers are behind you."
After back-to-back errors put Joey Dixon and Nick Daynes in scoring position, Camden Snarr smacked a two-run double down the right-field line to give Bingham a 6-0 lead in the top of the fourth.
Souffe and the Miners' defense took care of the rest.
"We knew Derek had it," Wallick said. "Right when we dropped that six-spot, I could hear Riverton just get out of it. Our team stepped up after that huge inning."
With the last of the Miners' 13 hits, pinch hitter Tyler Kemp grabbed a base hit. It wasn't flashy, and it probably won't appear in most news stories or highlight reels.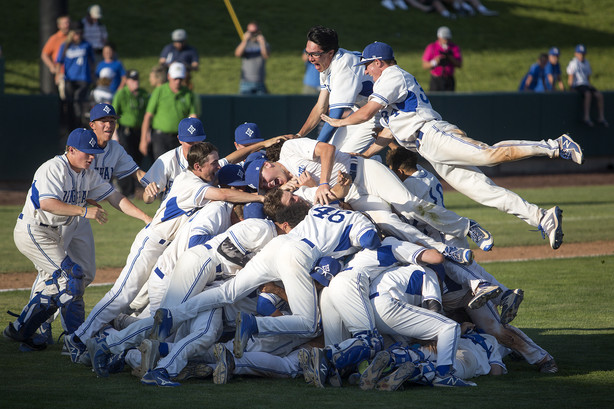 But it illustrated the depth of Bingham's bats en route to the program's 22nd state title.
"We have 13 seniors, and they all bought in and want to contribute. I was so happy for Tyler Kemp, to get the last hit in the game," Sato said.
"He's a senior, and he hasn't played as much. But he's been a unifying force in the dugout and he keeps our guys going in the dugout. Good things happen to good kids, and that's a great example right there."
Game 1
Riverton 7, Bingham 0
At UVU, Gaige Morris went 3-for-3 with two runs scored and an RBI, and Parker Applegate was 2-for-4 with two RBIs to help the Silverwolves force a winner-take-all second game.
Applegate's two-run single in the second gave the Silverwolves a 3-0 lead early, and they never looked back.
Riverton starting pitcher Kody Nelson worked out of a bases-loaded jam in the bottom of the third to keep the Miners scoreless. Nick Burdette's seeing-eye single loaded the bases, but Nelson worked the count with back-to-back strikeouts to get out of the inning and preserve the Silverwolves' lead.
Zack Peterson had his second RBI with a double in the fourth, then came home on Morris' triple in the next at-bat.
Nelson, who fanned seven in six innings of work, exhausted his 110-pitch limit, and Peterson relieved him to finish off the three-hit shutout.
Bingham (@homeoftheminers) wins the inaugural Class 6A state baseball title, 9-0 over @RSWsports in a winner-take-all Game 2. #kslprepspic.twitter.com/F5sG4jDhST

— KSL SportsBeat (@kslsports) May 26, 2018
×
Photos