This archived news story is available only for your personal, non-commercial use. Information in the story may be outdated or superseded by additional information. Reading or replaying the story in its archived form does not constitute a republication of the story.
OREM — Bingham's baseball team wasn't seeing the ball perfectly for the first few frames of its winner's bracket final Wednesday at UCCU Ballpark at Utah Valley University.
In the top of the third, things changed.
Camden Snarr hit five RBIs on two of Bingham's 10 hits to help the Miners roll to a 13-2 win over American Fork in five innings to advance to Friday's state championship.
"We saw that pitch before in the season, and we knew what he was coming with," said Snarr, whose bases-clearing double in the fourth highlighted the Miners' run. "We just drove the ball, got a lot of energy in the dugout, and everything rolled for us.
"We transitioned from one bat at the plate to the next."
The Miners (20-9) will face Riverton in the 6A state championship Friday at 1:30 p.m. MT at UCCU Ballpark.
Bingham starting pitcher Peyton Jones went the distance, allowing three hits with three strikeouts to get the win for the Miners.
After two scoreless innings on both sides, Nick Burdette drove in the first run of the game with a stand-up double to left-center field in the top of the third, and Brandon Thomas doubled the advantage with a base hit on the next pitch.
Burdette came home on a bases-loaded walk, and the Miners took a 6-0 lead out of the third inning, thanks to Snarr's two-run single.
"I got my hands to it, and just drove it as far as I could get it," said Snarr, who also came up big in Bingham's win over Davis in Monday's winner's bracket semifinal.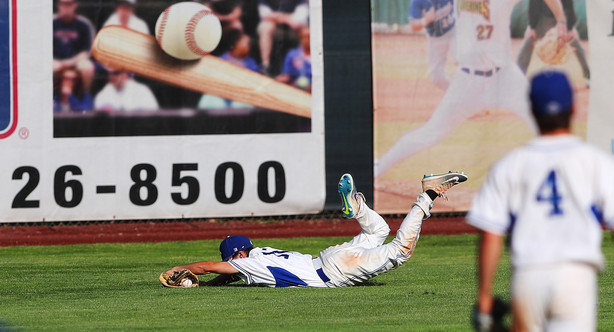 Dawson Parry pulled back a pair of runs for American Fork (22-8) with a bases-loaded single in the bottom of the inning, but Jones fanned one and picked off a runner at third to keep the Miners up 6-2 after three.
Snarr ripped a bases-loaded double for three RBIs, and came home on a wild pitch on the next batter, to spark a five-run fourth that put Bingham comfortably ahead with an 11-2 lead in the fourth.
"We just worry about the next pitch, and don't worry about the result until it's over," Bingham coach Joe Sato said. "It's one pitch at a time, and if we score some runs, great. But even if we don't, we just worry about how we approach it and what our process is."
From that point, everything was coming up Bingham. Nick Stevens made a spectacular diving catch to rob a double in center field as the Cavemen tried to respond in the bottom of the fourth.
Derek Soffe's RBI single in the top of the fifth gave the Miners a 12-2 lead en route to the five-inning win.
"We were here at this point last year, lost to Cottonwood and then got beat by Lone Peak and we were headed home," Sato said. "This is huge. For us to be able to come back another day is great."
Riverton 6, American Fork 3
At UVU, the Silverwolves got all the scoring it needed in the first inning and held off the Cavemen to advance to Friday's 6A state title game.
Kody Nelson opened the scoring with a three-run triple, then came home on a wild pitch as the Silverwolves (23-9) took a 4-0 lead in the bottom of the first.
Ryan Hardman's two-run shot in the third pulled the Cavemen within one, 4-3. But that was as close as the Cavemen would get.
Cooper Grey's RBI single in the bottom of the sixth scored Colson Stauffer during a two-run sixth, and the Silverwolves held on to advance to Friday's 6A championship against Bingham.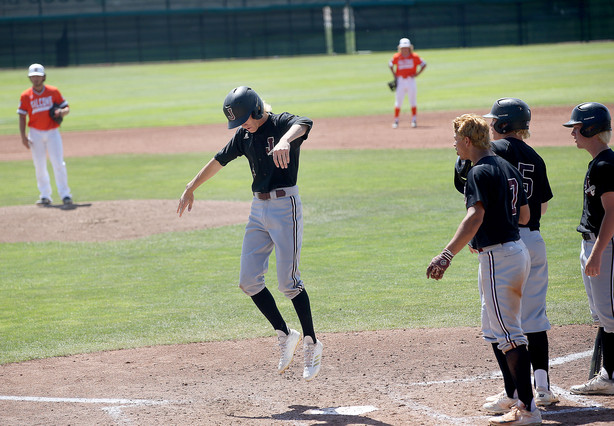 Class 5A
Jordan 10, Skyridge 3
At UVU, Connor Hughes' three-run homer highlighted a five-run third as the Beetdiggers pulled away from the Falcons in the 5A winner's bracket final.
Drew Jones struck out five to earn the win for Jordan (23-6), which advanced directly to Friday's championship game at 11 a.m. MT.
Jacob Shaver added a triple, and Noah Hennings had a double for Jordan, which pound out eight hits with just two errors.
Nate Upham led Skyridge with a triple.
Olympus 5, Skyridge 2
At UVU, Ben Delis allowed just two runs in seven innings with five strikeouts as the Titans eliminated the Falcons to advance to Friday's state championship.
Nick Ward went 1-for-2 with three RBIs, and AJ Affleck added a two-run shot for Olympus (29-3).
Upham and Kai Roberts each hit a double for Skyridge (22-8).
×