SALT LAKE CITY — A major milestone has been reached in the development of the largest municipal construction project in the history of Utah's capital city as workers "topped out" the new terminal at Salt Lake City International Airport.
In the construction business, "topping out" or "topping off" is a builder's rite that is traditionally held when the last beam is placed on top of a structure during construction. On Wednesday, more than 1,000 workers were joined by civic leaders to commemorate the installation of the final steel beam of the airport's $486 million Central Terminal.
"This airport is going to be such an immense asset to this community," said Bill Wyatt, executive director of Salt Lake City Department of Airports. "This is a moment where we get to see the last piece of steel going up into the erection of the terminal building."
The first phase of the project is scheduled for completion in 823 days, he noted, more than two years hence in 2020. He added that for a time, the department will be "operating two airports at once" as it transitions from the original buildings to the new facilities.
He said the $3.5 billion project is currently on schedule and on budget. The project is funded entirely by user fees and no local taxpayer dollars, he said.
"Delta Airlines, people who park their cars or buy concessions are all contributing toward the development of this new airport," Wyatt said.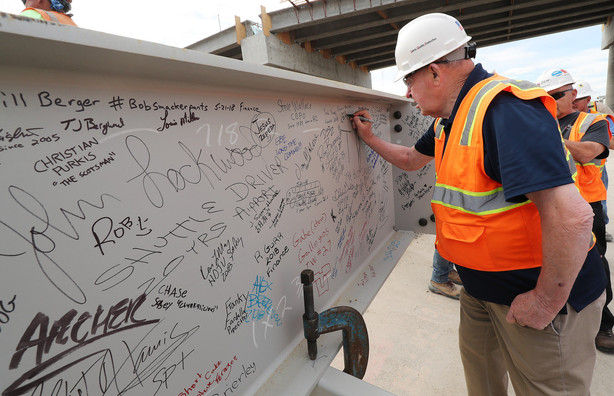 The new airport will include an elevated roadway with one level for drop-offs and one level for pick-ups, a new parking garage with 3,600 parking stalls, one central terminal to replace three existing terminals, along with the west-end of the North and South concourses, explained airport spokeswoman Nancy Vollmer.
A large art installation titled "The Canyon" will be integrated on both walls of the new terminal, she said. Spanning 362 feet, the piece will be meant to evoke the Salt Lake City landscape with a floor to ceiling height of approximately 50 feet, she added.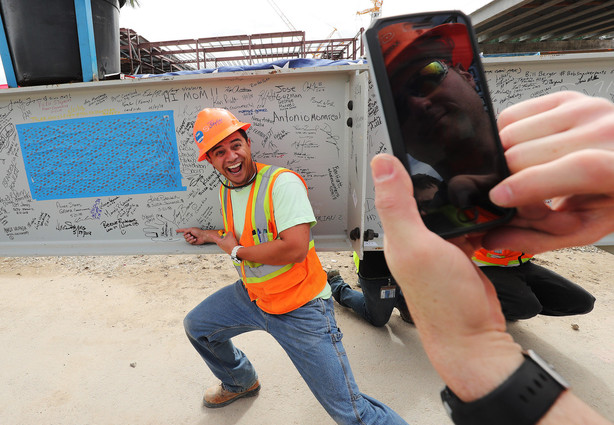 "The entire airport will be complete in 2024, at which time all the existing old buildings will be torn down," Wyatt said. "In its place will be this new, state-of-the-art, 21st-century airport."
As of early this month, there were approximately 1,300 trade workers on site and 2,801,726 hours worked to date, Salt Lake City Mayor Jackie Biskupski told the audience gathered on the construction site for Wednesday's ceremony. She noted that local contractors comprised 68 percent of awarded contracts for the project, with out-of-state contractors totaling the remaining 32 percent of contracts awarded.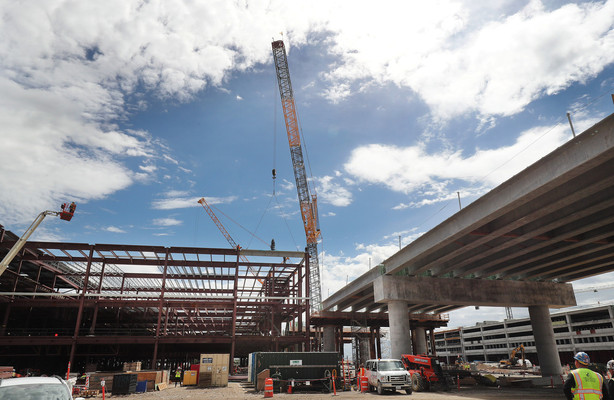 During the course of construction, the project will create more than 24,000 jobs and generate more than $1 billion in wages, she said. The project is approaching 3,000,000 worker hours with minimal safety incidents, she added.
"Everyone is working so hard," Biskupski said. "There is so much to be proud of and to celebrate."
×
Photos
Related Stories