SALT LAKE CITY — After years of threats that the Sugar House Park July 4th fireworks show would not happen, park officials decided Friday the park will not host the popular event this year — and they mean it.
"Up until now, we've been looking for a private organizer to put on the show and pretty much, at this date and time, we've decided that it's too late and that we should start letting the public know that there's not an organizer for the fireworks and so the fireworks are not going to happen this year," said Chad Anderson, Sugar House Park Authority Board president.
Anderson told KSL the Sugar House Park Authority Board had one organizer look at running the event this year, but they decided to not go forward with it after looking at the logistics. He said it would be extremely difficult for a last-second organizer to swoop in and save this year's show at this point in the year.
"Just paying for the fireworks is a very small portion of what it takes," he said.
Anderson wrote a letter to residents Friday informing them of the decision.
The fireworks show has gone on for decades, and in 2010, the show became a privately-funded event. Since then, the future of the show has been less clear.
The tradition nearly ended in 2010 and 2011 before money was raised to keep it afloat. Apollo Burger owner Michael Ziouras pledged $25,000 to keep the show going in 2014 and, at that time, officials believed the show would be certain for the following five years — though the show remained uncertain each year.
With the growth in popularity, more requirements and permits became necessary to continue to push forward the show. Anderson said the previous private organizer decided to part ways with the event after two years because it had become too costly.
Volunteers would clean up the park afterward, and Anderson said it took a group of 12 volunteers and about a full day to clean up the park.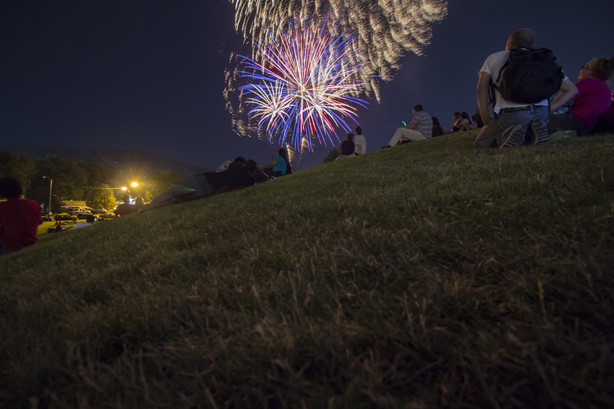 In addition, attendees accidentally sparked a small grass fire in a slope between the park and I-80 minutes before the 2017 show began that required a response from the Salt Lake Fire Department, though that didn't factor much in the organizer's decision to part ways, Anderson said.
"It takes a lot of work, a lot of effort and a lot of money to organize it and to get the permits and clean up the mess afterward," Anderson said. "That has become a burden for the private organizer, so they just decided not to do it, and we just decided to find anyone who would want to step up and organize it and obtain the funds to do it. At this point, we decided it's probably too late."
He added that he hoped the park would be able to find someone willing to fund the event in 2019.
"I think it would be a good idea to continue doing a fireworks show in a central location so people can go there," Anderson said. "At this point, we don't have the ability to do it."
Contributing: Mary Richards, KSL Newsradio
×