This archived news story is available only for your personal, non-commercial use. Information in the story may be outdated or superseded by additional information. Reading or replaying the story in its archived form does not constitute a republication of the story.
SALT LAKE CITY — Charlie Black had a pretty good feeling Saturday would be special for the Park City lacrosse team.
Black got to Skyline High School, site of the Class A championship game, at 2:30 p.m.—well before the Miners' 7 p.m. tip against Brighton.
But Black was there early to support the Park City girls team, which won its fifth-straight title with a 9-6 win over Herriman.
And that's when Black got a good feeling—that proved prophetic.
Dylan Bauer scored four goals, and Black's second-half marker helped the Miners hold off Brighton 7-6 for their first state title in four years.
"I feel on top of the world right now," said Black, whose team capped an undefeated season. "Watching them was good.
"And last night, it was raining before our last practice—but when we looked up halfway through, there was a big rainbow over the field. We had to take it as a good sign."
Getting there was anything but easy, though.
Brighton struck first, just two minutes into the match through Justus Peterson, who finished with a game-high four goals for the Bengals.
Miners Sweep: @PCMinerslax clinch the boys and girls state lacrosse titles on the same day. #kslprepspic.twitter.com/MvwflXOKHc

— KSL SportsBeat (@kslsports) May 20, 2018
But the Miners came back when Bauer scored two goals in the first half to help the Miners to a 2-2 draw at halftime.
Beau Pederson's strike that caromed off the underside of the pipe with 7:25 left in the third quarter started a 4-0 run for Park City, which took a 6-3 lead midway through the fourth on Black's bomb.
But Brighton came right back. Peterson scored his fourth goal of the night to cut the deficit to 6-4, and after Easton Albert scored to pull the Bengals within one, 6-5 with 5:43 left, the Miners had to hang on for dear life to claim their first title in four years.
"They're a good team; it's the state championship, and it's going to be close. We knew that," Bauer said. "We just kept our cool and made the comeback. We won it, and that's all that matters."
Class B boys lacrosse final
East 9, Spanish Fork 3
At Skyline, Jack Idstrom scored three goals to help East overpower Spanish Fork for the Class B state title.
Charles Sternberg and Benjamin Parkin added two goals apiece for the Leopards, who led 4-0 at halftime and by as much as 5-0 before Spanish Fork's Rylan Poulsen scored in the third quarter to break the shutout.
Mountain Crest won the Class C title, stunning Cache Valley rival Ridgeline 8-7 in overtime.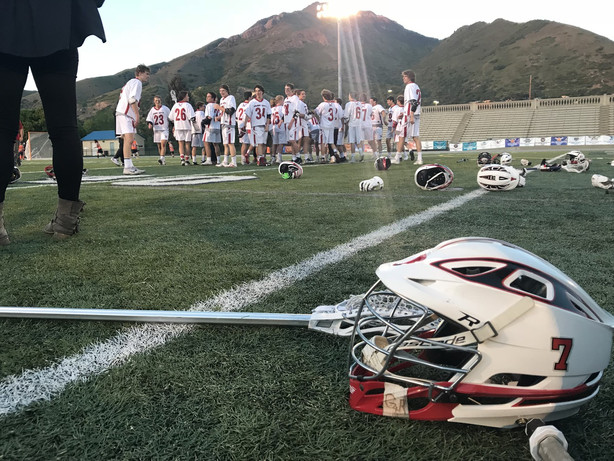 Division I girls lacrosse final
Park City 10, Herriman 7
At Skyline, Shaye Henderson had three goals and an assist to help the Miners extend their dynasty with a win over upstart Herriman in the Division I girls final.
Gabrielle Nixon and Brianna Bauman each scored two goals for Park City, one of the titans of high school girls lacrosse in Utah.
"It's familiar territory, but a whole new group of girls," Park City coach Zachary Madoff said. "They've adjusted and dealt with the pressure that they felt or didn't feel. It was really great work by the girls."
Mya Lightfoot had a hat trick to lead Herriman.
×
Photos