SALT LAKE CITY — When Ralston Cash walked into the Salt Lake Bees clubhouse Friday night following the Bees' 7-3 loss to Sacramento, he started to cry when he saw the jersey waiting for him.
There, in front of him, was a pink No. 14 jersey with the name "Ralphie" on the back that Cash would wear for the Bees' annual "Pack The Park Pink Night" ballgame Saturday. Each name on the back of the Bees jersey for the game was purchased by someone—some to honor loved ones lost from cancer—and money from those purchases goes toward cancer research at the Huntsman Cancer Institute.
Cash's jersey, which he bought, honored Ralph Cash, Ralston Cash's grandfather who died in 2012 after a battle with cancer. Ralph and his wife, Sue Cash, helped raise Ralston Cash after his mother died in a car crash when he was 3 years old and in Ralston's mind, Ralph and Sue Cash were his parents.
"When I saw my dad's name (there were) immediate tears. I got to send a picture home to everybody in the family and everybody thought it was awesome," Ralston Cash said. "I feel like I finally get the honor of letting the world know the man who sacrificed everything to get me where I am now."
It's not often that you see a professional baseball player pay to wear the jersey on their back, but when Ralston Cash first saw the Bees' promotion and an online post about the jersey purchasing process, he quickly messaged them and promised to pay whatever amount it took to get Ralph Cash's name on a jersey.
He plans to give the jersey to his grandmother/mom, who still watches Ralston Cash's games online religiously from her home in Georgia, after the game.
"I feel like that will be really special for her," Ralston Cash said.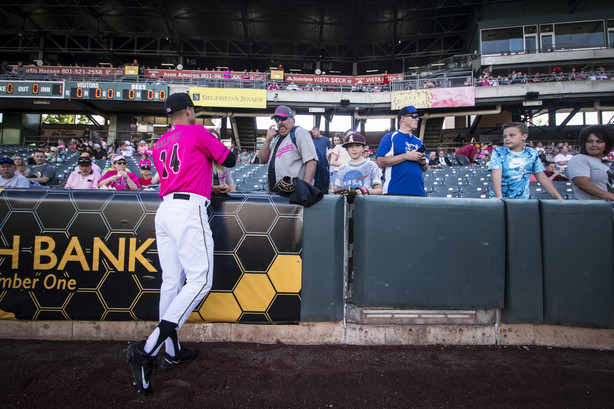 After Ralph Cash died from bladder cancer in January 2012, Ralston Cash dedicated his career and life charitable causes close to fighting the disease. In 2015, he started the Ralston Cash Foundation, a non-profit organization that sells T-shirts to help provide Christmas gifts to children whose parents have died from cancer.
His interest in helping those dealing with cancer aligned well with Bees' efforts. The organization began "Pack the Park Pink Night" 12 years ago to raise funds for cancer research and, in 2016, the team started to sell the nameplates on the back of their jerseys for money that went toward cancer research. During the 2017 game, the Bees raised $33,800 toward cancer research—a team record.
Though the Bees lost 11-7, the team raised another $26,500 Saturday night. It tweeted the final score after the game and added, "tonight was about more than baseball."
Since the Bees sold the naming rights to their jersey nameplates, people have placed everything from names of those who died from cancer to those are battling cancer or are cancer survivors—even the name of a doctor who helped a patient with cancer.
"For everyone (on our jersey) tonight — a survivor, anyone who has passed, anyone who has known someone who has passed, it's a really powerful feeling," Ralston Cash added. "To be able to put names and faces (is powerful) because lots of times you see studies and stats and you never see names. When you see someone's name, you imagine there was someone there who paid the ultimate (price), unfortunately. They're being remembered or celebrated and it's really something that gives you chills when you think about it."
While Ralston Cash's jersey had special meaning for him, Saturday's game was equally important to others in the Bees clubhouse. His manager, Keith Johnson, purchased his jersey to honor a family friend, Tiffany Lewis, who died from cancer over the offseason, and Bees infielder Sherman Johnson's father died from cancer in November 2017.
Saturday's game also meant more for Larry H. Miller (the team's owner) employees. The team held a moment of silence to honor a longtime company employee who died Thursday after a battle with cancer. Bees pitcher Taylor Cole stood at home plate with a jersey that bore the employee's name and then walked to the backstop and offered his condolences to a group of those who knew her before the game started.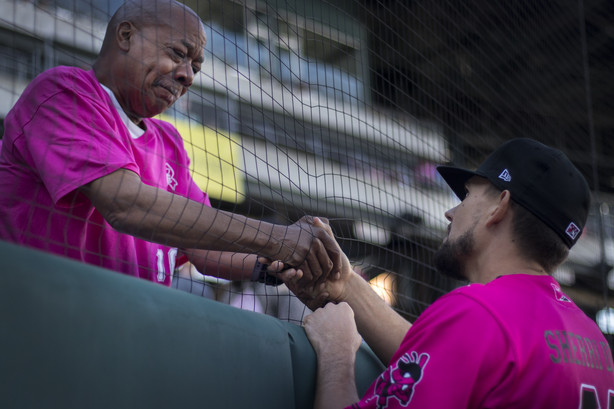 "As athletes, we kind of get caught up in baseball or whatever sport we're playing and (this) is one of those nights that you kind of realize that it's bigger than the game," Sherman Johnson said, as he sat in the dugout after batting practice. "It's really special to play for the families of loved ones that have been lost or for ones going through it right now, hopefully, they can come out to the game and it's like their escape for that little bit."
Sherman Johnson's jersey honored a woman who survived cancer while pregnant with her first child. He said he prayed for her and for others whose names were on the backs of Bees jerseys before he put on his jersey.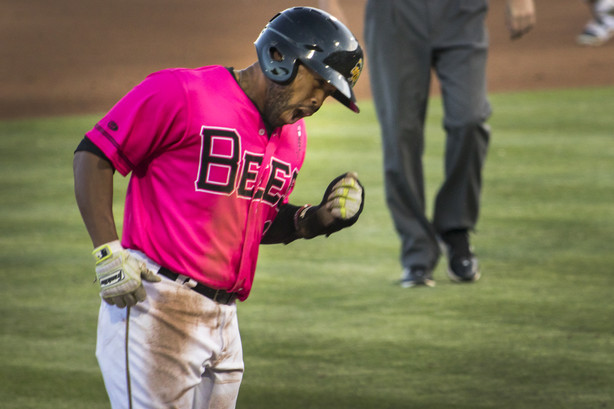 Keith Johnson, on the other hand, missed the opening pitch to attend his son, Korey's, college graduation in Reno, Nevada earlier Saturday. However, he made it back to Salt Lake City in time to manage the final few innings of the game.
"Obviously, there was no way I was going to miss Korey's graduation because that is a life accomplishment for him," he said. "But to get back here in time to wear this jersey — between (my wife) Malena and me, we just made the decision to make it happen and I'm so glad that I did."
Following the final out, he joined his players in a jersey handoff with the families of those who purchased the jerseys on the ballpark infield while children ran the bases in the background.
Players shook hands, signed memorabilia and took photos with those who purchased jerseys. This allowed the families to tell the players about the people those players represented on the field.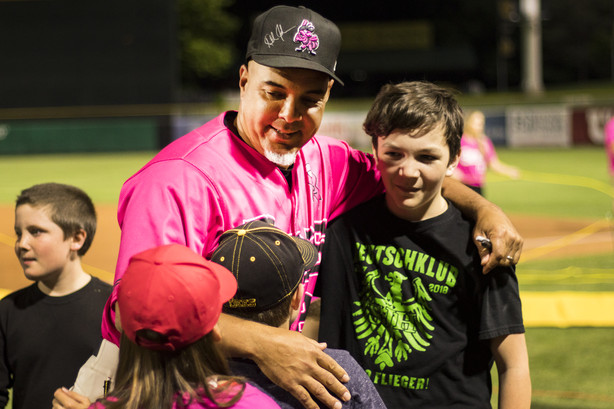 Since Cash purchased the jersey he wore, he wandered to other families who had purchased different jerseys. He stopped by one family, squatted down to chat with their children and signed pennants for each of them before taking a photo with them.
He laughed when the youngest of the bunch, a toddler, flexed his muscles and appeared to kiss his bicep.
With all the pain the families went through dealing with cancer or watching loved ones go through it, these moments on the infield felt much more joyous. There were laughs, smiles and hugs. For the players, the annual game gave them perspective.
Some of the team, including Cash, Cole and Sherman Johnson, visited Huntsman Cancer Institute patients Friday morning to meet with patients.
The trip brought back sobering memories for the players who have dealt closely with the disease. Sherman Johnson said he met a man who was going through his first chemotherapy treatment and it reminded him of joining his father's first treatment.
At the end of the day, he said that experience and the opportunity to represent someone who battled cancer meant more to him than baseball.
"There's a lot of emotions going through your head, as a loved one or as the one going through it. I'm sure everyone is afraid—it's just human nature, you want to know what the future holds and you don't really know at that point," Sherman Johnson said. "I knew (visiting the hospital) was going to be tough, but it's something I really wanted to. I don't know if it helped and maybe it brightened their day for just a couple of minutes, but it's all I wanted to do. It's all I could do."
×
Photos