SANDY — First start. First goal.
And three points for Utah Royals FC.
Erika Tymrak scored her first goal in a Utah shirt, and the Royals ended a four-match homestand with a 1-0 win over the Houston Dash in front of 8,323 fans Saturday afternoon at Rio Tinto Stadium.
Abby Smith earned her third shutout of the season for Utah (2-1-5), which faces a four-match road trip that begins next Friday in Portland.
"It's been tough, being a sub this season," Tymrak said after the match. "But I just wanted to help the team out. It felt great getting the goal, but I really feel like we played 90 minutes of good football — and we can't ask for much more than that."
Houston goalkeeper Jane Campbell made three first-half saves to keep the Dash (1-4-4) in the match through the first first 45 minutes. The U.S. international slid to her right to stop a penalty kick by Utah's Diana Matheson in the 38th minute, and the Royals took a 7-1 advantage in shots at the break.
But unlike in a 0-0 draw the first time the teams met in Houston, the dam could only hold for so long.
Tymrak provided the breakthrough in the 50th minute with her first goal since the franchise moved from Kansas City last year. Gunny Jonsdottir split a pass between Tymrak and Amy Rodriguez, and the 26-year-old took advantage of her first home start in a Royals kit to give the home side a 1-0 lead in the 50th minute.
.@eTYMrak finds her first goal at the RioT! @UtahRoyalsFC with the lead at home in the second half.#UTAvHOU | #NWSLonLifetimepic.twitter.com/OuOsyd1Lms

— NWSL (@NWSL) May 19, 2018
The pass could've been expected to set up Rodriguez, the team's top offensive threat. But the wily veteran sidestepped her chance for a better one — and it paid off.
"I knew that Erika was behind me, and I knew that Erika had a better angle than I did, so I had no problem leaving the ball to her," Rodriguez said. "She cleanly tucked it in the corner, and put us up on the board. I was so happy for her."
It's not the kind of thing World Cup strikers often do — but it proves Rodriguez's standing with the Royals, head coach Laura Harvey said.
"What Amy Rodriguez did for the goal is world-class. Not many center forwards would not shoot there," said Harvey, the England native who celebrated a Royal Wedding on the same day as a Royals win.
"Amy Rodriguez is world-class. I don't think she believes that not many people would do that, but not many people would do that."
Utah out-shot the Dash 18-7 and held Houston without a shot on goal, further cementing the Royals' reputation as a team difficult to break down.
And then, they only needed one shot to go their way.
"Michael Scott always says 'you miss 100 percent of the chances you don't take,'" Tymrak said. "I knew if I found my spot there, I'd have to finish it."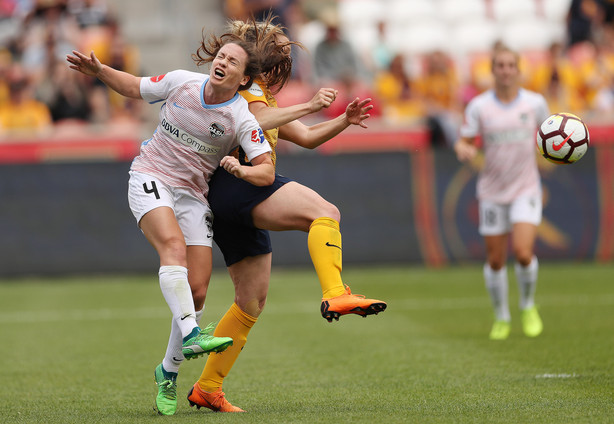 Injury report
Kelley O'Hara missed Saturday's match after re-aggravating a hamstring injury in Utah's 0-0 draw with Orlando on May 9. The utility winger left the match in the 89th minute of the draw, and was extremely limited in training all week before Harvey elected to shut her down in anticipation of a potential return to the U.S. women's national team for a friendly June 7 against China at Rio Tinto Stadium.
Harvey expects fellow hamstrung forward Elise Thorsnes to return to the lineup by Friday, but O'Hara's outlook could put her "a few more weeks" away.
Next up
Utah ends a four-match homestead with eight points out of a possible 12, and next travels to Portland at 8:30 p.m. Friday, May 25 for the first of four-straight road appearances. The match will be streamed on KSL.com and the KSL TV app.
"I think this gives us really good momentum, not only with three points, but just playing really good soccer," Tymrak said. "From a defensive standpoint, getting a shutout is great momentum and makes us excited to head to Portland. It's a really fun place to play.
"Hopefully we can bring home three points."
×
Photos