SOUTH JORDAN — Corner Canyon's girls golf was clicking on the first day of the Class 5A state meet Monday at Glenmoor Golf Course, posting a team round of 317 that included three rounds at 80 or better.
It couldn't get much better for the Chargers, who were aiming for their third-straight state title.
And then it did.
Jamie Connell shot 73 on the final day to finish with a two-day total of 149 strokes and a tie for second place, and Corner Canyon took three of the top seven spots en route to a team score of 615 and a 37-stroke win over second-place Bountiful.
Alta placed third at 702, followed by Skyline (709) and Brighton (735).
"For this one, it was the name: 3-peat," said Connell, a junior who shaved three strokes off her second-round score from the opening day. "We wanted to have the 'wow' factor of three state championships under our belt."
Cristiana Ciasca, a senior who has signed with Wyoming, added a two-day 151 for fourth place, and freshman Savannah Romney carded 157 for the Chargers, whose lowest round of the tournament came via a non-scoring pace of 86.
"We're just extremely deep, and the round today posting 73-73-78 is tough to hang with," said Corner Canyon coach Ryan Kartchner, who had grown his program from 11 golfers in his first season three years ago to 29 who mingled on the tee box celebrating their third title trophy with selfies and Instagram moments.
"A couple of putts didn't drop, but I think I got my swing figured out and I dropped as many pars as I could," Connell said. "I think I got it figured out for the most part."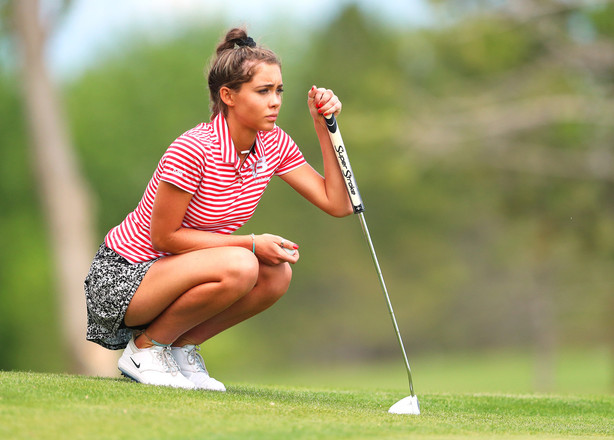 Bountiful's Jobi Einerson carded back-to-back 74s to take medalist honors, winning her first individual championship in her final season of high school golf. The senior carded a two-day total of 148, just two strokes better than Connell and Alta's Cora Mickelsen, the reigning 4A champion who played in the final group to form a star-studded powerhouse.
"I am honestly on Cloud 9. I couldn't be happier right now," Einerson said. "I was so excited, knowing that all my hard work finally paid off."
The final pairing played out like a prize fight, with Mickelsen leading the way with a first-round 72, Einerson two shots back, and Connell two shots behind her.
At every turn, blows were exchanged — and in the end, Einerson's consistency left her standing atop a tightly packed field where the top five golfers were separated by just six strokes.
"That's exactly how I was feeling," said Einerson, who also played in the final grouping with Connell two years ago. "I didn't know which way they were going, they didn't know where I was at, and I just tried to finish strong and hope things went my way.
"But a little pressure is good."
Class 6A golf
Lauren Taylor shot 66 and 69 to finish second individually with a two-day total of 135, helping lift Lone Peak to the inaugural 6A state championship Tuesday at Meadow Brook Golf Course in Taylorsville.
Maddie Moss added a 144 and teammate Abbey Porter shot 146 for the Knights, who finished 13 strokes ahead of second-place Davis.
Tess Blair carded 134 across both days to earn medalist honors and lead Bingham to third place (622). Pleasant Grove (682) and Westlake (688) rounded out the top five.
For full results, visit uhsaa.org.
5A Results
Class 5A top 10 individuals, team scores
Jobi Einerson, Bountiful, 74-74 — 148
Jamie Connell, Cor. Canyon, 76-73 — 149
Cora Mickelsen, Alta, 72-77 — 149
Cristiana Ciasca, Cor. Canyon, 78-73 — 151
Whitney Banz, West, 76-78 — 154
Savannah Romney, Cor. Canyon, 83-74 — 157
Emma Winfree, Cor. Canyon, 80-78 — 158
Rosie Oettli, Cottonwood, 79-80 — 159
Megan Van Leeuwen, Bountiful, 86-77 — 163
Claire Whisenant, Skyline, 81-83 — 164
5A team scores
Corner Canyon 615, Bountiful 652, Alta 702, Skyline 709, Brighton 735, Woods Cross 757, Viewmont 760, East 761, Cottonwood 768.
6A Results
Class 6A top 10 individuals, team scores
Tess Blair, Bingham, 65-69 — 134
Lauren Taylor, Lone Pk, 69-66 — 135
Caylyn Ponich, Davis, 69-69 — 138
Alina Vannarath, Westlk, 70-71 — 141
Maddie Moss, Lone Pk, 69-75 — 144
Brooklyn Halliday, Davis, 72-72 — 144
Carissa Graft, Bingham, 72-72 — 144
Abbey Porter, Lone Pk, 74-72 — 146
Katelyn Day, Davis, 80-77 — 157
Shelby Eubank, P. Grove, 79-82 — 161
Alicia Littlefield, Weber, 86-75 — 161
Halle Parkin, Riverton, 79-82 — 161
6A team scores
Lone Peak 592, Davis 605, Bingham 622, Pleasant Grove 682, Westlake 688, Weber 697, Northridge 702, Fremont 743, Herriman 758, Riverton 793.
×
Photos
Related Stories