This archived news story is available only for your personal, non-commercial use. Information in the story may be outdated or superseded by additional information. Reading or replaying the story in its archived form does not constitute a republication of the story.
MURRAY — Jane Eubanks sat in the doctor's office with her daughter looking at old pictures of her legs. She commented, "Do you remember how ugly it was?" Her daughter quickly said, "Yeah, I do!"
Eubanks tried to hide her varicose veins for 20 years. "The veins were really bulgy," she said. "I mean, I kind of made jokes about my legs looking like I had snakes going up my legs."
However, Eubanks said the pain was the worst part. She felt like she needed to ice her legs after a long day on her feet. "That was rough," she said.
As a massage therapist, Eubanks stands on her feet for long periods. She also thinks her pregnancies contributed to the problem.
Finally, Eubanks had enough. She saw Intermountain Healthcare's Dr. Greg Goodman, who specializes in vascular surgery.
He said varicose veins are, "thought to be related to valves that are functioning abnormally inside the veins." Goodman said it is more than just a cosmetic problem.
"There is a lot of discomfort that comes with varicose veins. It can get in the way of leading a normal life," he said.
Goodman said medical advancements help patients recover much more quickly and with much less pain.
"In fact, most patients walk out of the procedure room here in about 30 minutes," he added.
After her surgery, Eubanks took her family on a trip to the Caribbean. She said she felt comfortable showing off her legs.
"I had no care in the world. I didn't care who looked at me!" Eubanks said.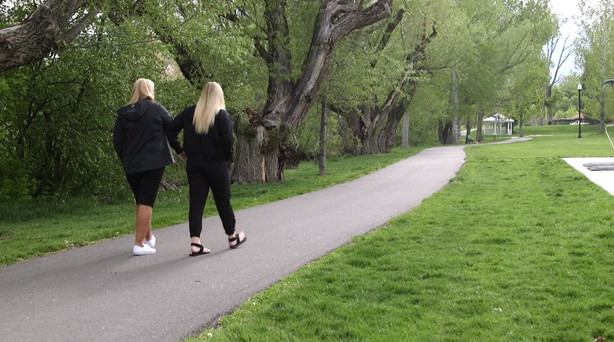 Goodman said increased confidence is an important part of a patient's recovery. "Feeling good about themselves allows them to go do things they wouldn't have done before," Goodman described.
Eubanks said exercise is helping her recover. "A brisk walk is nice and good for the blood flow," she said.
Goodman said there are ways to help prevent varicose veins from developing such as maintaining an active lifestyle and a normal body weight, elevating your legs whenever you can, and wearing compression stockings.
Eubanks said she wishes she had the procedure 15 years ago.
"Like I said, the best thing I ever did" she exclaimed.
If you are interested in a free vein screening to see what treatment is the right option for you, visit Intermountain Healthcare to find a clinic near you.
×
Photos