Estimated read time: 8-9 minutes
This archived news story is available only for your personal, non-commercial use. Information in the story may be outdated or superseded by additional information. Reading or replaying the story in its archived form does not constitute a republication of the story.
WEST VALLEY CITY — Republican delegates did not hand Mitt Romney the nomination for U.S. Senate on Saturday, pushing the 2012 presidential nominee into a primary election against state Rep. Mike Kennedy.
Kennedy edged Romney 51 percent to 49 percent in two rounds of voting among delegates at the Utah Republican Party state convention at the Maverik Center. A candidate needs 60 percent of the vote to win the nomination outright.
Also Saturday, delegates sent Rep. John Curtis, R-Utah, to a primary election against former state Rep. Chris Herrod, setting up a rematch of last year's primary election.
Romney vs. Kennedy
Romney, who was among a dozen candidates seeking the nomination, said he expected a primary election.
"Frankly, given the fact that I collected signatures and the delegates don't like people who collect signatures, I'm delighted with the outcome," he said.
Asked if he thought the delegates were punishing him, Romney said, "I can't possibly imagine that I'm speaking for the minds of the delegates, but I know that there were many people that were not enthusiastic about someone who gathered signatures."
Romney said signature gathering and the convention was the right thing for him and he's glad he did it that way.
"I think a lot of folks came on to my team that probably didn't expect they would," he said.
Kennedy, who did not collect signatures to guarantee a spot on the primary ballot, said he expected to win at the convention. He said his primary election strategy won't be any different, even though Romney was able to put $1 million from his presidential campaign into the Senate race.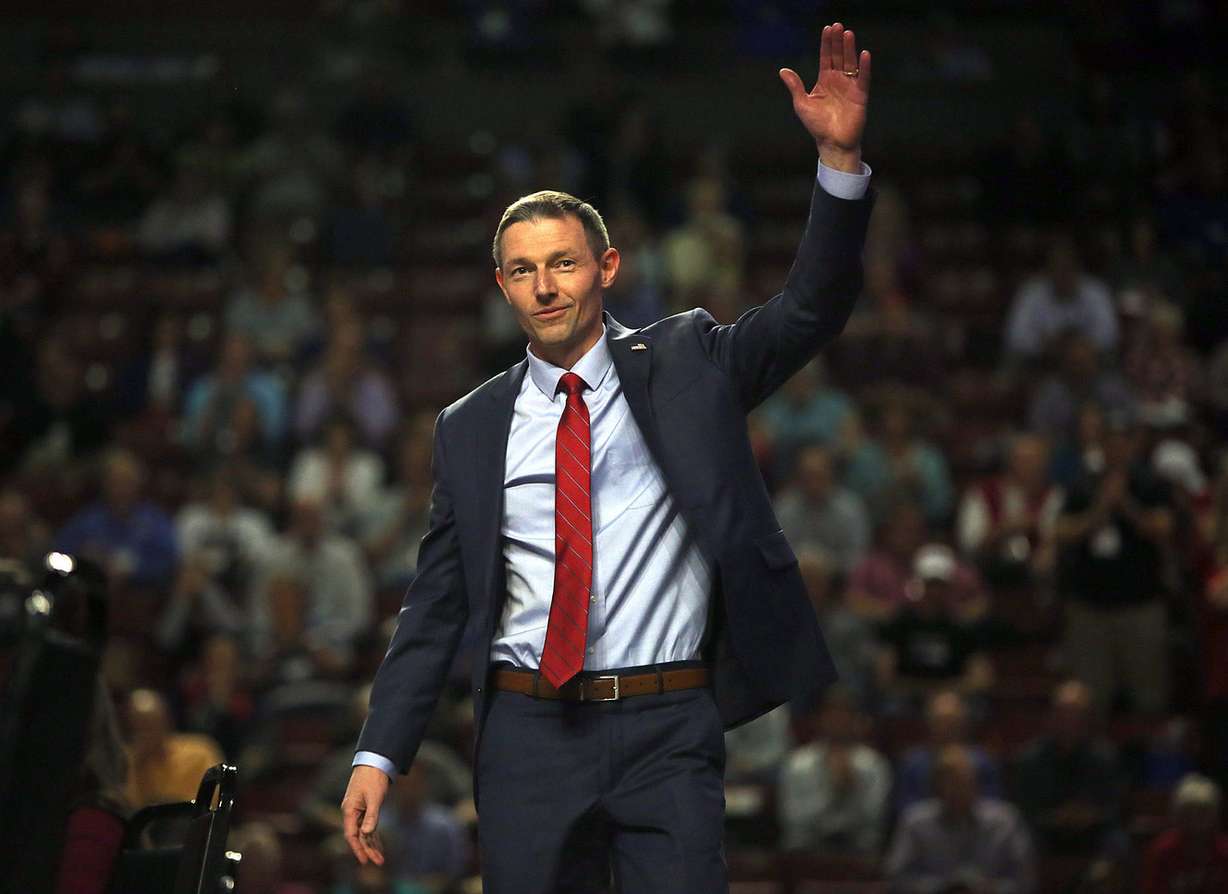 #kennedy_pic
"There are a lot of delegates here who were in favor of him and we were still able to beat him," Kennedy, R-Alpine, said, promising to invest sweat equity in the race and court primary voters one at a time, just as he did with delegates.
"We've got 60 days to reach out to as many voters as we can," he said.
Kennedy said he believes he comes across as more conservative than Romney and that "somebody who's lived and worked and raised his family in Utah, balanced a budget," is more compelling to voters.
"You don't have to be high-powered and connected to Washington, D.C., to actually offer your services to the people," Kennedy said.
Curtis vs. Herrod
In the 3rd Congressional District race, Herrod forced Curtis into a primary with just over 41 percent of the delegate vote to nearly 59 percent for the incumbent congressman.
"Clearly, we would have loved to have had 12 more votes," Curtis said. "But we've done this before and we'll do it again."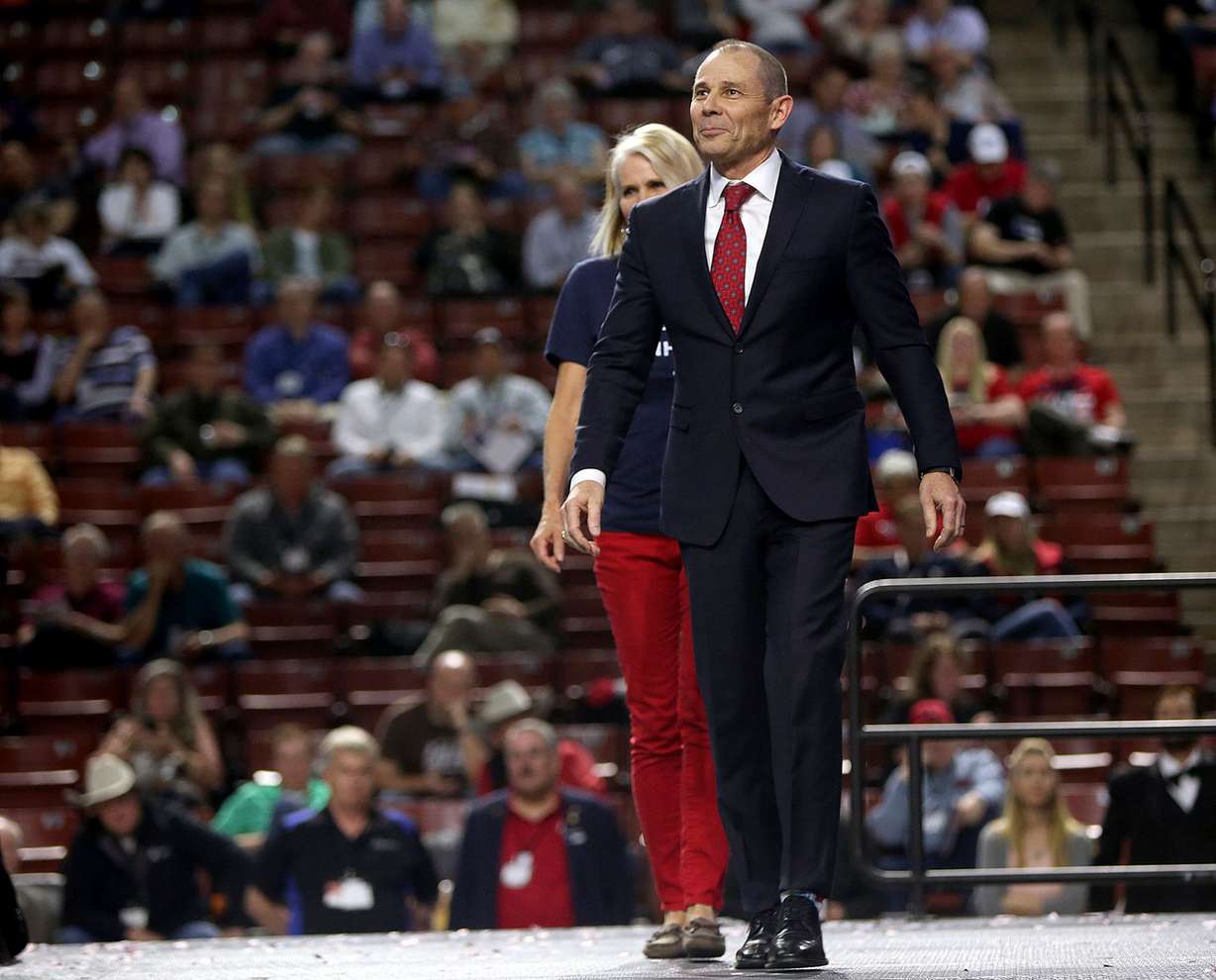 #curtis_pic
He said he was not second-guessing his decision to gather voter signatures, even though that might have cost him delegate support, as it may have in last year's special election
"We'll wonder that forever," he said. "We didn't dare go forward without the signatures. With 9 percent of the vote last time, how do you ignore the fact you have to protect your flank?"
Curtis was at a fundraiser by the time the run-off results were announced, but Herrod and his supporters jubilantly greeted the media even though he barely made it to a primary.
"I feel great. We knew from the very beginning the best we could have is a primary," Herrod said. He said this time he'll beat Curtis in a primary election because there is not a third candidate on the ballot.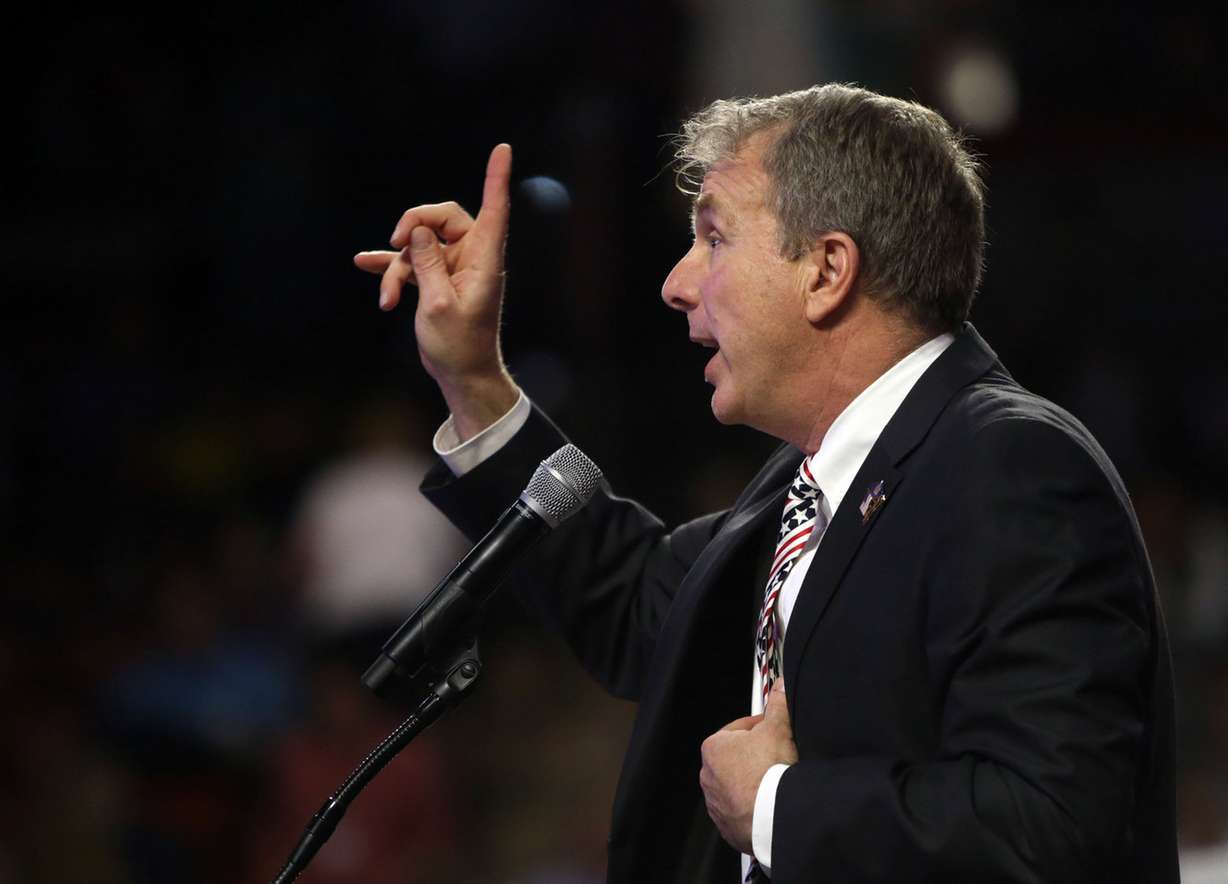 #herrod_pic
In last year's special election to replace former Rep. Jason Chaffetz, Herrod was the winner with delegates, but Curtis won the primary by beating Herrod, a former state lawmaker, and Tanner Ainge, a lawyer.
When delegates narrowed the field of five candidates to Herrod and Curtis, the congressman who has been in office five months asked them to "imagine how much more we can do" without a primary and gave them his cellphone number.
Herrod emphasized his conservatism and told delegates, "I am who I am and I believe in standing up for what I believe. If you send me back to Washington, I will do that."
'Washington D.C. is Goliath'
In his speech, Romney said people characterized his race as David versus Goliath. "But they're wrong," he said, adding that no one is David and he isn't Goliath.
"Washington, D.C. is Goliath. I'm your neighbor. I'm a man of faith. I'm running to serve the people of Utah," he said.
Romney said America's freedoms are under siege as the guarantees of the Constitution have been quietly eroded and stripped away.
"It's time to restore the freedoms that are guaranteed by our Constitution," he said.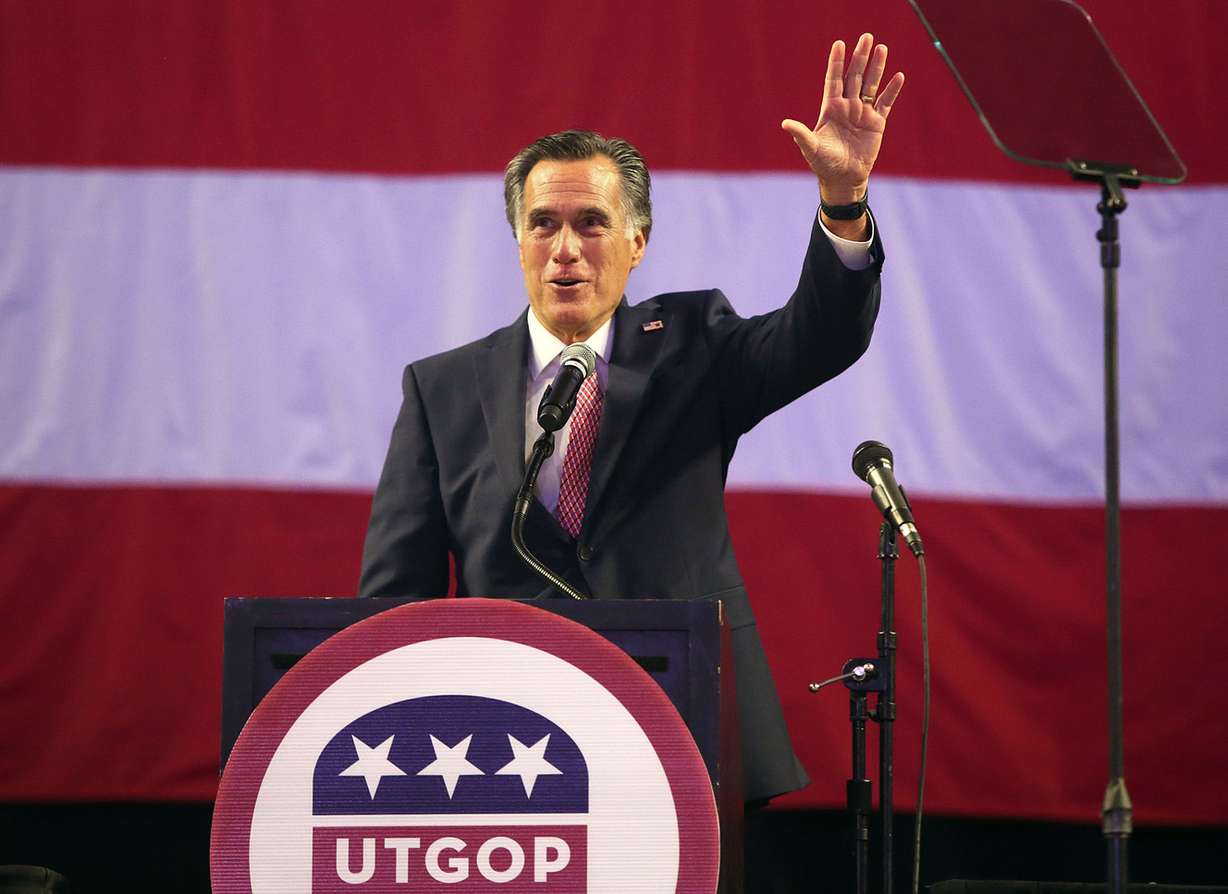 Kennedy, too, used the David versus Goliath story, also calling Washington, D.C., Goliath and saying, "I am the stone ready to be flung" at those who fight against liberty.
Debt is the biggest risk to the nation's future, Kennedy said. "I live on a budget. You live on a budget. Our government should live on a budget."
As Utah GOP delegates voted Saturday at the convention, CNN reported that Romney was noncommittal about whether he would back President Donald Trump in 2020.
"I will make that decision down the road," Romney told CNN on Saturday. "As a person of political experience, if I endorse someone, I'll want to know what's in it for Utah and what help would he provide for us on key priorities in Utah."
"So I'm not a cheap date," he added.
The Republican divide
As expected, the convention turned into an hours-long debate about how to handle the deep divide over how candidates get on the primary ballot.
The more than 3,600 delegates finally decided to strike those issues from the agenda and move on to nominating candidates, but not before numerous and sharp exchanges with the acting chairwoman during the debate, Enid Mickelsen.
"Are you a slow learner?" Mickelsen, a former Utah congresswoman who headed the National Republican Convention's rules committee in 2016, asked a delegate who kept yelling after she'd warned the crowd against shouting out.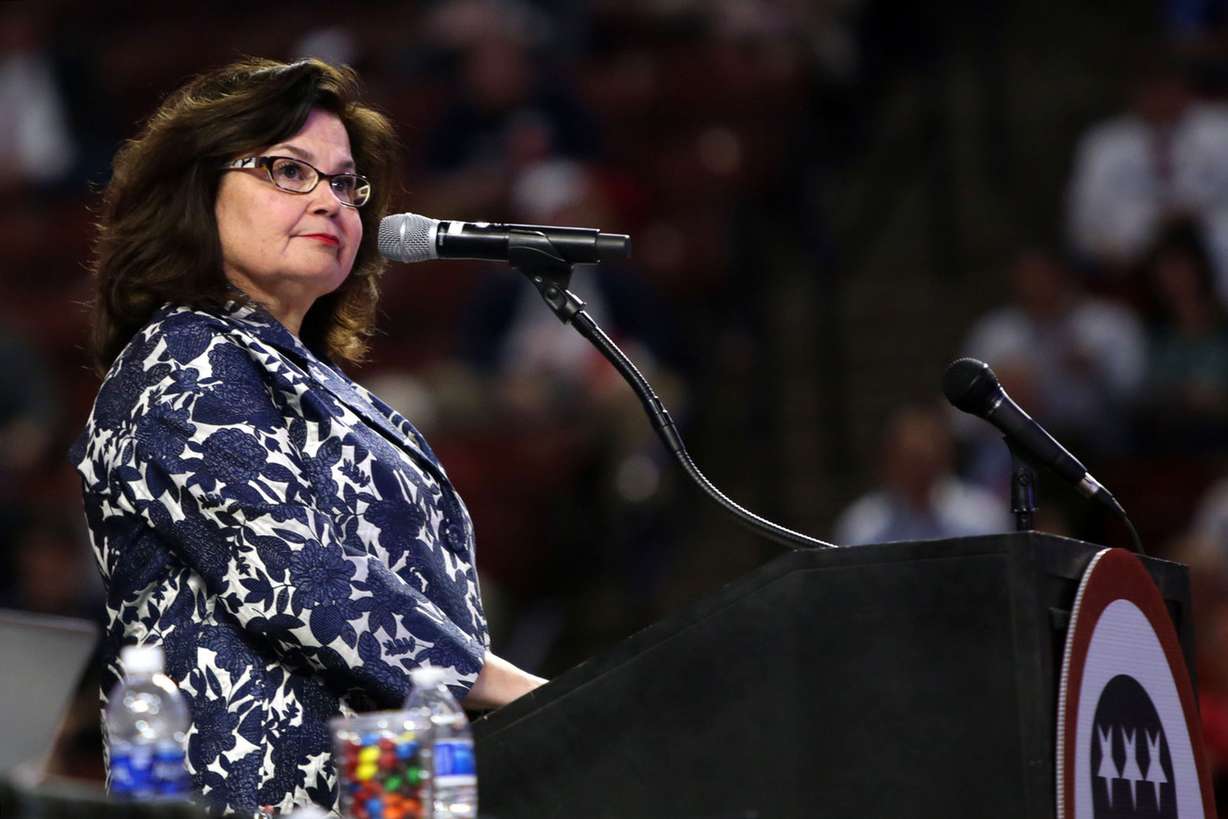 #mickelsen_pic
She was booed and later told she shouldn't speak to delegates in "such a patronizing manner," but held the stage through a series of votes about the contentious list of some 30 changes to the party's bylaws and constitution.
The changes stem from the party's ongoing legal battle against a 2014 law known as SB54 that allows candidates to gather voter signatures to guarantee a place on the primary ballot.
The vote by delegates to set aside considering the proposals, possibly until next year's state convention, allowed voting to finally start on Republican candidates.
Phill Wright, a leader of the effort by a faction of the party to keep the fight going against SB54, said before the convention convened that he didn't expect the debate to last long.
Wright, a state Senate candidate, said he hoped to remove what he termed "illegal" agenda items intended to weaken the powers of the party's governing State Central Committee that is controlling the lawsuit.
"They're trying to gut our party, take away our governing body and just leave the chair as a dictator. That's not going to work in a republic," Wright said.
---
They're trying to gut our party, take away our governing body and just leave the chair as a dictator. That's not going to work in a republic.
–Phill Wright, candidate for Utah House of Representatives
---
Utah GOP Chairman Rob Anderson, who won the party's chairmanship over Wright a year ago on a pledge of ending the legal fight, warned in his opening remarks that the GOP is suffering from "metal fatigue," just like an aging aircraft.
He said Republicans "are divided because we choose to be divided. I stand here today to remind you, to remind all of us, we are better than this," urging those gathered "to choose to put aside our differences and instead embrace what unites us."
The Utah GOP lost its challenge to SB54 in U.S. District Court in Utah as well as at the 10th Circuit Court of Appeals in Denver. Backers of continuing the lawsuit are seeking a review from a full panel of judges at the 10th Circuit.
Tributes and nominations
The convention kicked off with speeches by the state's Republican leaders and a tribute to retiring Sen. Orrin Hatch, R-Utah, that included shooting American flag confetti into the air.
Once voting got started, in the 1st Congressional District, Rep. Rob Bishop, R-Utah, easily bested first-time candidate Chadwick Fairbanks with 68 percent of the delegate vote.
Bishop promised to continue to push Republican ideals on federalism, public lands, education and gun rights.
Related:
In the 2nd Congressional District, Rep. Chris Stewart, R-Utah, defeated challengers Ken Clark and Mary Burkett with 74 percent of the vote. Stewart pointed out that he did not gather signatures to guarantee a spot in a primary election.
"I trust the caucus system," he said.
Rep. Mia Love, R-Utah, did not have a Republican challenger in the 4th Congressional District.
In multi-county races decided before the convention got underway, Rep. Dan McCay, R-Riverton, beat out Rep. Lavar Christensen, R-Draper, for the nomination to succeed retiring Sen. Howard Stephenson, R-Draper.
San Juan County Commissioner Phil Lyman won the nomination to replace retiring Utah House Rep. Mike Noel, R-Kanab. Lyman spent 10 days in jail in 2016 for organizing an illegal ATV ride in a southern Utah canyon to protest federal lands policy.
Two Utah House incumbents, Rep. Brad Last, R-Hurricane, and Rep. Christine Watkins, R-Price, were forced into primary elections. Last will face Mark Borowiak, while Watkins will take on Jae Potter.
×
Photos
Related stories
Most recent Utah stories