OREM — Rose Child and her husband, Derrek, had no problem with EASE Property Management, which helped them rent out a Springville home while they live in South Carolina, until they received a devastating email April 13 informing them they wouldn't be paid because of theft within the company.
Now the Child family, along with many other clients of the Orem-based property management company, are scrambling to figure how they will recoup their money after they said they learned from the company that an EASE employee allegedly embezzled thousands of the company's dollars and fled to Russia, effectively shutting the business down.
EASE Property Management is a company in which property owners lease their management services, such as maintaining the property and collecting rent from tenants, then give that money back to the property owners for a fee.
Child and other EASE clients learned late last week they would not be paid because it "has recently been the victim of a theft of the company property which has made it impossible for EASE to immediately forward you the monies owed which was due on April 10, 2018," according to an email that KSL.com viewed.
"We're not sure what's going on because we're not getting details," Rose Child told KSL.com, who said she and her husband were concerned they wouldn't be able to pay their next mortgage because of the incident. "I'm sure we're not the only people in this position right now."
They haven't been alone.
A similar email obtained by KSL.com corroborated the Childs' claims. The email was sent by a manager of EASE at the time to a separate client, saying that the company was a "victim of a theft of company property" and that the company was "working diligently to resolve the problem."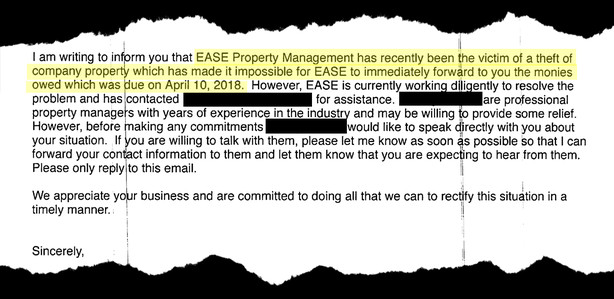 Since the emails, Orem police opened an investigation into a claim against an employee of the company. A complaint filed by a relative of an employee alleged the individual embezzled $200,000 from the company and fled to Russia, according to a heavily-redacted police report KSL.com obtained through a record's request.
Names in the report were redacted because police said it is an active investigation and no charges have been filed as of Monday morning.
At least two lawsuits were also filed against EASE Property Management and EASE owner Landon Murie last week. Murie is listed on the company's website as the owner.
One lawsuit, filed in Orem City Justice Court Tuesday, claims Murie and EASE owed the plaintiff $10,300 in payments for four properties in the Utah County area. The complaint stated a second employee told the plaintiff that there was not enough money in their balance to pay clients. The plaintiff was seeking a little more than $600 in damages, as well.
In the lawsuit, the plaintiff claimed a manager of EASE said Murie "had been withdrawing money from the trust account in which rents were held, and had left the country." The plaintiff said the balance of the trust account was $44,000 at the time, according to the lawsuit.
---
"We're not sure what's going on because we're not getting details ... I'm sure we're not the only people in this position right now." — Rose Child
---
A second lawsuit filed in Provo District Court Thursday details a similar experience, seeking money owed April 10 against an employee of EASE.
In addition, Google reviews of the company, which the company touts on its website, were positive until about the past week. Some even updated their previous positive company reviews to reflect recent experiences of problems with the company.
KSL reached out to EASE for comment, but calls went straight to a voicemail message followed by a message stating the voicemail was full.
As for clients like the Child family, they plan on collecting money for rent on their own in the future and they hope they can recoup the money they've lost soon.
"I don't know when, or if ever, funds will be disposed to clients — like I don't know if we will ever get our deposit or first month back for our renters, I don't know if we'll ever get rent for the month of April," Rose Child said, with a nervous chuckle. "I don't know."
×